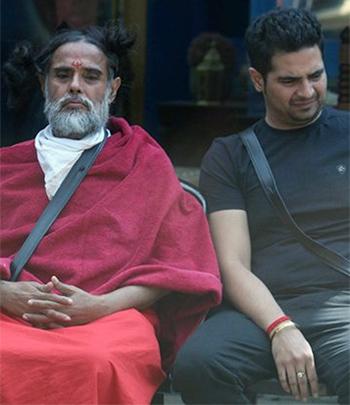 Navin joins the drama, Manu and Mona get filmi!
Divya Nair's must-read take on recent Bigg Boss episodes.
On Monday's episode, Om Swami declares that he has finally found his alternate career -- it seems someone is going to make a biopic on him and the budget is...wait for it... Rs 100 crores!
Dear Khans, you better start watching Bigg Boss to know your new competition better.
After learning that dhongi baba has the financers ready, Manveer says he is interested in playing his younger part.
Now it is hard to tell whether this bluffmaster baba is naturally good at creating explosive content or pakaving (boring) us.
Om looks more of a cross between former contestants -- the controversial Kamaal R Khan and the boring Ismail Darbar -- from season 3.
The confidence with which Om delivers words like hatya, tantra vidya and 100 crores further justifies his qualification to stay on the show.
If the contestants actually attempt hatya on the swami, it would be a first for the show.
Anup Soni and the Crime Patrol team, are you being satark about this?
Right now, Om has a lot of competition.
There is Navin, who screams out of context (what kind of a dhamki is 'saat samundar se dar'?).
Manu, who swings between Romeo and rowdy, and Lokesh, who charms you with her deliberate dumbness.
It is also becoming clear that Mona is interested in Manu.
The Bhojpuri Belle has conveniently ignored all warnings from her concerned teammates and is finding new ways to get closer to the Jaipur lad.
Even in the dullness of the night vision cameras, one could see that tinge of envy when she enters the kitchen and sees Manu chatting with Lokesh.
BTW Mona, Lokesh feels that Manu is her mummy and Manveer is her papa (!!), so she's no threat to you.
Manu offers Mona a sip of his drink from the cup and Mona, after a lot of inkaars, finally obliges.
Manu promises that he will henceforth drink from 'that' particular side of the cup and Mona smiles away. Haay mar jaawa teri ada pe!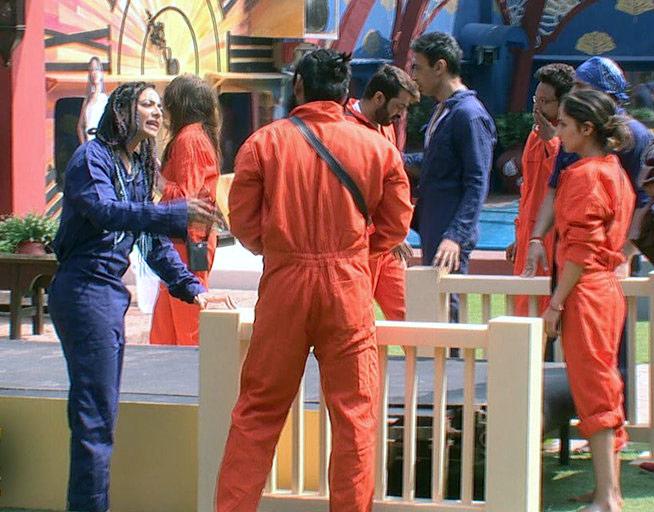 IMAGE: Contestants argue while doing the laundry.
There is something about the Bigg Boss tasks that brings out the worst in every contestant.
The slightest provocation is enough to break the discipline, the morals and the sane state of mind.
Karishma Tanna, I really missed you in the yesterday's laundry task.
Rather, let me say, I missed you pointing out the word 'aggressive' as people fell on each other, tore clothes and still lost the task.
Had you been there, you would have made some fuss and stopped the task even before it started.
Bigg Boss, I am really surprised how you have not issued a warning to these contestants to dissuade them from speaking in English.
Lopa, now that Priyanka Jagga is gone, who will you impress with your English? Gawd Rochelle Rao, I really miss your Hindi.
Currently, I am rewinding Navin's part from last night's episode to understand the new dhamkis I can learn from him.