'Politics has risen around Padmavati, but the film has nothing political in it.'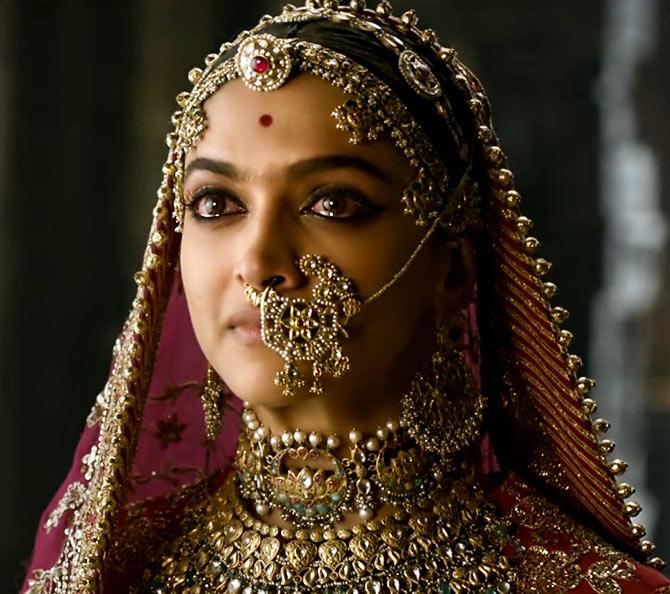 IMAGE: Deepika Padukone in Padmavati.
Shekhar Kapur believes Sanjay Leela Bhansali did not make Padmavati with an intention to rake up a storm.
Addressing a Masterclass at the International Film Festival of India, Shekhar said, "The intention of the filmmaker (Bhansali) was not to create controversy. He is a great filmmaker. But he has never been a political filmmaker. He wanted to make a great film, a big film."
"There is a faction divide in our society, which is very obvious, because India is a society (which) is in absolute and definite flux. All the lines which were drawn once are breaking."
"Politics has risen around the film, but the film has nothing political in it."
The director, who received global acclaim for his Bandit Queen and his films on Queen Elizabeth I -- Elizabeth and Elizabeth: The Golden Age -- recalled his run-ins with controversy.
When he was making the first Elizabeth, Shekhar remembered there were constant statements in the media criticising him for his portrayal of the 16th century British monarch.
"'Here comes an Indian director who has shown our virgin queen in bed with'... I said, 'It was 400 years ago, how did you know she was a virgin? Were you there every time?'" Shekhar quipped.
IMAGE: A scene from Elizabeth: The Golden Age.
Historical films, the director felt, are merely a "representation" or a "metaphor" of history.
For him, he explained, the story of an individual is important if it tells a larger truth about society and that is why he chose to tell the story of Phoolan Devi, the infamous dacoit, in Bandit Queen.
Shekhar also revealed he had "changed" the speech Elizabeth was supposed to have delivered to inspire her troops at Tilbury in wake of an expected invasion by the Spanish armada.
"Everybody said, 'How come you did that? That's not what she said'. (But) I said, 'She was sitting on a horse that was frisky. There was a storm coming in. How did 5,000 people listen to her without a loudspeaker? Who said those words? The person standing next to her could not hear what she was saying'."
"So she went back to her tent and said, 'This is what I said, so write that draft now'."
Knowledge of history in India, he said, is imparted in the form of a "moral tale", not a factual one.
"History is a constant interpretation of facts, I'm not saying it's wrong... This is how history works. In India, till the British came, we believed in mythology, not in history..."
"What's our history? Gandhiji today is a saint for us. He's not a man, he is a great man. The sense of history in India is a moral tale, it's not a factual tale... And who's saying that's wrong? That's probably right."
"Why else is history relevant? Either it has to have relevance to our society today so we make it relevant by making it into a moral tale," he said.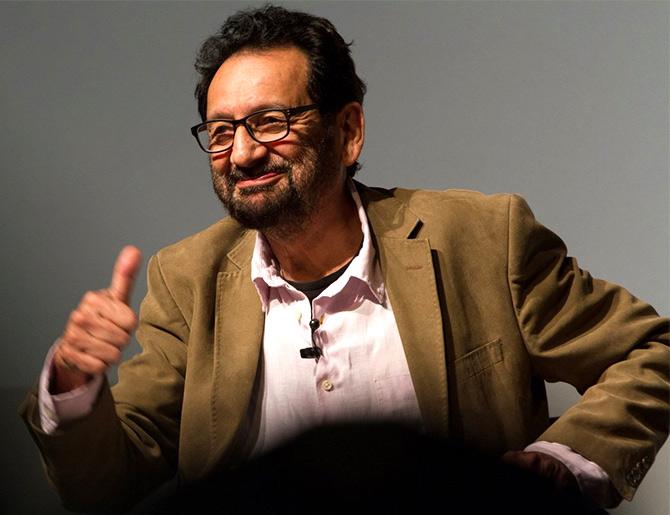 Photograph: Kind courtesy IFFI/Twitter
Shekhar -- who started his directorial career in Bollywood with Masoom -- wants to come back home and make a movie for the Indian film industry.
The director -- who will turn 72 next fortnight -- believes he has lost his "naivete" as a filmmaker and people's expectations have only made things harder.
"I am desperate to make another film in India. I want to come home and make a film," he said.
"When I made Masoom, nobody was expecting anything from me. I wasn't expecting anything from myself. It is a terrible space for a filmmaker to be in."
"I know I can do it, but I need to bring back the madness, which is my biggest problem. Creativity comes from madness. I was a CA when I came to make films... There was a certain madness. I am now trying hard to get that back," Shekhar told the IFFI Masterclass.
Shekhar was supposed to make a comeback in India with his passion project Paani, which was to have been produced by Yash Raj Films.
He was heartbroken, he said, when the film was shelved; he had been working on the project for 15 years.
"Paani is a complex subject. I am good at selling films. I believe I can sell something so fast that Adi (Aditya Chopra, who heads Yash Raj Films) got caught," he quipped.
"I was devastated as I was passionate about the project. I had it with me for 15 years. I was working on it for so long. It was draining, it was art. It was not like if not this, I will make something else."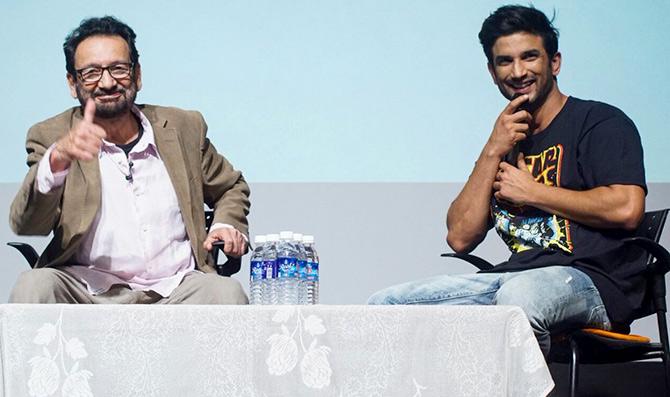 IMAGE: Shekhar Kapur and Sushant Singh Rajput at IFFI. Photograph: Kind courtesy Raindrop Media/Twitter
After Paani was abandoned, the director announced he would work with Kangana Ranaut on a film in which the actress would play an 85-year-old woman.
"I am currently writing the script," Shekhar revealed. "It is a beautiful script."
***
Sushant Singh Rajput is having a dream run in Bollywood, but the actor says even if his success ratio dips, his passion for acting will remain unaffected.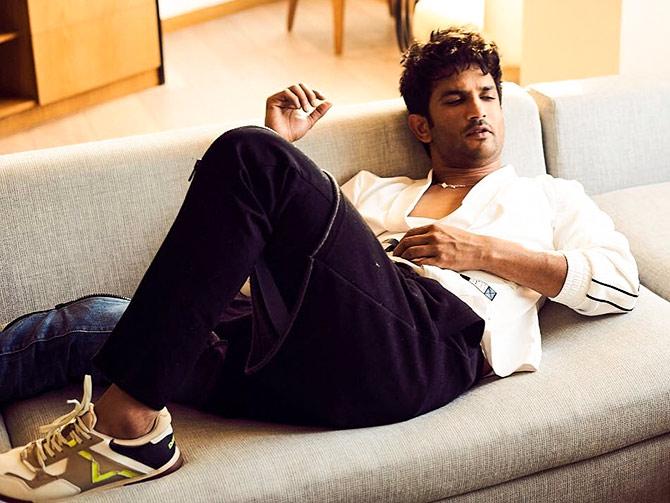 Photograph: Kind courtesy Sushant Singh Rajput/Instagram
Becoming a star was never on his agenda says the 31 year old who dropped out of engineering college to fulfil his acting dreams.
"If somebody takes all (the) films from me I will be disappointed for a day," Sushant tells PTI.
"If I don't get work in television I will be upset for another day, but then I will be fine."
"I will make short films, probably act in theatre or make my own films. I will be excited. Nothing can take the excitement to act away from me."
Sushant says he feels happy when people acknowledge his work and when he receives "good pay" for his movies, but the high he gets from being a public figure is momentary.
"When I started performing as a dancer and in a theatre, I knew acting was something I wanted to do and I still like to do it. One thing I know for sure, I wanted to be here... And nothing has changed.
"I never had a thing in mind that I want to reach somewhere. My passion, excitement and how I feel about it has not changed in these 11 years," he adds.
From playing a lover boy in Shuddh Desi Romance to essaying the role of cricket legend Mahendra Singh Dhoni in MS Dhoni: The Untold Story, Sushant has tried to be versatile in his choices.
The actor believes he needs to fully invest in a role to successfully engage his audience.
"My relationship with my audience is like a circle. I know for a fact that my audience will like something in which I am hundred percent invested. I need to be engaged in my role completely to engage my audience."
"I will not deliberately put myself in a role in which I don't want to be. I believe if I am hundred percent engaged in a film, I will be able to engage the audience," he says.
Sushant is looking forward to Kedarnath, which marks Sara Ali Khan's movie debut.
"I am very excited about the project," says Sushant. "I found the script gripping and we are through with 50 per cent of the shoot. I am giving whatever I can to the film."
Sushant has also started prepping for Abhishek Chaubey's Chambal, which also features Bhumi Pednekar.