A crime thriller which is somewhat engaging and mostly predictable, points out Namrata Thakker.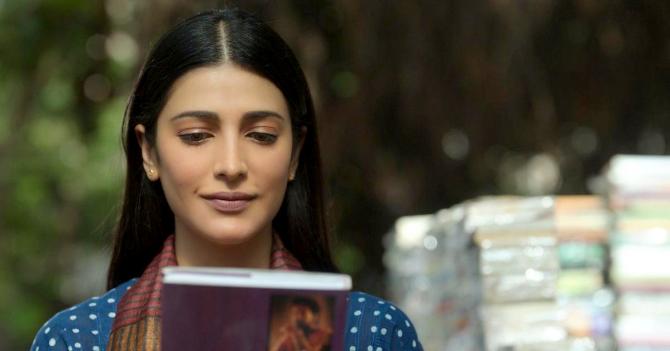 When Meetu Mathur (Shruti Haasan), a small town girl struggling to find her place in a city like Mumbai, meets her idol Tahir Wazir (Arjan Bajwa) out of the blue, her life changes completely.
Tahir is a bestselling novelist while Meetu is an aspiring writer. After their awkward encounter, Tahir and Meetu eventually get talking about his successful novel which was published a decade go.
While Meetu is excited about Tahir's next book, the writer himself has no clue what is going to be his next subject. He is intrigued by Meetu's backstory and thinks it could be a sequel to his last book, Raand, Saand, Seedhi, Sanyasi.
Tahir's wife Mayanka (Gauahar Khan) is a head honcho of a successful advertising firm. Unlike Tahir, she's killing it in her profession, but her hubby is least appreciative of her success.
The couple lives in a posh Mumbai flat, but their relationship is mostly cold. Tahir starts getting to know Meetu in order to write his next novel whereas a new intern joins Mayanka's company.
Satyajeet Dubey plays the intern and his character Parth soon impresses Mayanka. The story really takes off when a mysterious man attacks Meetu because she's important to Tahir.
Who is this mysterious man?
And why Tahir is his prime target?
Considering it's a thriller, the makers should have kept the identity of the mystery man under wraps till the very end. But that's not the case.
A few episodes into the show and it's easy to guess the whole plot. And that's a big disappointment.
Yes, the makers have thrown in quite a few twists and turns till the end, but the biggest reveal is given away midway. So what's the point anyway, right?
Having said that, the show isn't too bad. It's somewhat engaging, mostly predictable and a one-time watch only for Shruti Haasan's decent performance.
She starts off shaky in the first episode, but eventually pulls off her character. As Meetu, she's suspicious but never gives away too much and keeps you on the hook.
Not to forget, she looks absolutely beautiful in the show which doesn't hurt at all.
Arjan Bajwa, Gauahar Khan and Satyajeet Dubey are pretty average with their performances. Dubey stands out initially, but as the show progresses his character arc goes haywire.
Then, there's Mithun Chakraborty who plays a cocky cop in charge of catching the mystery man. He makes his entry in the third episode and provides some comic relief. But overall, neither his character nor his acting is impactful.
And his hairstyle is jarringly distracting throughout the show.
All in all, Bestseller, which is directed by Mukul Abhyankar, isn't an engrossing narrative. You won't miss anything exciting if you skip it, but it's okay if you give it a watch over the weekend just to kill your time.
Bestseller is currently streaming on Amazon Prime Video.
Rediff Rating: