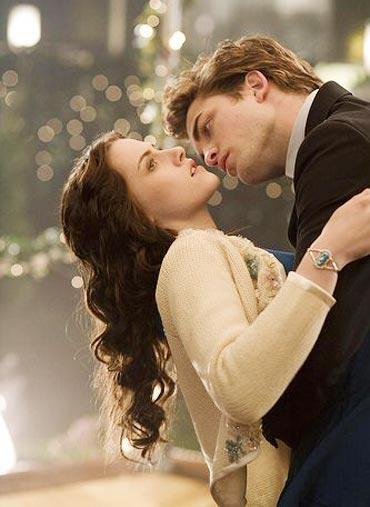 An exact copy of Bella Swan's 'Edwardian-inspired' wedding dress, which was designed for
Twilight: Breaking Dawn
, will go on sale after the release of the new movie.
The Carolina Herrera wedding dress, worn by Bella (
Kristen Stewart)
while marrying Edward Cullen (
Robert Pattinson)
, will be available for sale after the release of part one on November 18.
Alfred
Angelo will be exclusively selling the official replica in his Signature stores in the US and independent retailers worldwide.
Although the details of the dress have been keep under the wraps, the author of
Twilight
has in the past said that the dress should be an old-fashioned Art Nouveau-style design.
'It's a simpler style than the frillier Edwardian stuff. Elegant white satin, cut on the bias, with long sleeves,' the
Daily Mail
quoted Stephenie Meyer as saying.