'There was a filmmaker from another country -- I couldn't understand his language or where he came from. He was talking to my colleagues and he started crying because he was really moved by Masaan.'
'That my film could touch the heart of a person from another country was really the biggest compliment for me.'
Actress Richa Chadha can't get over her Cannes experience.
Richa Chadha has become a very busy actress.
After her return from the recently-concluded Cannes International Film Festival on Monday, the actress has been attending parties and giving interviews.
The actress has become the toast of Bollywood ever since her film Masaan bagged two prestigious awards at Cannes. The film also received a five-minute standing ovation at its screening at the festival.
Known for her unique and interesting choice of films, Richa has, over the years, proved to be one of the brightest emerging actors of today.
The actress shares her Cannes experience with Sonil Dedhia/ Rediff.com.
You recently tweeted a picture showing your middle finger and posting, 'To all those who said I shouldn't work in low budget arty films, PFA my revert.' Do you feel vindicated with Masaan's response at Cannes?
I don't feel vindicated. Those were my exact thoughts and it was what I felt at that moment.
There were lots of advisers to tell me what I needed to do and what I shouldn't do. But the truth is that success doesn't really have a formula. I feel an artist should always do what her heart says and not rely on anybody else's instincts.
You have made some beautiful red carpet appearances. What was it like at Cannes?
I wasn't really prepared during my first visit to Cannes in 2012. I had no experience of being in the limelight.
This time, I was well-prepared and more confident.
I feel fortunate that so many amazing designers have shown interest in dressing me.
It was great to walk the red carpet and it felt great to be appreciated for being dressed well for the occasion.
Being at Cannes was the best time of my life. I am back in Mumbai and I am not enjoying it at all (laughs).
I really felt honoured and lucky because very few actresses get this opportunity of representing their film at an international level.
It was reported that about 15 designers wanted to dress you for Cannes. Was it difficult to select the designers?
It was difficult but thankfully, I had a great team of stylists who helped me to sort out things.
Also, I have evolved as a person and have developed my own sense of style.
What is your sense of style?
It's feminine. Actually, it's very individualistic and at the same time experimental.
Did you deliberately choose to wear a sari for the Masaan screening?
Yes, of course. I was there not only to represent the film but my country too.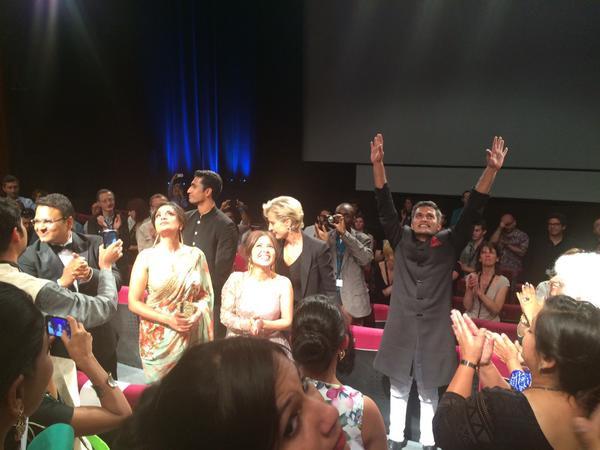 Photograph: Sudhish Kamath/Twitter
The film got a five-minute standing ovation after the screening.
It was a surreal and a beautiful experience.
I think all actors work to get recognition, and to get a standing ovation from an international audience was really emotional.
As actors, we work sometimes for less remuneration, but we all work for appreciation.
Neeraj (Ghaywan, the film's director) and I really cried because we have been attached to the project since its inception.
I have known Neeraj since Gangs Of Wasseypur, when he was assisting Anurag Kashyap.
I have seen him trying to get funds for Masaan and managing a lot of other things.
Masaan has been an emotional journey for me.
What is the best compliment that you have received?
There was a filmmaker from another country -- I couldn't understand his language or where he came from. He was talking to my colleagues and he started crying because he was really moved by the film.
That my film could touch the heart of a person from another country was really the biggest compliment for me.
Were you surprised by the reception the film got at Cannes?
We expected a good response but we did not expect a five-minute standing ovation.
That amazed and surprised us. It was a proud moment for India as well.
How did you all celebrate the success of Masaan?
We went to a French restaurant where they played some Bollywood numbers to which we danced and had crazy fun.
You also extended your trip to get some time off from work.
Yes. In Cannes, we were occupied with the film. None of us got any free time to unwind.
So at the last moment, I decided to extend my trip. I went to Paris.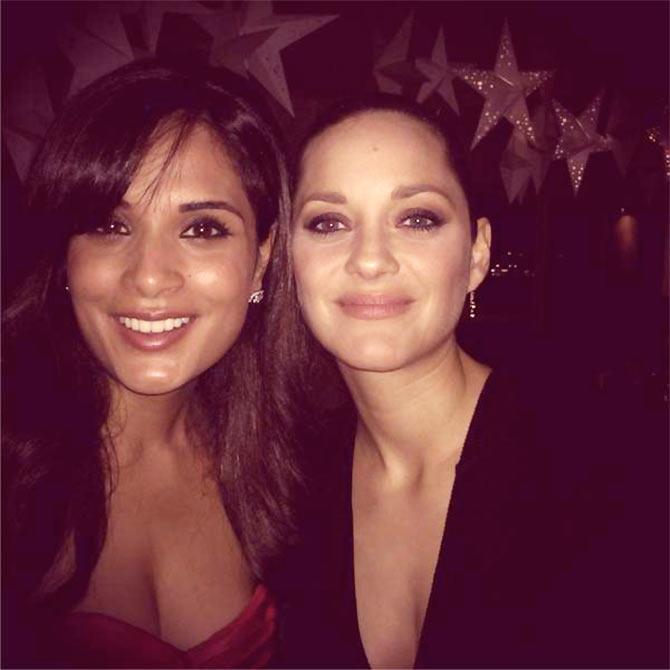 Image: Richa Chadha and Marion Cotillard. Photograph: Richa Chadha/Twitter
You met French actress Marion Cotillard at the festival. How was the interaction?
She is my idol but I didn't really behave like I was having a fan girl moment!
It felt like a distant dream that I would ever talk to an actress like Marion, who has won an Oscar, but it became a reality.
Was she aware about Masaan?
Yes, she was. She is planning to watch it in Paris later.
Did you meet any other celebrities you were excited to see?
I met Harvey Keitel, Michael Caine, Paul Reno and Brazilian filmmaker Walter Salles.
They were all really sweet and kind. It was just an amazing experience.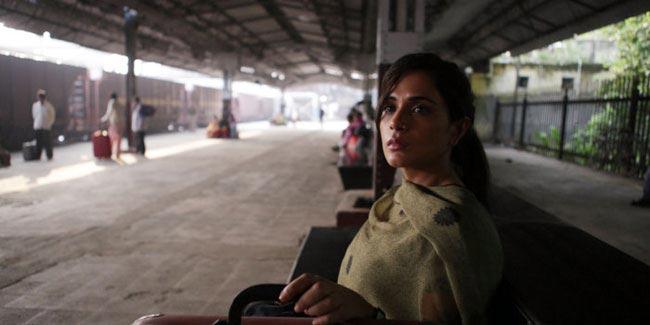 Image: Richa Chadha in Masaan
What prompted you to do Masaan?
The script was written for me so there was no reason I could have said no to it.
The story is really interesting; it's not often that actresses get roles like the one I have in the film.
I play a strong, honest and uncompromising woman.
I believed in Neeraj and his instincts. I just listened to what he had to say about my character and it really helped me to emote better.
Are you curious about how the film will be received in India, when it releases on July 24?
No, not at all. We are confident that the film will do well in India also.