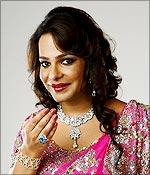 Pakistani television host and cross dresser Begum Nawazish Ali was evicted from Bigg Boss last week.


Begum seemed glad to get out of the house, and was given a quick farewell by the housemates.

This leaves only one Pakistani participant -- Veena Malik – in the house, which came under fire, when Shiv Sena demanded that the Pak artists be sent out of the house.

Over to Begum Ali:

Do you think you got evicted because the Shiv Sena pressurized the channel to do so?

I got evicted because I got the least votes. I don't think the channel got any pressure from anyone.
Are you aware that the Shiv Sena protested against the inclusion of Pakistani artists in Bigg Boss?
Yes. I am aware of it. But it's come as a surprise because we have come here as guests. We are artists, not criminals. We didn't enter the country without a visa and legal permissions.
We have to strengthen our relations and come together, rather than indulge in violence. When we are invited, the least we can expect is hospitality from India. I fail to understand why the Shiv Sena protested.
What made you want to be in Bigg Boss?
Hundreds of people have died from floods, air crash and violence. Things are happening back to back, and Pakistani is going through a depression. That has made me extremely depressed, and I wanted to get away from these unpleasant realities. 
So when I got the opportunity to come on this show, I grabbed it. Coming on this show was really refreshing. Now, I will return to Pakistan.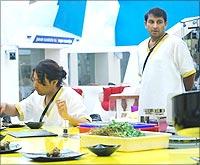 How do you see India and Pakistan relations?
We are as welcoming as you are. We watch your films and television shows, and listen to your music.
Our country is going through a bad phase now. We have received terror threats and our economic condition is now good. It's not safe to invite artists from different countries. The public is aware of everything, so they can decide whether they should visit or not.
How was the Bigg Boss experience?
It was a unique experience. I don't regret getting eliminated because I am going back with lovely memories. It was the best time to leave the house. Had I stayed longer, I may have burst out because I was reaching my saturation point. Slowly, it is becoming dirtier.
The only issue I had inside the house was limited sleep and food. Plus, I missed my mother and home.
Who are the people playing games?
Manoj Tiwari, Sameer Soni and Shweta Tiwari are trying to dirty the atmosphere. So far it has not been harmful for the other housemates.
Sameer is controlling his anger but soon, he will explode. Hrishant Goswami is very selfish.
Who is your favourite in the house?
Rahul Bhatt and Aanchal Kumar are good but Seemaji (Parihar) was my favourite. She is honest and down-to-earth.  She and Khali have great chances of winning.
Khali was refreshing and the guys were obsessed with his body!
Your best moment in the house?
When I was chosen as the captain of the house. I got all the comforts in the delight room!
How was your interaction with host Salman Khan?
He is a wonderful person and a great actor.
If you get a chance to work in India, will you come back?
Yes, I would love to return and work in India.