'I don't want to waste the opportunity that Salman gave me. It would be a shame if I don't make the most out of it. Kick gave me the platform and now, it's crucial to pick the right film.'
Birthday girl Jacqueline Fernandez gets ready for Brothers.
Jacqueline Fernandez has two back-to-back releases.
After Bangistan last week, she will be seen romancing Akshay kumar in Brothers.
The actress, who celebrates her birthday on August 11, has some more interesting movies lined up for release.
She tells Rediff.com contributor Rajul Hegde what it's like being Jacqueline Fernandez!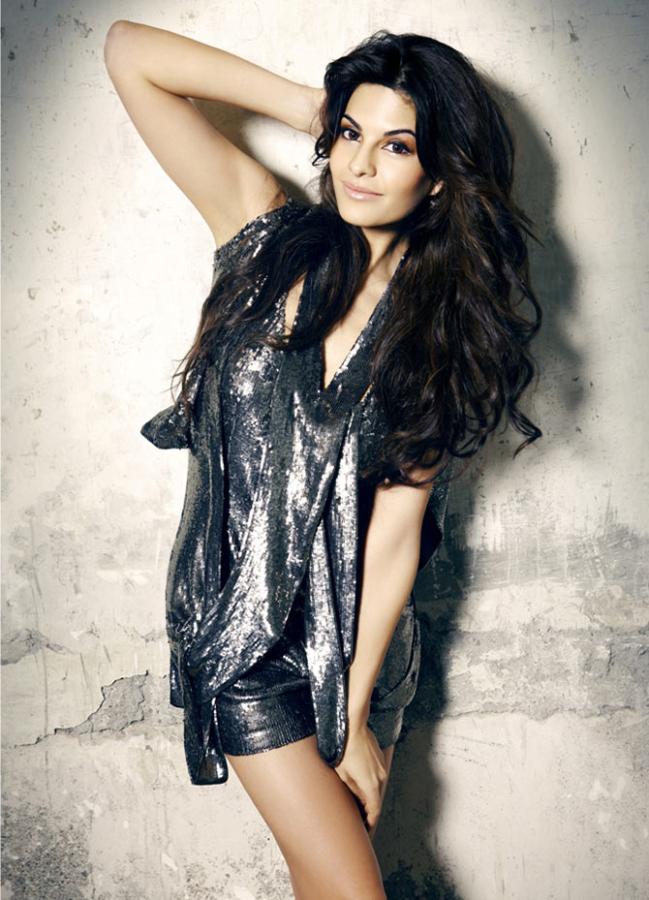 You play a mother in Brothers. Were you skeptical about playing a mother so early in your career?
Initially, yes, I was.
It's a hardcore, intense role with too many stereotypes attached to it. I asked myself whether I should do it or not.
(Producer) Karan Johar and (director) Karan Malhotra told me that if I could pull off this role, I would be able to do anything after this.
Karan Malhotra is an amazing director but he's strict. He helped me tap into the emotions of a mother that goes through her daughter's sufferings (her onscreen daughter suffers from kidney failure). I have been able to relate to my characters in my earlier films, unlike here, which was difficult. It was challenging to play a mother.
Have you seen Warrior, the Hollywood film that Brothers is an official remake of?
No, I have not seen Warrior.
How was your working relationship with Akshay Kumar?
Akshay is a nice person and always keeps smiling. He is so easy to work with. I have worked with him before but not opposite him.
It was also fun to work with Sidharth (Malhotra) and Jackie (Shroff). Even though it's serious film, Akshay and Jackie made the shooting light with some good jokes and stories, and food!
Akshay's punctuality and time management is very inspiring. He does so many things, yet manages time for everything -- as a father, a husband and an actor. His energy is always high. That's how you stay fit, healthy and professional.
Did you take any fitness tips from him?
Yes. Akshay is old fashioned when it comes to fitness. He doesn't like to take protein shakes or supplements. He follows traditional methods. He believes in eating the right food. I like natural and organic food too.
Do you have brothers in real life?
I have two brothers and a sister. I am the youngest in the family and was a bit of a tom boy.
I always wanted to play with my brothers but they never let me and always bullied me. The bonding with my brothers happened only after we went our separate ways. That's when we understood the value of each other. Now, we talk a lot.
One of my brothers is a body builder and the other is an accountant. Both of them live in Australia, so I rarely get to see them. My sister lives in the US.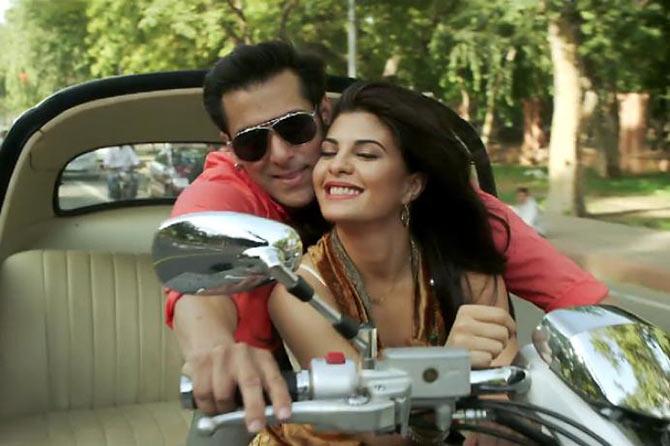 Image: Salman Khan and Jacqueline Fernandez in Kick
Kick was the turning point in your career, and you're working in good banners after that film.
Yes. After Kick, for the first time in my life I have shot four films back-to-back.
Before that, it was a bit of a struggle; I was not getting work.
I don't want to waste the opportunity that Salman gave me. It would be a shame if I don't make the most out of it. Kick gave me the platform and now, it's crucial to pick the right film.
What is your equation with Salman today? He recently said that you were not be a part of he Kick sequel, and that you've been 'kicked' out of Kick.
Honestly, I find it funny when people ask me this. I know the truth.
Salman's intentions were not to hurt anyone. He gets misunderstood and his words get misinterpreted. Whatever he says is honest, not to harm anyone. It may be a joke. Even if it's not a joke, it's not disrespectable in any way. He gave me Kick and that's a big deal.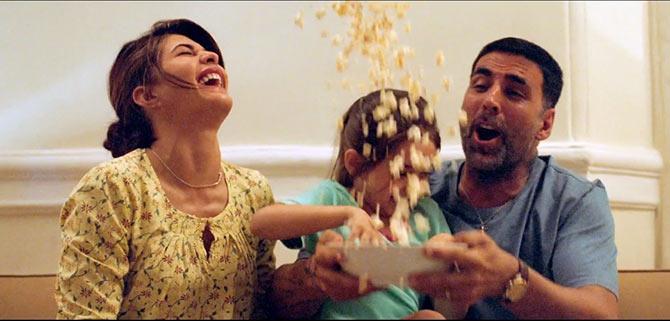 Image: Jacqueline Fernandez,

Naisha Khanna and

Akshay Kumar in Brothers
Are you happy with the kind of roles you are getting?
I am very satisfied that I have been able to work with the producers and actors I wanted to work with. With Brothers, I needed to be able to take it to the next level. All the films I am doing are a good mix of genres, and the roles are not stereotyped. It's important to show my range as an actor and also work with different actors.
If you were asked to work in a biopic, which personality would you choose?
A biopic on Mother Teresa would be interesting because nobody has done it yet. She had come from a different country to a place like Kolkata at the time when people wanted to stay away from leprosy, which they thought was contagious. But she didn't care. She helped and hugged them.
I want to know her background. What made her give so much love? It's an inspiring story.
Who are your friends in the industry?
Sujoy Ghosh has been there for me since my fist film, Aladin.
I've worked with Sajid Nadiadwala the most.
Salman Khan loves to help people.
Sonam Kapoor is also a very honest person.
They all have seen me through good days and bad.
After launching a restaurant in Sri Lanka, any plans to open one in India?
Yes. I would like to get Sri Lankan food to India. In a way, the curries are similar but spicy. We use different kinds of spices.
Would you work with (former beau) Sajid Khan again?
Why not? One must be professional and not let anything personal come in between.