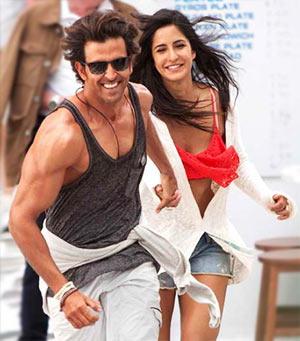 Bang Bang scores big worldwide, while The Hundred-Foot Journey becomes Om Puri's biggest hit.
With a huge run across India and around the world, Bang Bang has become the sixth highest grossing film this weekend worldwide.
According to the box office tracking network Rentrak, the movie -- starring Hrithik Roshan and Katrina Kaif -- made an estimated $24.50 million, while the top grossing suspense drama Gone Girl opened with $62 million.
Given the standard attrition rate for hit Hindi films (60-65 per cent down in the second week), Bang Bang can be expected to gross about $50 million.
Another non-English film, Breakup Buddies from China, about two hapless friends and their road trip, was at number three with over $38 million. The film, which was screened at the recent Toronto International Film Festival, is expected to gross over $200 million, most of it in China and Southeast Asia.
Bang Bang was number 12 on the box office chart in North America. It grossed an estimated $1.2 million over the Friday-to-Sunday period and $1.4 million in the four days since its Thursday debut.
That beat out this year's previous top hits including Salman Khan's Kick and Jai Ho as well as Chetan Bhagat's 2 States, according to boxofficeguru.com
In a press release, Rentrak's media analyst Paul Dergarabedian commented, 'A very diverse slate made a huge impression worldwide as Gone Girl and Annabelle (a horror film that grossed $57 million) enjoyed massive global debuts. Notably in the international arena Breakup Buddies and Bang Bang had incredibly impressive weekends in just a handful of territories each.'
Fox, the producer and distributor of Bang Bang, is popping the champagne as The Hundred-Foot Journey, an English language film starring Om Puri and Helen Mirren has become a respectable hit in several countries. Costing $22 million, it has grossed over $80 million worldwide. It is the highest grossing film in Om Puri's career.