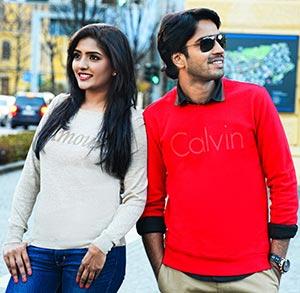 'The comedy in Bandipotu is as much visual and slapstick as it is verbal.'
'The challenges in filming a comedy are numerous. I had to plan shots in such a way that the actors' comic timing was not affected.'
Telugu director Mohanakrishna Indraganti talks about his first out and out comedy film Bandipotu.
Mohanakrishna Indraganti is a versatile director. After the successful love story Anthakumundu Aa Taruvatha, this National Award and Gollapudi Srinivas Award winning director is back with Bandipotu, a 'crime comedy', starring Allari Naresh, Eesha, Avasarala Srinivas and Sampoornesh Babu.
In this exclusive interview with Radhika Rajamani, Mohanakrishna talks about making his first out and out comedy film and why it took him such a long time to make it.
What inspired you to make Bandipotu?
I am a great fan of writers like Edgar Wallace and Raymond Chandler.
I always wanted to write a crime film replete with quirky criminals and hard-hitting dialogue.
Bandipotu was born out of that desire.
You are doing an out-and-out comedy for the first time. What were the challenges in writing and filming it?
This is not the first time I am doing an out-and-out-comedy. My biggest hit, Ashta Chamma, was a full-length comedy.
If Ashta Chamma is a screwball comedy, Bandipotu is a crime comedy.
The comedy in Bandipotu is as much visual and slapstick as it is verbal.
The challenges in filming a comedy are numerous. I had to plan shots in such a way that the actors' comic timing was not affected.
I also had to be very clear about how I want to edit the scene to keep up the visual humour and momentum.
What is Bandipotu about?
Bandipotu is a crime comedy about a man who cons some really quirky people under unusual circumstances.
It has loads of comedy-packed scenes filled with tickling punch-lines, colourful characters, weird situations, stinging social satire, great music, wonderful photography and, most of all, brilliant performances by the cast.
Is there any reference to the film by the late N T Rama Rao, also titled Bandipotu?
None whatsoever. Except the title, this film has absolutely nothing to do with NTR's film.
It's neither a remake nor a spoof. This Bandipotu is totally new and contemporary!
Was Allari Naresh your first choice for the lead role? Why choose him?
I had the idea for Bandipotu in my mind for a while. When Naresh and I met and decided to do a film together, I thought, 'Why not this?'
It would be very novel for him without hurting his image. It would be very novel for me in terms of genre.
Of course, Naresh's record as a comic actor would only boost it.
One thing we were both very clear about was that it should be totally new for the audience and for both of us.
It must not be an experiment of any kind but at the same time it should not be a run-of-the-mill comedy.
Allari Naresh is a mainstream actor. How was it directing him?
I don't see actors as mainstream actors and art film actors.
Allari Naresh is a gifted actor who is highly under-utilised.
In Bandipotu I tried to showcase a different aspect of his acting ability and also tried to change his look.
He is one of the most loyal and committed actors I have worked with.
Audiences will see a different Naresh doing different comedy in this film.
You are repeating your find Eesha as the heroine. Why?
I like working with Telugu speaking actors. It makes life easy for me and everyone else in the unit.
I am very fond of Eesha's acting style and her fluency in Telugu.
She is very professional, down-to-earth and unobtrusive to work with.
After the huge critical acclaim she got for Anthakumundu Aa Taruvatha, my confidence in her increased.
And Naresh expressed his intention to work with her long ago, when he watched her in AMAT. Very few stars have the conviction to encourage a Telugu heroine these days.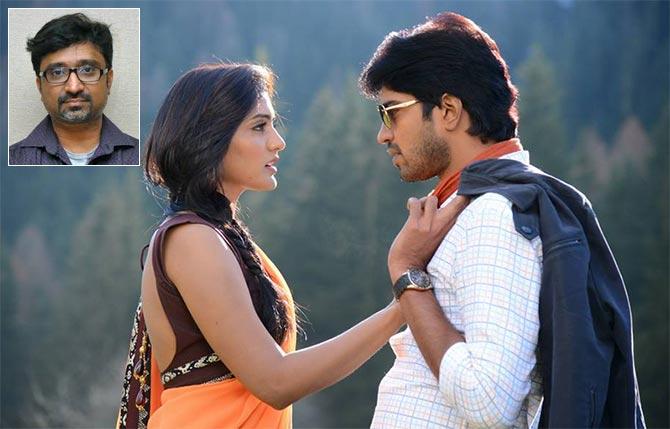 Image: Allari Naresh and Eesha in Bandipotu. Inset: Director Mohanakrishna Indraganti
What does Sampoornesh Babu (who became an internet sensation) do in the film?
Sampoornesh is a special attraction in Bandipotu. I know how sensational his Hrudaya Kaleyam is.
Neither Naresh nor Sampoo do any spoofs in this film; they play well-etched characters with elan and style.
Sampoornesh plays Naresh's friend and right-hand man. Sampoornesh underplays comedy and is never loud and that brings in more laughter.
He will be a revelation in this film.
Another constant, Srinivas Avasarala, also figures in the film. What is his role?
Srini Avasarala is my favourite actor and person.
He plays a very weird role in this film and his performance along with Bharani garu is one of my favourite episodes in the film.
His timing is impeccable, his diction is perfect and his screen presence is superb.
I want to do a film with him in the lead in the near future.
Kalyani Koduri composes the music for the film. This is your fourth film together...
Kalyani and I share similar tastes in music, especially background score. His song composition is always fresh and sweetly melodic.
I also like his musical interpretation of a scene and I value his feedback after watching the final cut. He is polite and frank at the same time.
We listen to the same kind of music and exchange musical ideas all the time. It's always a joy to work with him.
You have also collaborated with cinematographer P G Vinda for the fourth time in Bandipotu...
I have said many times that Vinda is my eyes! We started our journey together with Grahanam and every single time I work with him he surprises me.
We talk a lot about movies and photography and when shooting we just need to look at each other to decide the frame!
Vinda took Bandipotu to another level with his photography. The film has three different colour palettes and Vinda's expertise is written all over the film.
The photography in this film is totally top-notch. With limited means Vinda can achieve great depth and poetry. I am proud of his work as a collaborator in Bandipotu.
You seem to be taking your time in making films...
Actually I don't take much time. I take as much time as I think should be taken to make a film.
Since I also write everything - and I don't have groups of writers or 'ghosts' writing for me! - I take more time than others maybe.
But I don't regret it at all. For me, filmmaking is art for the entertainment of the audience.
I want to be sure that my film respects the audience's time and money and doesn't insult their intelligence.
Have you thought about your next project? Will it be a shift of genre again?
I haven't thought of anything yet. I have some stories already written. I have to choose!
Yeah, it will be a totally different genre. That's the fun, isn't it?