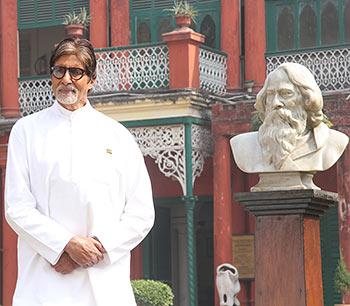 Amitabh Bachchan had multiple reasons to celebrate Republic Day this year. Not only did the Government Of India confer the Padma Vibhushan on him, his version of the national anthem also went viral the same day.
Apparently, it was the persuasive powers of the two filmmakers R Balki and Shoojit Sircar that did the trick.
"Amitji did not want to touch the sacrosanct anthem with his vocal chords," says a source. But Balki, who repeatedly stretches Amitji's boundaries, insisted and even got Shoojit Sircar to shoot the anthem at Rabindranath Tagore's birthplace (in Kolkata)."
Incidentally, Balki and Shoojit are close collaborators. The latter has directed several ads for Balki's production company.
They are also the directors of Bachchan's next two releases Shamitabh and Piku.
"Shoojit was the right person to shoot Amitji's rendition of the national anthem because we wanted it to be shot at Tagore's birthplace. Shoojit understands the Bangali milieu much better than I do," says Balki.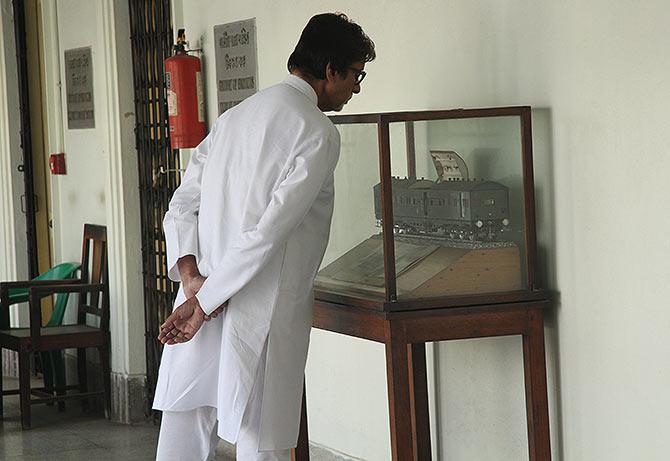 Image: Amitabh Bachchan gives himself a tour of Tagore's home
Why a new version of the national anthem by the Big B?
"Because we felt that the song of the nation must be sung by the voice of the nation. And how beautifully Amitji has rendered Jana gana mana! We don't want to compare his version of the immortal song to others. Amitji is incomparable," he says.
"To re-invent the national anthem in Bachchansaab's voice is a pleasure beyond measure," says Shoojit Sircar. "I had goosebumps when Bachchansaab sang Jana gana mana. How beautifully he has rendered it! To shoot it Tagore's museum was an added high."