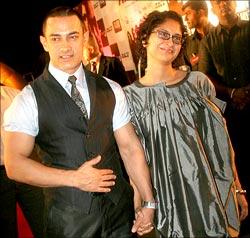 Aamir Khan and Kiran Rao became the proud parents of a baby boy on December 1.

The baby was born through IVF to a surrogate mother at a private clinic in Mumbai.

Apparently, Aamir sent a letter to Mumbai-based tabloid Mid-Day, stating: 'It gives us the greatest joy to share with you the good news of the birth of our baby boy. This baby is especially dear to us because he was born to us after a long wait and some difficulty. Due to medical complications, we were advised to have a baby through IVF -Surrogacy and we feel very grateful to the Almighty that everything has gone well.'

The couple married in December 2005 in Panchgani.

Aamir has two other children -- Junair and Ira -- from his first wife, Reena Dutta.