'People have asked me about making a (Baaghi) series and I said that part two and three will only be made if part one is liked by people.'
Director Sabbir Khan talks about his latest film.
Director Sabbir Khan claims his latest film, Baaghi: A Rebel For Love has all the ingredients of a wholesome entertainer.
As the film releases in theatres, the director tells Jahnavi Patel/ Rediff.com more about the film.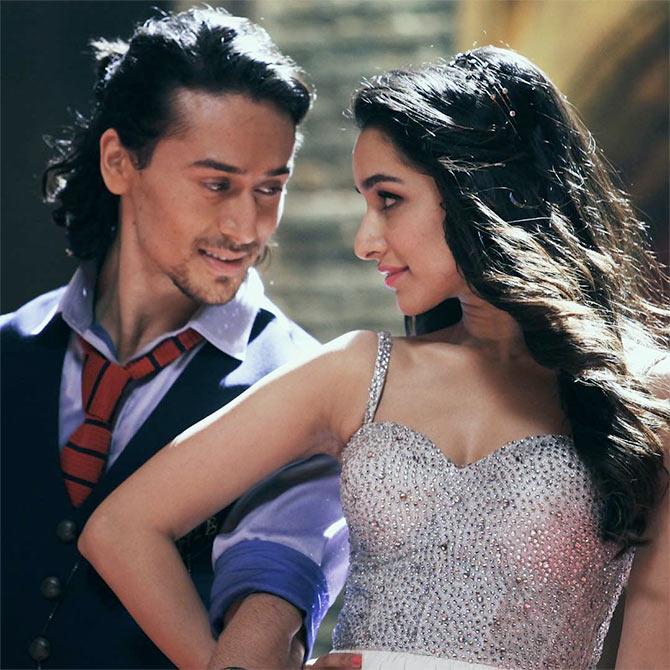 IMAGE: Tiger Shroff and Shraddha Kapoor in Baaghi
What is Baaghi about?
It's the sort of film I grew up watching and loving. I used to watch films at theatres like Gaiety Galaxy and Chandan, which had a 500-1,000 seat capacity. Entire families would come and not feel uncomfortable by the film's scenes.
They were wholesome films, and Baaghi is like that. It has a beautiful love story, music, humour, drama and action.
I think the audiences will enjoy watching this film.
We have not seen Shraddha Kapoor in an action film before. How did you go about the casting?
Casting Shraddha was a novel (idea). She has this very sweet girl-next-door image and I was thinking what if I reinvent that?
We all like to see our favourite stars doing different films.
I wanted to do something with her that she hasn't done before; I thought maybe her fans would like it. We've got a positive response to the trailer, which has made us happy.
Also, it was our destiny to work together. I have always wanted to work with her, even before she did Aashiqui 2.
We had met when I was writing the story for Heropanti. We instantly liked each other and I wanted to cast her in the film. But I took so long to finish the script that she had signed Aashiqui 2 by then and become a big star.
I wanted her for Baaghi, so I called her. She heard the story and asked for the script. I told her that I still had to write it. So again, she went off and did a few films.
When I finished the script, I was wondering if she would do this film. I called her and told her the script was ready. She told me she was busy but she came and heard the script.
She was really excited that I wanted my hero and heroine to be equals, and that there was a chance for her to do an exciting character and do action.
Was Tiger an obvious choice for the film as you had worked with him in Heropanti?
No, I didn't want to take our relationship for granted.
After Heropanti, Tiger had held back because he didn't want to jump into any film.
For a first-time actor, it's commendable that he is so secure that he is willing to wait.
We used to meet and hang out together. One day, I narrated the Baaghi idea to him and he got really excited and said let's do this.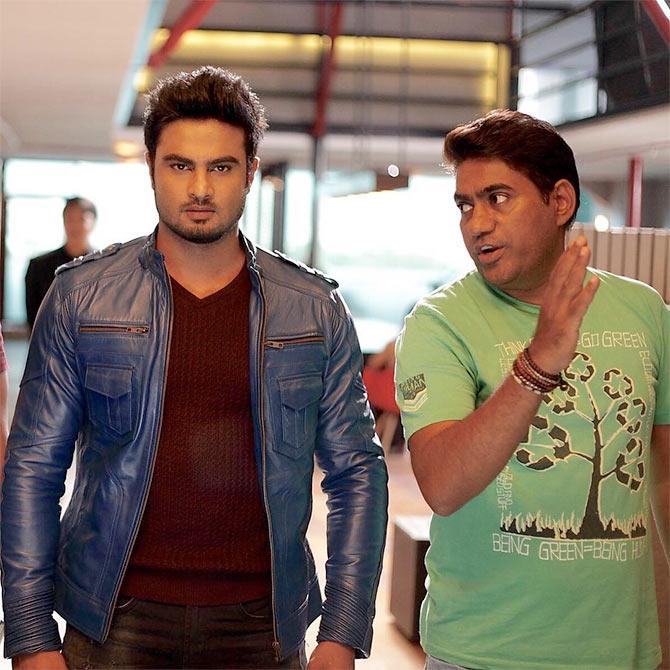 IMAGE: Sudheer Babu and Sabbir Khan. Photograph: Sabbir Khan/Instagram
How did you cast Sudheer Babu in the film?
The story is set in Kerala, so I wanted a South Indian actor, who would be stronger and tougher than Tiger but with a charming and soft personality.
I did not want to cast anyone from the Mumbai film industry, or take a weak actor and make him look stronger than Tiger. The requirement of the film was that the actor needed to be stronger than Tiger.
We auditioned 50-60 people. Then, one day, my team saw a video of Sudheer Babu on the internet. It was a show reel of gymnastics, dance and performance.
We were happy that at least there was someone (who fit the bill), whether he would do the role was secondary.
We got in touch with him and learnt that he is a mainstream hero in the Telugu film industry. We called him, shared the script with him and he got excited.
Thank God he's in the film! Or else, we wouldn't have got anyone.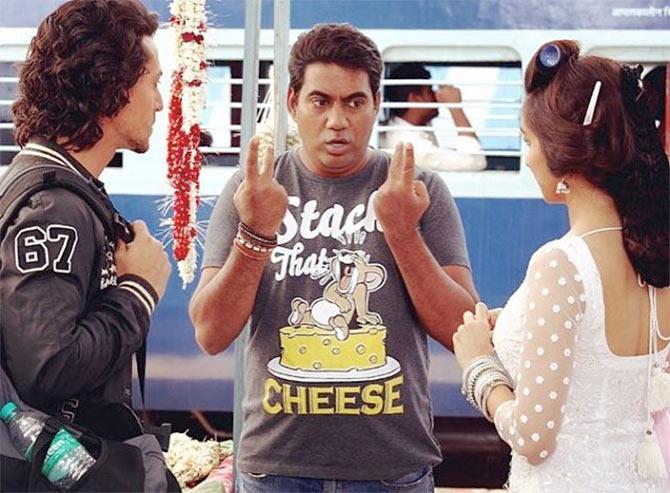 IMAGE: Tiger Shroff, Sabbir Khan and Shraddha Kapoor. Photograph: Sabbir Khan/Instagram
You have directed two action films. Will we see you direct a comedy or romance in future?
My first film (Kambakkht Ishq) had a lot of comedy. My second film (Heropanti) hardly had any action; it was a love story and drama.
I want to make different kind of films.
Baaghi has a lot of things besides action. If people like action, I'll make more of that.
You have worked with Akshay Kumar and Tiger Shroff, actors who are good at martial arts. Will we get to see them together in a martial arts film?
I wish there's a film like this; the audience will love to see them together.
I don't know if such a script will be made but anyone can think of such a film, they must make it.
People love Akshay Kumar, he has fans all over the world. Tiger has just started and people love him too. This combination will be very exciting.
In Hollywood, if a hero like Sylvester Stallone does action films, he's called an action hero. But in India, it's considered to be a stereotype.
Some of Sylvester Stallone's films made such an impact! He's called an action hero but many people don't know that he is one of the most talented screenplay writers and director. He has written brilliant comedy films and directed a dance film called Staying Alive, starring John Travolta.
If Sylvester Stallone is called an action hero, then it's nothing bad if Tiger is called one as well.
Tiger is a very good actor. When Baaghi releases, people will see him and praise his performance as well.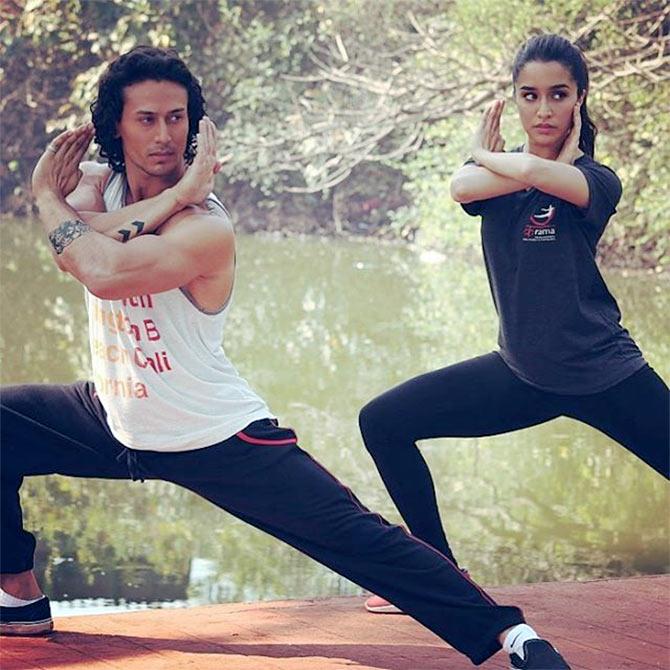 IMAGE: Tiger Shroff and Shraddha Kapoor. Photograph: Sabbir Khan/Instagram
Has Tiger done fight scenes with actual fighters with prior training in fights?
There were two action directors -- Javed Karim and Ejaz Gulab -- doing the Indian portions.
Then the story shifts to Thailand, so we took Thailand's noted action choreographer, Keecha Kampakdee.
Fortunately, both teams had fighters who were well versed with the art of action.
There were reports that you want to make Baaghi into a series.
No. People have asked me about making a series and I said that part two and three will only be made if part one is liked by people.
In Dabangg, we all loved Chulbul Pandey and wondered what he would do next. So it was justified that they made Dabangg 2.