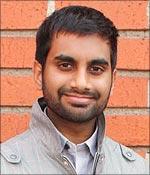 Russell Peters and several other Indian Americans have mined quite successfully their ethnic background but 26-year-old Aziz Ansari, who has a small but significant role in the new Judd Apatow (Knocked UP) film Funny People, has taken a different route.
Ansari -- who's has a lot of fans for his work as Tom Haverford on NBC's Parks and Recreation as well as the following he built up during two seasons of the Human Giant sketch show on MTV -- says ethnic humour just doesn't appeal to him.
Son of Tamil immigrants from South India, Ansari -- who grew up in Columbia, South Carolina -- said in an interview recently, 'I'm not really into that kind of ethnic humour, it's not really my cup of tea, so I don't really do it.'
He quickly added:  'But I don't have anything against people who do.'
But he won't mind playing an ethnic character. For instance, he played Ed Dandapani in the ABC TV show, Scrubs.
Ansari whose father is a gastroenterologist, and whose mother works in his medical office, has 'a slight Southern drawl can soften even his most unprintable jokes,' The Wall Street Journal said. 'Though he doesn't do much ethnic humour, he sometimes refers to his Indian heritage (he speaks Tamil) in his stand-up.'
Ansari, who graduated in 2004 from the Leonard N Stern School of Business at New York University, where he majored in marketing, started doing stand up comic at the school. He lost interest in pursuing a business career early on his studied at NYU, he has said, adding he was too lazy to switch on to arts or acting courses.
Three years ago, the influential publication, Variety, named him among 10 Comics to Watch.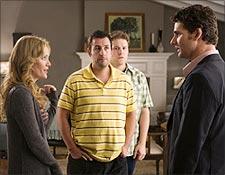 Though he has a small role in Funny People, whose cast includes Adam Sandler and Eric Bana, there is a lot of buzz going about his work in the film.
'He's a terrible comedian that does incredibly well with audiences,' Ansari told The Guardian, the British paper, recently...; But he's hated by other comedians for being nothing but an idiot that dances and jumps around on stage while talking about hooking up with girls.'
He won't do ethnic comedy but he will occasionally speak about life in the South.
'It was weird at times, I was the only minority in my school up until high school,' he recalls. 'Occasionally I had to deal with racist-type stuff but there was a good side: I also got to eat fried chicken, baked macaroni and cheese and biscuits. It was a fair trade-off.'