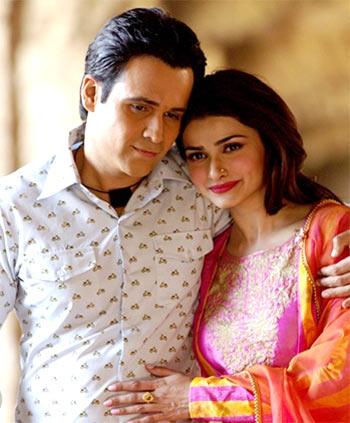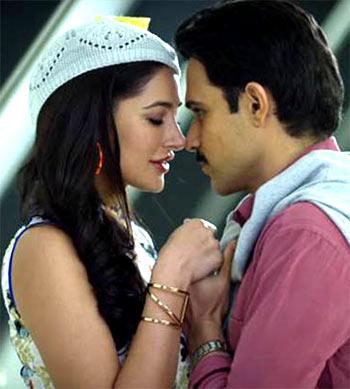 'Azhar has been very honest and has revealed a lot.'
'Did he accept the (match-fixing) money? Did the match-fixing happen? Did he betray his team? We have tackled all that.'
Director Tony D'Souza gets candid about his new film, Azhar.
Director Tony D'Souza claims that his new film Azhar will highlight the life of cricketing legend Mohammad Azharuddin, including the match-fixing scandal that he was a part of, and the women in his life.
Starring Emraan Hashmi, Nargis Fakhri and Prachi Desai, Tony asserts that the film is, in fact, not a biopic, but is based on true events.
The director of such films like Blue and Boss may have stumbled again, but he tells Patcy N/ Rediff.com how he made the film.
Why did you choose to make a biopic on Mohammad Azharuddin?
I am a huge fan of Azhar. I would pay money to go and watch his matches. When he stopped playing in 2000, I stopped watching cricket.
Before 2000, ask me anything about cricket, cricketers and statistics -- I might beat Harsha Bhogle! -- but after that, I know nothing about the game.
I met Azhar later as a fan with help of a minister. I went to his house at 11.30 pm for an autograph, and that's when I got friendly with him.
When the film was offered to me, it was like a dream come true because it was on somebody I had idolised in my growing years. Now he is almost like family.
But recently Azharuddin said...
...It is not a biography.
It is based on factual events of his life. I don't think Azhar ever walked on the streets holding his wife's hand, kissing and singing a song.
We have got a fictional character called Meera, played by Lara (Dutta).
In an India-Pakistan match, somebody obviously won't say, 'Mere naam bhi Mohammed hain'. I don't think Azhar would ever do that.
There are a lot of events and circumstances from his life. It's a story of a man and how he overcomes the challenges in his life.
It has been fictionalised but the events are true.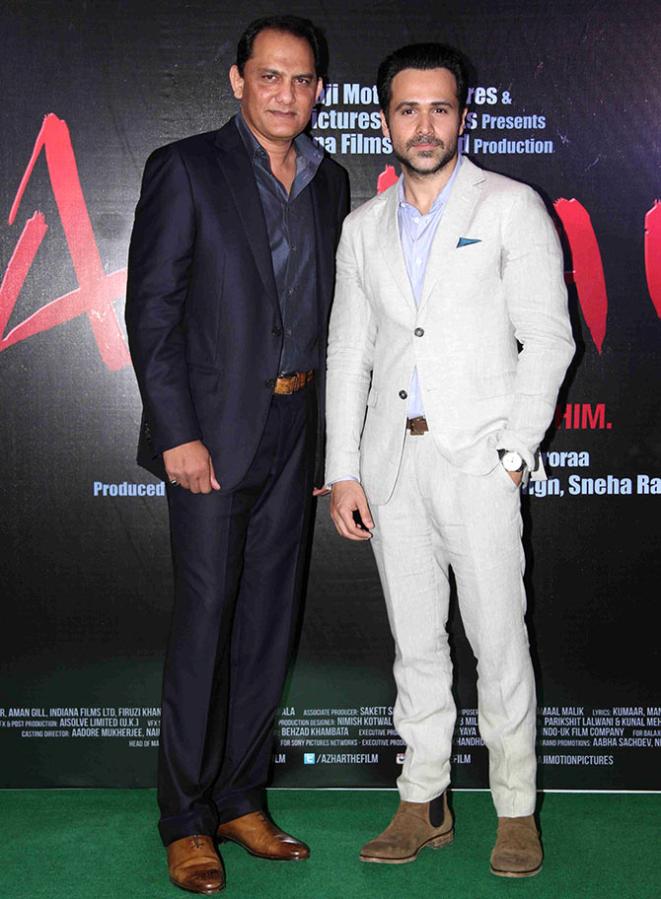 IMAGE: Mohammad Azharuddin and Emraan Hashmi at the Azhar trailer launch. Photograph: Pradeep Bandekar

What was your reaction when Azhar was accused of match-fixing?
I gave up watching cricket because of the match fixing (controversy) and him being removed from the game. You lose faith in the system.
The game did not appeal to me anymore.
I would make scrapbook of all the matches, I still have them. I would make a collage of pictures from every match and collect them. And then suddenly, you realise that you can't watch that person play anymore.
I am sure there are many fans of Sachin, who have stopped watching cricket ever since he stopped playing.
I am still hunting for my next big cricket hero.
Did you ever doubt Azhar?
Yes, I did. But then you realise that he is not that kind of a person. For a second, you do wonder why this is happening, why is he involved.
I might have had doubts but I sincerely believed that it was a conspiracy and the man is innocent. And the court has proven that now.
What kind of research did you do for this film?
Ask me what research I didn't do!
What I didn't do is that I did not go to the ground and watch the actual matches. Besides that, I have done everything else.
You can ask me everything from the pitch to the balls used, to the scores, to his hairstyle, his walk, what he ate... I researched everything.
IMAGE: Director Tony D'Souza, Mohammad Azharuddin, Nargis Fakhri, Emraan Hashmi, Prachi Desai, Lara Dutta and Azhar's son Mohammad Asaduddin at the trailer launch of Azhar. Photograph: Pradeep Bandekar
Is there anything that you wanted to show in the film but haven't?
In cricketing terms, it would be the hundred which he hit against South Africa, where he hit Lance Klusener for four straight fours in the latter's first match.
The longest six in the history of cricket was hit by Azhar, which no one knows about. And that too with a thin bat used in those days and the bowler was bowling at a speed of 150 mph, which nobody bowls now.
I thought of showing the greatness of the man with stuff like that. But when you are making someone's life story, which is so vast, there is so much you have to leave out. There is stuff about him and his kids, for example, which I can't get into.
So we have not really dwelt into every aspect of his life but we have gone into his hardships.
It is more about the questions that everybody would want to ask. Like the first question one would ask is about the match fixing. The second question would be about Sangeeta, the third would be about his (first) wife.
If I got into Azhar walking with his grandfather everyday, sitting under a tree to have chai, I don't think people would want to see that. It might be an emotional moment for me because that is where he learnt about cricket. But I don't think the audience has the time or intent to watch that.
So we have taken things that we think people would want to watch and have focused on that.
The story starts from the time he is born, and ends with a court verdict. We haven't touched his political career.
Is there anything Azhar did not want you to show?
He has never stopped me from showing anything.
Was Emraan Hashmi your first choice for Azhar?
He was the only choice for Azhar.
I have seen his body of work and I don't think any other actor would have dedicated himself for a year and a half for just one movie. He has done nothing for the last one and half year except Azhar.
He would practice everyday for hours. Azhar would come and train him. For six months, he played cricket till his feet got sore.
IMAGE: Emraan Hashmi and Nargis Fakhri in Azhar
How much of his life with Sangeeta Bijlani have you shown?
Everything that people want to see.
Even their split?
The split hasn't happened (in the film) yet.
Did you meet Sangeeta?
No. I met Azhar and all I know is his point of view. The story is from his point of view. The film is not called Naureen or Sangeeta.
Do you think after watching the movie, Sangeeta would object to certain things?
I don't think anyone will object to anything. It is not a biopic. Certain things in the film are fictional but we haven't done anything to sensationalise or demoralise anyone.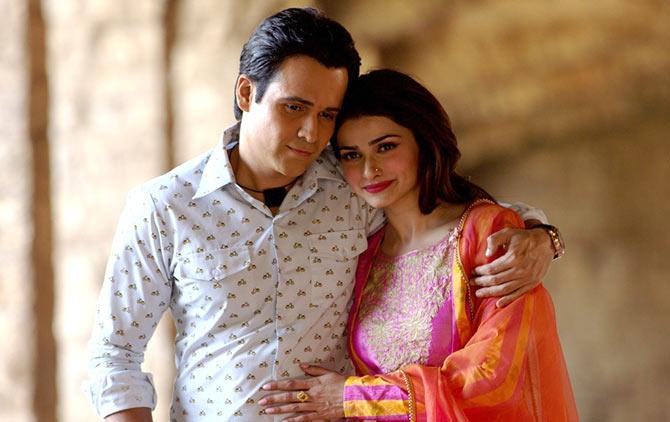 IMAGE: Emraan Hashmi and Prachi Desai in the film Azhar

How much has Azhar revealed to you about Naureen?
He has been very honest and has revealed a lot. The trailer itself says a lot.
The man has been honest enough to say that he has done things, and that getting married for second time is a crime, then yes, he is a criminal.
Did he accept the (match-fixing) money? Did the match-fixing happen? Did he betray his team? We have tackled all that. Plus, we are showing the man's achievements.
Has Azhar watched the movie?
He hasn't watched it yet, he has just seen a few scenes. He has liked Emraan's impersonation of himself. He is happy with what he has seen.
Have you shown Hansie Cronje in the film?
Yes. But we are not showing his death, as that's not relevant to our film.