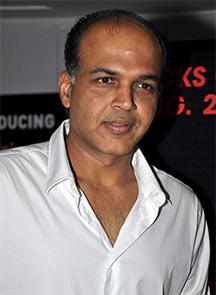 'Though I am not able to make saas-bahu shows, I like the dynamics between the men and women living under one roof with their insecurities, jealousies and rivalries.'
Ashutosh Gowariker gets ready for television.
Ashutosh Gowariker is ready with his first television series, Everest, to be aired on Star Plus in a couple of months from now.
The serial traces the story of a 21-year-old woman who sets out to scale the world's highest mountain peak, Mount Everest.
During the launch of the show, Ashutosh said, "I am intrigued by mountaineers and always wondered what they felt on reaching the peak of any mountain. Now I know it's the inner satisfaction that they get."
This story of how a young woman fulfills her father's dream is "a fine blend of drama and adventure," Gowariker said.
Gowariker said he likes "kitchen politics and saas-bahu dramas. Though I am not able to make such shows, I like the dynamics between the men and women living under one roof with their insecurities, jealousies and rivalries."
He admits he watches a lot of television and is a Bigg Boss fan. "Nobody can take the remote away from me when I'm watching Bigg Boss. What I love about Bigg Boss is the changing personalities every week."
But he wouldn't like to enter the house himself because "it entails a different mindset, and there's too much on my hands right now."
Everest has been scripted by Ashutosh and produced by his AGPPL banner. He has collaborated with the Nehru Institute of Mountaineering and shot in Uttarakhand and Nepal.
He chose to make a television series rather than a film because there are many sides to the story and each character has its own tale. "If I had to make a film on the subject, it would end up being a 15-hour-long movie."
The show will be directed by Glenn Barreto and Ankush Mohla (who was the assistant director on Joh Jeeta Who Sikandar and Akele Hum Akele Tum).
He chose not to direct himself because he does not have the discipline to direct a television show, he said.
Writing for television was a big challenge. "On television, you write and put it on air and take the viewers' feedback. Depending on the TRPs, you go ahead. But here, I had to write at one go since we were shooting in snow and within a particular time frame.
"Television is the biggest industry today and it is completely driven by TRPs. Some of them are huge hits. You and I may not like it, but there is a certain audience for it," he said.
Other members of the crew were present too, such as National Award winning make-up artist, Vikram Gaikwad, cinematographers Mahesh Aney, Alphonse Roy and Piyush Shah; art director Aparna Raina; costume stylist Preeti Sharma and stunt director Amar Shetty.
Gowariker, whose prestigious projects include Lagaan, Swades, and Jodha Akbar, will be directing the period drama Mohenjo Daro next, starring Hrithik Roshan and newcomer Pooja Hegde.
"I am putting the cast and crew together, auditioning people and finalising locations. I should start shooting in November," Ashutosh says.
Hrithik Roshan had said in a recent interview that Ashutosh had waited for him to be free for the last three years. "It's very important for me to get the cast right. So I decided to wait for Hrithik," Ashutosh says.