'... because we are all characters.'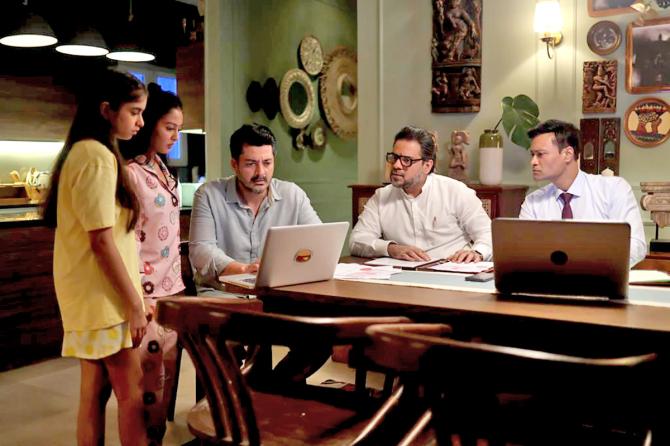 Aseem Hattangady has done 10 years of theatre and worked with directors like Naseeruddin Shah, Makarand Deshpande and Rahul D'Cunha, but audiences were unfamiliar with his talent till they watched him in Hansal Mehta's Scoop and Suparn S Verma's The Trial: Pyaar Kaanoon Dhokha.
Old-timers at Rediff recall Aseem from his days as a young intern at our Mumbai HQ back in the early 2000s. Interestingly, before he plunged into writing and making movies, Suparn was a member of the founding editorial team, though their paths never crossed in the newsroom.
"I'm very proud of what family I come from, but I feel it must always be an afterthought... 10 years of my work will get nullified when people say 'Yeh toh genes main hai'," Aseem tells Patcy N/Rediff.com.
Two big shows one after the other: The Trial and Scoop. How have things changed?
Life has certainly changed.
People were not aware of me, but I have done a lot of work on stage.
I realised the stage and screen are two completely different universes, very rarely do both audiences merge.
With these shows, I have reached a much wider audience.
I did a show called Decoupled for OTT during the pandemic and post that this happened.
It's almost like a coincidence that these two things happened almost at the same time.
I finished Decoupled in December 2021, and then about three months later, I got Scoop. I finished that by May 2022 and in July 2022, I took on The Trial.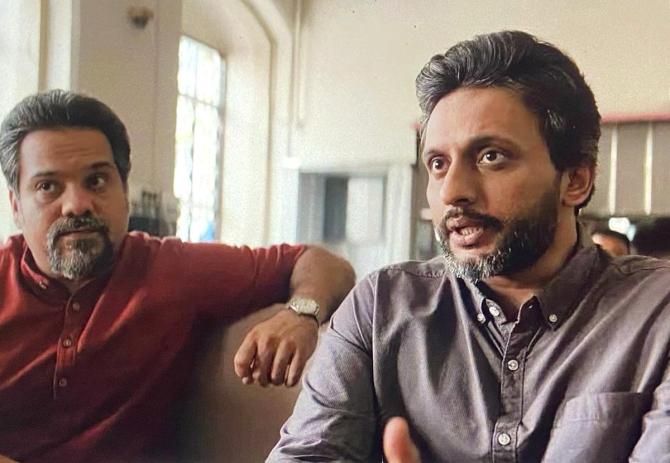 You are so young. Why are you doing older roles?
To be honest, there was no plan as such. I have done what I got.
I have done theatre for 10 years I have worked with almost every major theatre group in Mumbai. So I needed to explore screen more.
There is a theatre actor and screen actor kind of split, which I don't believe to be true, it's just a matter of adjusting to the mediums.
It's not something that you plan, but it's something that happens to you, and you just have to do the best you can.
I tried to play the role as truthfully and as to the best of your abilities. It was honestly not a conscious effort.
The best part is half of them don't know whose son I am (Aseem's parents are the acclaimed actress Rohini Hattangady and the late theatre director Jaidev Hattangady), that is something that I am very, very, particular about.
Why so?
It's so much more fun when somebody sees you and your work and then as an afterthought they know who you are.
I'm very proud of what family I come from, but I feel it must always be an afterthought. It should not be forceful.
People need to be curious because then they can truly gauge my work.
10 years of my work will get nullified when people say 'Yeh toh genes main hai.'
I have not gone and deliberately advertised who I am. I have always hidden the fact, which I think works better.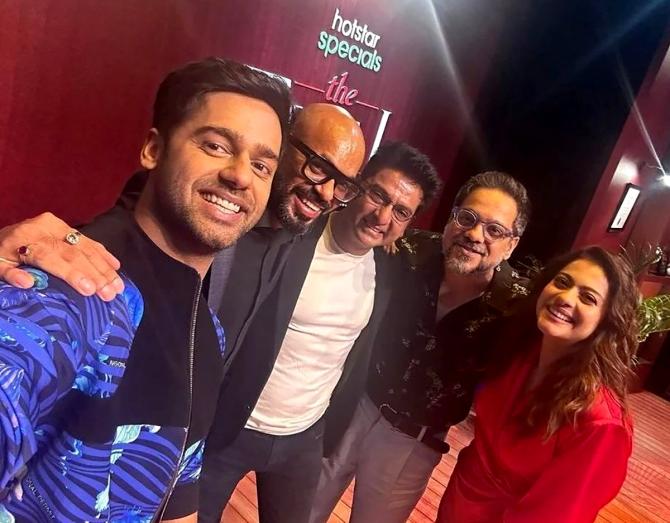 Working with Kajol and Jisshu Sengupta, how was it? What did you learn from them?
The best part about working with both is we really all got along very well.
I think it's a universal thing with actors. Actors like actors who perform well.
I'll give you an example. My first scene that we shot was my first scene in the show when I come to Kajol's home.
There were three cameras, we did the scene front to back, start to finish. That entire scene where I come in, and then the kids come and then we talk, we move to the kitchen counter of the new house. We did that in one take. The same thing happened with R Madhavan in Decoupled.
My first thing when I go on the set is 'Can we do our lines?'
Fortunately, I am not very intimidated by stars, because we are all characters.
We used to share a lot of laughs, all three of us, because most of The Trial scenes towards the end of the series we were together.
Every time I was on set my scenes were with them. Then you don't really stop talking, and you start enjoying yourself.
Especially in those court scenes, when we were sitting behind and everyone else is talking. Those were fun days, because we had nothing to do.
Both the actors discuss their roles and do their prep.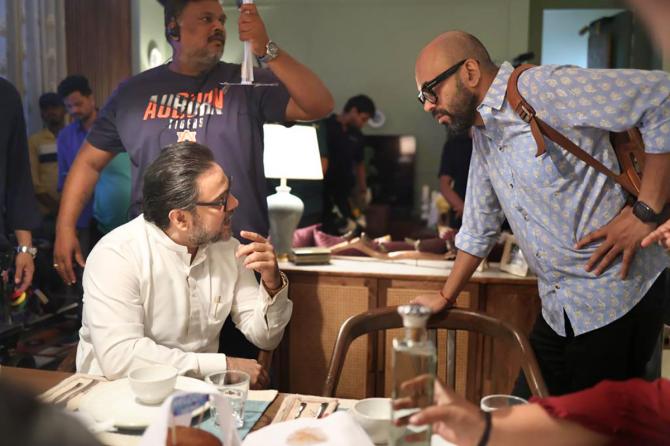 How was it working with Suparn S Verma?
I got a call from the casting agency, Casting Bay.
I was first called for the newsreader's role played by Atul Kumar.
I did my audition and again by night I was called to do the audition for Illyas's role the next day and I got selected for that role.
After which I met Suparn. The good thing is that once a director sees you in a scene, he knows.
Suparn is just a bundle of energy. I remember meeting him the first time on set. He was shooting. When I reached, Suparn saw me and called out my name loudly. He makes you feel comfortable.
He is full of energy and joy. The good thing about Suparn is both of us agreed on how we want to play Illyas. No Miyan or Allah, no chacha, no physically touching anyone. Men in power don't touch, especially when handling the scene with a child.
How is Hansal Mehta different from Suparn?
Suparn is emotional and energetic. Hansal sir is sharp and well read.
Suparn and I are of almost the same age. Hansal sir is a guru to both of us.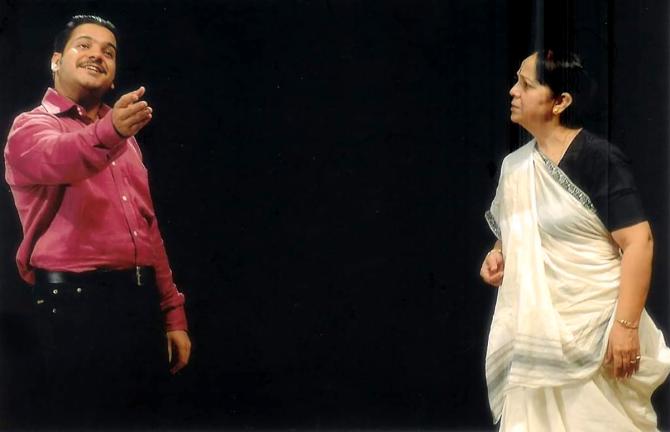 Were you aware that your parents are actor and director?
Yes. You know that they are famous, but you don't understand their value as artistes.
I knew mom appeared on screen, but there was nothing great about it.
When I was in the seventh or eighth standard, they had come to Ajmer (Aseem was educated at Mayo College, Ajmer) to pick me up for the Diwali vacation.
We were waiting at Jaipur airport when Amrita Singh and Saif Ali Khan came and touched their feet, that's when I realised how famous they are.
I realised that my father was very popular a couple of years before he died. A gentleman suddenly got down from a Mercedes, touched his feet and left.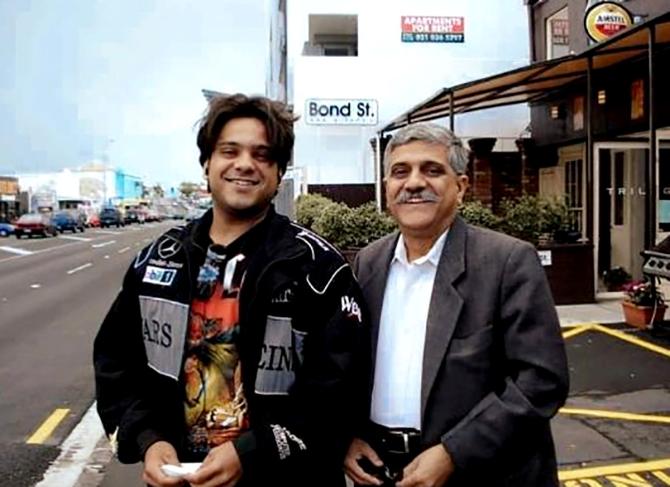 You were 22 when your father passed away. How did you cope with that?
I used to take care of him, go to the hospital. He was still working after his chemo, he was teaching at the Academy of Theater. So I used to drive him, wait down. I was with him for that whole year.
I feel grateful that I was able to give back everything in that one year.
Dad passed away in December. One day in January I was out when mom called up and said 'Naseer is coming home.'
He was not able to attend my father's funeral as he was out of station, so on his way from the airport he wanted to come to our house.
He was chatting with us, then Naseer sir asked me 'Tumhara kya chal raha hai? (What are you up to?)', then he said, 'We are having a play reading tomorrow, come and join us.'
I went there to sit as the audience, but one actor was missing that day so he (Naseeruddin Shah) asked me to read the lines and that's how I got my first play.
For 10 years you did plays. Did you never think about the big screen and television?
I was doing corporate training. I used to go to companies and train people.
You just follow the flow. It never occurred to me at that time that I need to do this.
I was doing work that I liked, I really wanted to do theatre.
I have done 7 films like Vanishing Point, Ugly, Rashmi Rocket to name some, but I wasn't enjoying it.
I enjoyed theatre and I was getting paid by my corporate job.
I guess every actor has a blooming time when you are at that right point in your life or that age when things fall in place.
Because of OTT, actors today have got amazing platforms and content to choose from.
I started with Decoupled, then I did a film Govinda Naam Mera. After that, I did Scoop and The Trial.
After Scoop. so many people told me 'Achcha, toh tu yeh bhi kar sakta hai (Hmmm, you can do this too).'
OTT has really opened up an entirely new place for people to tell their stories and to push boundaries, and make content that will not be otherwise made.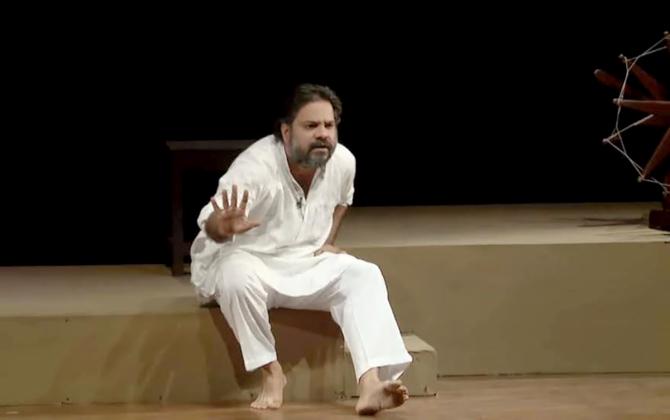 What have you learnt from Naseeruddin Shah and Makarand Deshpande?
From Naseer sir almost everything -- right from pronunciation, diction to trying new things.
His biggest complaint was 'You don't make mistakes enough.'
He would say, 'It's okay to make a mistake, but don't repeat the same mistake.'
Any actor who wants to learn can sit with him for two hours and learn a lot. Naseer Sir is a school.
Before the show, Makarand Deshpande will stand in the wings and listen to the audience mumur and tell us, 'Today you should finish the play quickly' or 'Today you can take your time and finish it.'
Some audiences really want to come and enjoy. He knows exactly how to gauge the audience. In the middle of the performance he will start increasing his speech.
Rahul D'Cunha is a funny man. He is good at comedy and satire, he understand the pulse of the audience.
Without knowing, you learn a lot from these directors.
You have worked with your parents. What was it like working with them?
Fortunately, that demarcation has always been clear. When I talk about my mother in public or in the media, I never say Amma, I say Rohini tai.
My father treated me like any other actor. I had to prepare for my roles like any other actor.
I did a play called Jagdamba with my parents. My mother was a senior actor so she went by flight. I went by train with other actors.
Even when I did backstage I used to travel with the team by train; only the director and the lead actor traveled by flight.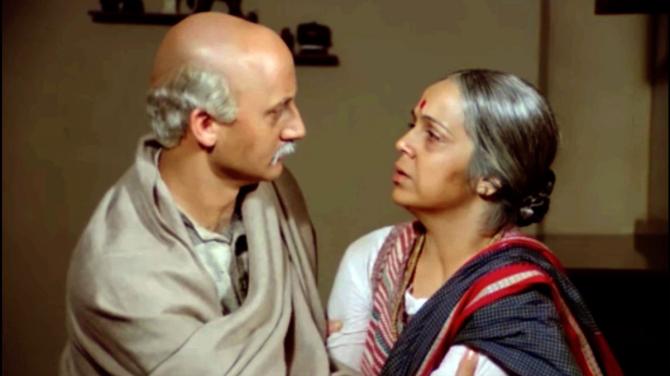 Which is your mom's favourite film?
Hands down, Saaransh. Other people will say Gandhi, but for me it's Saaransh.
Saaransh is a much more complex and deep performance.
Gandhi was something that my mom could easily do. Gandhi just happened to be from a better production house.
I did backstage for a play called Aparajita when I was in the 7th standard, that's my favourite play by my dad.
How difficult is it to live up to your parents' legacy?
There is no legacy. They did what they did.
They had their journey. I have my journey.
Legacy and stuff is what other people are putting in my mind.
It used to bother me a lot before, but then I realised that you do your work and do it well, but everybody's going to say it's their legacy.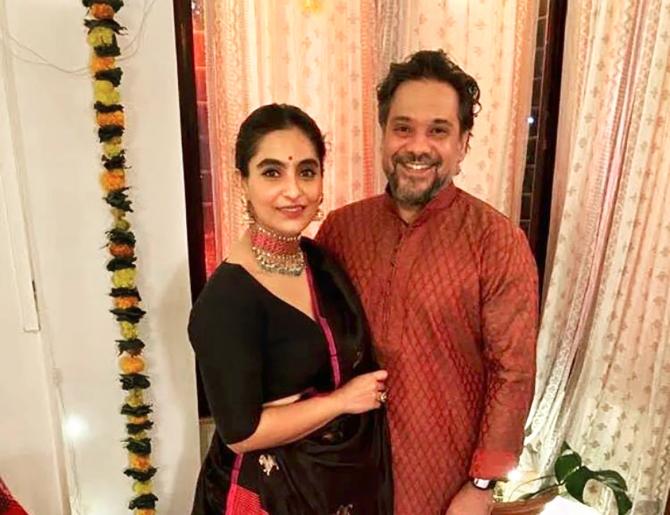 What was the turning point in your career?
The Caine Mutiny Court-Martial, a play I did a long time ago with Naseer Sir.
I had just lost my dad, I didn't know was going to happen and all of a sudden I'm doing a show in Lucknow and then in Kochi.
Then I did a play with Makarand Deshpande. I was at Prithvi (theatre, Juhu, north west Mumbai; the theatre set up by the late Jennifer and Shashi Kapoor) all the time; it's my backyard.
I got introduced to all the people I call friends today. Naseer sir changed my life for the better.
How did you meet your writer and film-maker (Trial By Fire) wife Avni Deshpande?
Avni: I was working on a series for an NGO on women's health issues.
He was playing a part in it so was his mother, this was in Pune.
I had just finished my education and had come back from London, I was working on a project which was on hold for some time.
So I started working on the NGO project that's where I met him.
We became friends, we would hang together, we were same age and had things in common.
After the show he came to Mumbai after sometime. I moved here too and that's when we reconnected. We both liked each other, so a couple of months later I just voiced it.