"I did my very first interview with Rediff.com for my song, Agle janam mohe bitiya na kijo for Umrao Jaan. I was in Class IX. I will never forget that you guys came home and I sang for you. I was very nervous at that time," says Anu Malik's daughter, Anmoll Mallik.
Ten years after that "very first interview", Patcy N/Rediff.com meets a very different Anmoll. As Anu's daughter readies for her career in Bollywood, she discusses her well-known father and her passion for music.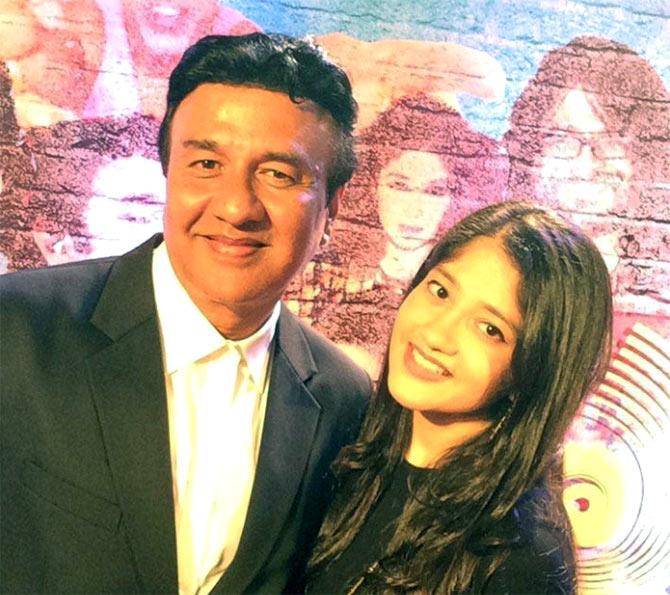 IMAGE: Anmoll Mallik with her father, Anu Malik.
Was singing an obvious career choice because your father was a music composer?
Music is omnipresent in my house. I am so used to living with music that it is within me now. Singing, learning how to play the piano, honing my voice is part of who I am. I can't imagine doing anything else.
My first guru was my father; I would barge into his music sittings. When I first learnt to walk, my goal was apparently to reach my dad's music room door.
I remember the first time I went to his music room as a child. He was in the middle of a sitting for Akele Hum Akele Tum (starring Aamir Khan and Manisha Koirala). I sat on his lap while he was composing Tu mera dil, Tu meri jaan, but I love you Daddy.
Every time he came home with a new song, he would say, "Abhi abhi mix hua hai, abhi master hua hai, yeh kachcha scratch hai." He'd then take us on a drive and play us the cassette; there were no CDs those days. After we had heard the song many times, he would take our feedback.
Your grandfather, Sardar Malik, was also a music composer. What was the atmosphere at home like?
It was full on tamasha. Dad would be on the harmonium. His musicians would also come home. Dad was working very hard when I was growing up, so much so that there were 4-5 producers coming to our house at different intervals in a day. Touch wood, that still happens. The only difference is that I keeping jumping into it and singing as well.
I think the only person who got troubled was my mother; she had to take care of the house with all these sounds playing around her.
I remember, when I was studying for my board exams, this was a welcome distraction. I would close my book and run into Dad's room.
He loves everything to do with music -- whether it is commercial music or raag raginis. He is such a big fan of Shankar-Jaikishan, Laxmikant-Pyarelal and Burman da that they became my influences as well.
But when I grew older, the song that truly took my breath away was Celine Dion's My heart will go on. Titanic had just released and they were showing this song on television. I had never heard a song like this before. It was the first time I tried to sing the way a singer was singing. That was when I decided I wanted to become a singer.
Till then, you didn't?
I sang professionally for the first time at the age of five. The song was Mujhe maaf karna from Vashu Bhagnani's Biwi No 1. David (Dhawan) uncle was directing it. They had one scene in the film where they wanted a boy and a girl to sing a song. My dad took me to the studio and I was told I would be given a bar of a chocolate. As a singer, I received a token payment that did not interest me; the chocolate bar was important.
But after hearing Celine Dion I felt I needed to improve as a singer. I felt if I could sing My heart will go on even as quarter as well as she had sung it, I would be doing something great.
IMAGE: Anmoll Mallik sings her favourite songs that she has sung in the movies. Video: NV Reuben.
You learnt to play the harmonium and the piano…
I can play harmonium but not as well as my dad. I am a trained pianist from London's Trinity College.
You continued singing after Biwi No 1.
Yes. Mostly, I sang for my dad whenever he wanted a child's voice in a film. I did films like Mela and Badal and a few more songs here and there.
At the age of 14, I sang Agle janam mohe bitiya na kijo from Umrao Jaan (it plays in the background while Aishwarya Rai Bachchan is travelling). The subject was very heavy and J P (Dutta) uncle wanted a very innocent voice to sing for the female protagonist.
It was the muharat song and there were three heavyweight talents (Dutta, Javed Akhtar, Anu Malik) associated with it. I was very nervous but it went off very well.
You have been singing for your father since you were child, so why were you nervous?
I was nervous when I was singing because my dad was listening. He is a thorough professional. As a father, he is very indulgent. As a music director, he is not; any singer or musician who works with him will tell you that. He wants you to be at your absolute best. He is a perfectionist and goes to studio thinking exactly what he wants; you can't deviate from his vision.
I remember once going to the studio without being prepared. My first note was off-key. He sternly told me to leave and return the next day when I was in a better frame of mind. He warned me not to mess around in his studio. It was a lesson I never forgot. He is strict but, as his daughter, I feel I should give my best.
In my head, I always want to be Anmoll first. The name Mallik comes with lot of responsibilities; it holds a lot of weight. My father has a 30-year career behind him. The responsibility increases the minute he comes into the equation. I know I will be compared to him and that is very difficult for me because still I have to carve my space. I am learning how to balance both worlds and, hopefully, it will work out.
My first major break came when I was 16. I sang Talli for the lead actress in Ugly Aur Pagli. This song came to me accidentally and I have (producer) Rangita Nandy and my dad to thank for it. Rangita wanted the song urgently as they wanted to picturise it. They did not have a singer as it was a last minute decision.
My dad asked me to dub the song temporarily so that they could send it to set. Rangita loved my voice and did not want to change it. I was so happy. That's how I got my first big song.
Nobody could believe that a 16-year-old had sung Talli. I didn't even know what the word meant and nobody told me. The song did really well. It was my first brush with success. I got nominated for many major awards and won the Starddust award.
I don't go clubbing, I don't go partying but my friends would force me. Every time I stepped into a pub or a party, this song would play. That's when I understood how popular it had become.
You were studying simultaneously?
Yes. I did my graduation in computer science and film from the University of Warwick, England. I also joined a jazz band in Warwick and am a trained jazz musician. I then went to the USC School of Cinematic Arts, California. At the same time, I continued learning music.
My musical influences -- the Beatles and Norah Jones -- are the result of my schooling. In fact, Norah Jones became a defining factor in the kind of music I like to sing. This helped when I had to sing Old school girls for Tanu Weds Manu Returns.
When I returned from the US, I sang songs like Suno suno pataa karo from Galli Galli Chor Hai. This duet with Mohit Chauhan was my first soft song.
After that, I sang Naagin for the film Bajatey Raho. An all out party number, Naagin was a hit.
I used to send my singles to Krishikaji (Lulla). She sent it to Anand sir (Anand L Rai). That's how I got Old school girls from Tanu Weds Manu Returns. That song allowed me show my training as a jazz singer.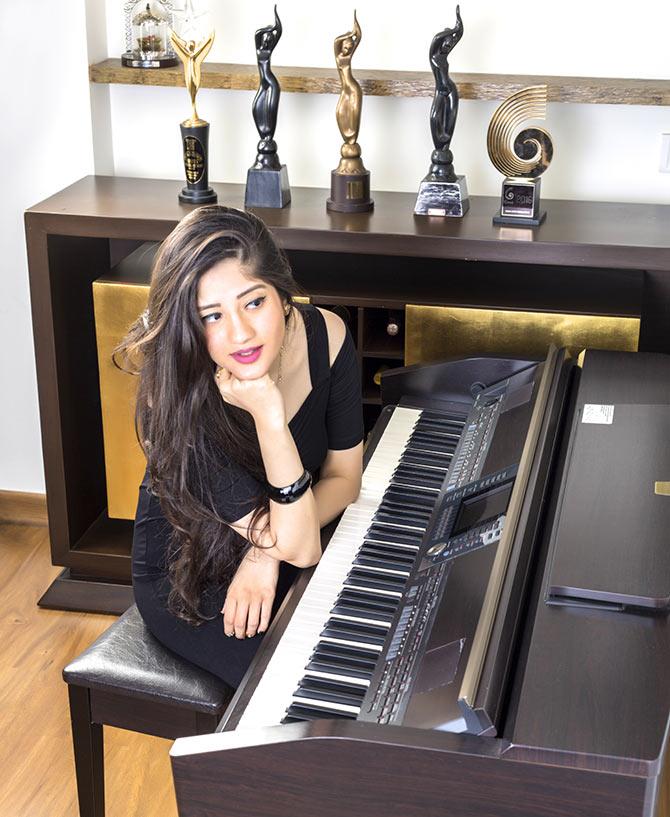 IMAGE: Anmoll Mallik
What's next?
I am not allowed to talk about it yet. There are three to four good things in the pipeline and, God willing, they will be released and create a good image.
You have mostly worked with your father. Now you have venturing out…
(interrupts) I have always ventured out as well. Naagin was with Jaidev Kumar sir. Old school girl was with Krsna sir. My forthcoming projects are with other people as well.
What is the difference between working for your dad and working for other composers?
(Thinks) As I told you, Dad is a professional. Obviously, there is a comfort level. With everybody else, I worry about letting them down.
Having a music director as my father has made a difference because he taught me I always need to listen to the composer. I cannot move away from their vision. We are there to make their lives easier; that training is ingrained in me.
When you sing with other music composers, do you worry that you have to live up to your father's and grandfather's name?
It does play on my mind at times but I am clear that I am Anmoll. I am trying to make a name for myself and stand on my own feet. The problem with my legacy is that it is so big and monumental. My dad has composed music for decades for a range of films that include Asoka, Refugee, Main Hoon Na, Dum Laga Ke Haisha. I don't want to compete with that.
It is definitely a blessing that someone as talented as my father has taught me but I want to create my own space. There are times I wish I could start on a blank slate. There will always be comparisons, expectations and pre-conceived notions. The ones who love you will expect the world from you and the ones who hate you will really hate you.
Today, people expect certain things from me.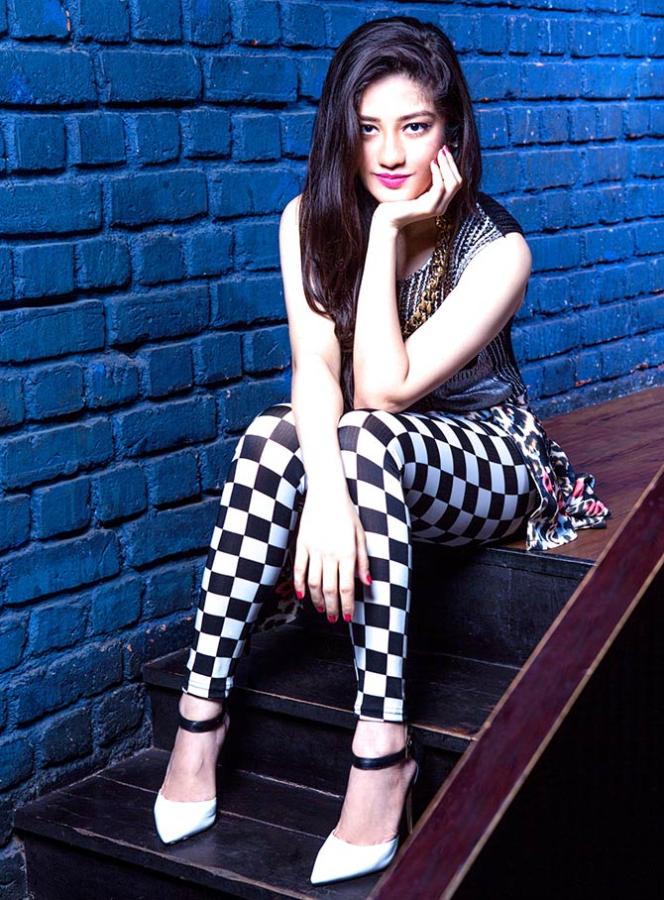 IMAGE: Anmoll Mallik
Tell us what you are working on now.
I can talk about the singles. Graduation is a single I did when I finished college. It was a fun song; the video is still on YouTube. The video is was not well done but Aamir Khan Sir picked it up and put it up on his Facebook page. It went viral. That's when I realised I had done something really cool.
So thank you Aamir Sir.
IMAGE: Anmoll Mallik sings her favourite songs from her father's movies. Video: NV Reuben.

When you were in school, didn't you realise your father was a popular composer and singer?
No. My friends kept me grounded (laughs). Nobody gave me special attention, not even my teachers.
I knew Dad was famous but extent of his popularity hit me when I was much older. When I was a kid, it was more like he was my dad and had a really cool job making music that makes everybody happy. I thought my parents were really cool because they didn't force me to study anything. They said do whatever you enjoy and, if it is music, then go for it.
When Talli came out and I experienced fame first hand, I started understanding what Dad has. By then, Main Hoon Na had released and he won a lot of awards. Indian Idol was also on air. Suddenly, it started hitting me that he was being recognised wherever he went.
I surprised him by performing Chal mera haat pakad le (from the movie Teree Sang) on the sets of Indian Idol. I think I had the guts to do that because I didn't know the extent of his popularity.
Even today, I discover new sides to him and new examples of his fame and connect with people.
As a professional, which quality of your father impresses you the most?
My father has this amazing ability of coming up with music on the spot. If a director didn't like the tune he pitched, he would immediately give him four other options. And the director would end up choosing the tunes he liked and half the album would be ready. I never understood how he did it.
He works at an insane speed.
I've seen a director come home in the morning and say he wants a song the same day because they were shooting and then another director would come and say he wanted a song in an hour because he was shooting as well. I've seen my dad deliver both songs on time and go the sets for a third director's song.
He's did this during the Nineties and early 2000s. Some of the films I remember are Haseena Maan Jayegi, Har Dil Jo Pyar Karega and Ishq.
I see that pace and drive in him even today; that's something he has inculcated in both my sister and me. You will see us doing three or four projects at the same time. At the same time, we have never forced ourselves to do something don't love. I love computer science which is why I took it. I love films. But music is what I do best.
When a colleague interviewed your father years ago, he instantly made up a song with her name. I have seen him doing that on Indian Idol as well. Has he embarrassed you by doing that when your friends came home?
I think it is immensely cool. He's not serious when he is does it; it's just a fun thing.
One precious thing about my dad is that he is always so relaxed and chilled out. That's what I love about him.
I've rarely seen my dad formal. Even on the set where he is strict, he will make everyone comfortable. He is a very friendly guy; everybody knows that.
Once, on a flight, he was advising his co-passenger about life and love. When we got off, I asked Dad if he knew that guy. He said no. That guy had asked Dad for an autograph and that's how they started talking. That's the kind of guy Dad is. I don't think he takes his brand seriously.
Even the little shayari that he does or the song which he makes on the spot... he does it because he is genuinely having a good time and wants to make the other person smile.
His biggest high is when he can make you smile and connect with you. That's his greatest quality.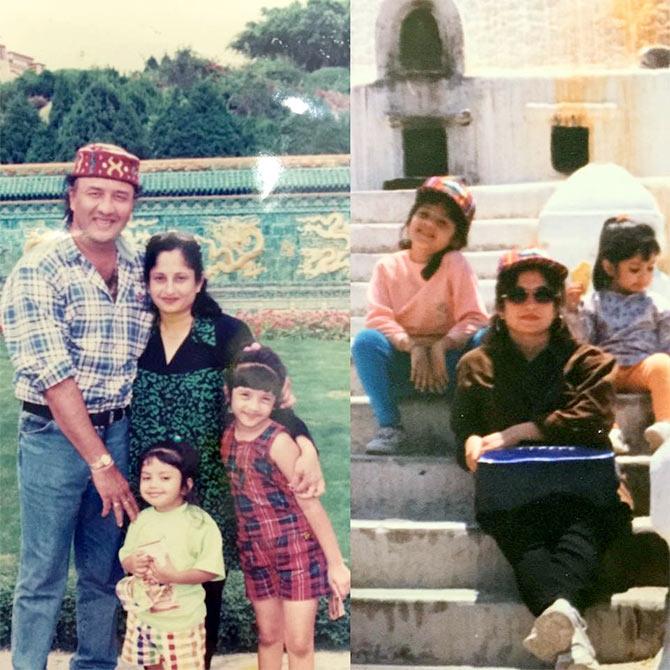 IMAGE: Anu Malik with his wife, Anju, and daughters Anmoll and Ada. Photograph: Anmoll Mallik/Facebook
What were your father's struggling days like?
He was never pissed off or angry. My dad has never raised his voice at me and my sister. It may sound impossible but he is the most patient person in the world.
He is also very blunt and people may take it the wrong sense. But if you listen to what he is saying, you realise he is telling you like it is. I find that refreshing.
If he doesn't like a song I have sung, he will say it is trash. If I have sung it well, he will praise me.
I have never seen him irritated or angry at home. He's laidback and cheerful.
How do you know when he is going through a bad phase?
You'll know because he is very vocal about it and shares his problems. I think of the worse case scenario but he is chilled out. He'll say, "We will wait for next project or next Friday. We will work it out."
What about the times when he did not have work?
He is very open about it but these are things you should ask him. He has a never-say-die attitude. He is a one man industry. He has managed to create work for himself which is a quality I wish I had. He is very inspirational.
No amount of hate or love affects him. He is here to compose music. He is happiest if you give him his harmonium and piano, with a glass of water and channa. He is like a child then and will break out into a song.
It is scary to know I have to live up to him. He is amazing.
What do you think about your dad's singing?
I love his singing. He is my dad I love everything about him. You can't expect me to say anything negative about him.
I think the way he sings lends the song his identity. Also, he can show the singer what he wants in a song.
Which is your favourite Anu Malik song?
Julie Julie from Jeete Hain Shaan Se. I love that song. I don't think anyone else can create that magic.
As a daughter, I get really annoyed when people mimic him. Then I think he is a public figure so you have to go with the flow.
Does he tell you I am working on a film, I will you give you a song…
Not at all. I don't get that privilege.
But if there is a song that requires my kind of voice, he will say, "Anmoll, I think your voice is good for this song, please audition for it." After the audition, if he feels my voice does not suit the song, he will not take me. For Talli, he thought my voice was right.
Have you felt that your voice would have worked better in one of his songs instead of the singer he had used?
Yes, a couple of times. I feel that if I improve my singing, then may be he will choose me. But I don't ask him to choose me because I trust his judgement blindly.