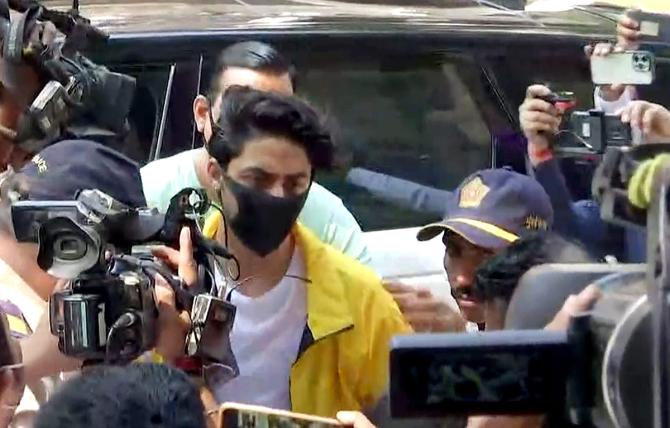 After Shah Rukh Khan's elder son Aryan Khan was arrested on Gandhi Jayanti, parents of star children have begun to do a rethink about their children's future.
Is it safe for star kids to stay in India? No, seems to be the current answer.
A star parent whose son is about to be launched (and who is not a Muslim) admitted to Subhash K Jha, things don't look good for star children in this country.
"And I mean privileged children from any walk of life, why just the entertainment industry," he said, adding, "But yes, more eyes are focused on celebrities from the glamour industry. Our children are more vulnerable than children of entrepreneurs and politicians because we are more loved by people."
This star father admitted he would have had second thoughts about a career for his son in Bollywood if the Aryan episode had happened earlier.
Parents in Bollywood are seriously thinking of packing off their children to 'safer' places.
Nawazuddin Siddiqui's two children are being schooled in Dubai.
Saif Ali Khan and Kareena Kapoor's sons Taimur and Jehangir will attend boarding school in England just like their father.
Aamir Khan's words in 2015 about the safety of his children now reverberate across the entertainment industry.
At a summit Aamir had said, 'When I chat with Kiran (Rao, who he was married to), she says "Should we move out of India?" That's a disastrous and big statement for Kiran to make. She fears for her child. She fears about what the atmosphere around us will be.
'She feels scared to open the newspapers every day... People who are our elected representatives, people who we select to look after us for five years, State or centre... when people take law into their hands, we look upon these people to take a strong stance, to make a strong statement, speed up the legal process, when we see that happening there is a sense of security, but when we don't see that happening there is a sense of insecurity.'