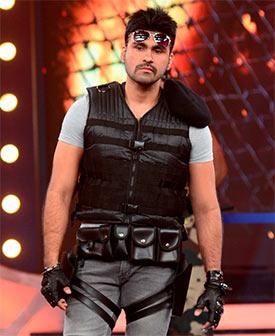 Raj Babbar's son Arya Babbar took one of the toughest decisions of his life when he decided to appear on Bigg Boss Season 8.
Speaking just before entering the house Arya said, "I am known to have a low tolerance level but I will surprise everyone on the show. And I promise you, I will make my parents proud."
Of course, the actor admits that he will raise his voice should the need arise. "I have learnt to hold my peace in recent times. But if I see something wrong happening in the house, I won't keep quiet."
So what brings Arya to Bigg Boss?
"The money, of course," he says with a laugh. "It's good. But the real reason is the book that I've written. It gets published in January. When I come out as a winner -- of course I'll win -- I hope to have a relatively larger readership."
Arya sees Bigg Boss as a new beginning. "Twelve years ago, I made my debut as a leading man in Ab Ke Baras. Now I am heading into another phase in my life as an author. Bigg Boss is a good vehicle to take me into the new level in my life."
Arya says he is here to win. "I haven't come here to while away my time for a few weeks. I want to go all the way. It's always been that way for me. I don't believe in half-measures."