'Whether it is Mulk or Article 15, I am talking about love and against hatred.'
It is a quiet morning in Anubhav Sinha's office where a poster of his brilliant film Article 15 welcomes those who enter.
Liberally bathed in natural light, the large windows overlook the rain-washed streets, from which rise pillars of the Mumbai metro train project.
Sinha's production house, Benaras Media Works, is named after the city he grew up in -- Varanasi. A picture in vibrant yellow of the city's ghats hangs from a wall.
He bought the painting in Indonesia because it reminded him of Varanasi. It was also in his favourite colour -- yellow.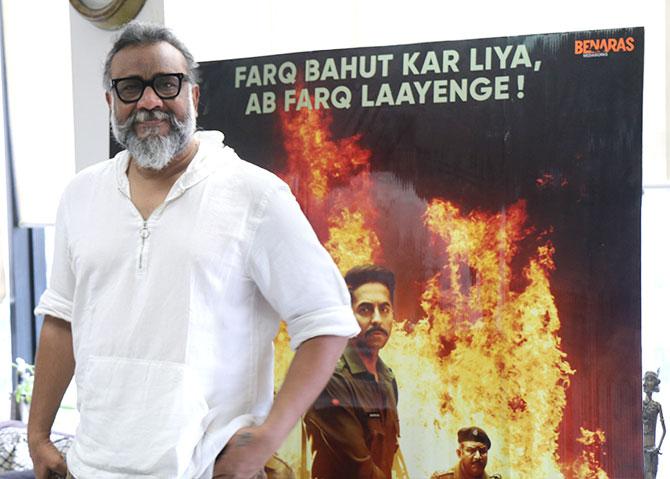 In Article 15, Sinha weaves an intense and engaging story around true events which takes a searing hard look at caste and class discrimination.
The film's response has surprised him -- he has received calls from all over the world -- and says he is walking three inches above the ground these past days. On Thursday, July 11, the film was mentioned during a Rajya Sabha debate.
Article 15 is expected to earn Rs 60 crores (Rs 600 million) at the box office, but Sinha says what excites him more is that the audience is coming to the theatres to watch the film, especially young people.
"You can paint it in the colour of race or caste or religion or sex, but at the end of the day it is about love. The success of this film tells me that love works," Sinha tells Rediff.com's Archana Masih in a two-part interview.
Article 15 feature Bob Dylan's portrait and his song Blowin' In the Wind. Why did you want Dylan?
I have been a big fan of Bob Dylan. I love him as a poet. I love that song, specifically the line 'How many times can a man turn his head and pretend that he just doesn't see'...
When I was writing this script, I put this song playing on the radio in the jeep when Ayan (the lead character played by Ayushmann Khurrana) is entering the village.
Video: Hear how he got the rights to the Dylan classic. Videos: Rajesh Karkera/Rediff.com, Hitesh Harisinghani/Rediff.com
What has brought about the transformation of Anubhav Sinha -- from Tum Bin to becoming a very socially motivated film-maker in your last two films. Was it an organic change, peer envy of directors you admire or the mood of the nation in the past few years?
It was a combination. I have not ventured into new ground. It is homecoming for me.
When I started my career with the TV show Shikast and also Sea Hawks, I was this guy that I am now, but in the process somewhere -- you know, I'm a small town guy, my father retired earning a salary of Rs 12,000 in 1991 -- I got swayed by the glamour, glitz, paraphernalia of movie-making.
I have nothing against it. I love Rohit Shetty and Anees Bazmee's films, but that wasn't probably me. This is me.
I was talking to my younger brother and told him there is a strange transparency that comes through when you are honest, when you are saying exactly what you think. It somehow reaches through the screen to the audience.
In the past two months, I have become blunt and honest to myself and to my films which the audience and the critics seem to like.
You seem to be angry about what you see around you. Mulk is about discrimination faced by Muslims, Article 15 by scheduled castes. Is anger the primary emotion that is driving your cinema?
I am certainly angry about a lot of things in our society by which I mean the world at large right now.
The world is going through its worst phase, we have collectively never behaved so badly. We are defying the basic laws of co-existence.
How do you explain the success of your films in these polarised times when there is resistance, even hostility to the themes you explore -- like alienation of Muslims and discrimination of Dalits, yet the films have resonated with the audience.
I will make a lot of money, but I don't know if you trust me and the viewers will trust me. I am not one per cent excited about that money than I am about the fact that people are going to theatres to watch this film.
That means love exists. Whether it is Mulk or Article 15, I am talking about love and against hatred.
The fact that so many people are watching the film and getting affected by it, I am shocked. I am getting calls from Australia, UK, Germany -- all over the world. People who haven't lived here in decades have connected with this film.
Why? Because it talks about basic human emotions.
You can paint it in the colour of race or caste or religion or sex, but at the end of the day it is about love.
I think love works. The success of this film tells me that love works.
To be fair to this film, it released a week after a steamroller of a film called Kabir Singh, then Spiderman , but Article 15 manages to hold its ground and more really.
It is such an encouraging sign. This film has reaffirmed my faith in love.
Video: How the response to this film is different compared to his films of the past:
Is your next film also going to be an exploration of something that makes you angry and troubles you?
The next two are dealing with my anger. I am starting the next film in about a month's time and I am very angry about that (theme).
Was there any singular reason behind Article 15 -- that one tipping point?
There is no singular tipping point, but there are 2, 3 images that have haunted me.
The image of that Syrian boy on the Turkish shore -- haunting.
The two girls hanging from the tree.
Those boys being flogged in Una.
Rohith Vemula's letter.
These are helpless people. The Syrian child did not even know his religion and he died for it.
The two girls did not know what sex was at that age.
The four boys were being beaten up and people were making videos instead of trying to save them.
If you go into the minds of those boys, they must be hoping that someone would stand up and say 'Stop this! You can't beat them up like this!' But nobody did that.
Suddenly, the cow has become the most important being in the country. I go to UP and see cows chewing on plastic.
What are we up to? We must stand up -- all of us collectively -- those who are loving the film, it is their duty, their right to stand up and say this is wrong.
Our inactivity, inertia, de-sensitisation -- hasn't the sight of people sleeping on the pavement stopped bothering you? It has.
Just once stop your car and look at them. Look at the child.
When he grows up, he is going to be so angry, he will want to snatch it away from you because you didn't give him a roof, no Parliament, no assembly...
I am not into party politics, I have given up on them.
If you had provided the basic necessities of life, that poor migrant from Bihar would not have come to Mumbai to make 5,000, 10,000 a month.
This is not his world. He is used to open spaces, he is used to sleeping next to his wife and child. We don't ask these questions. No government does that.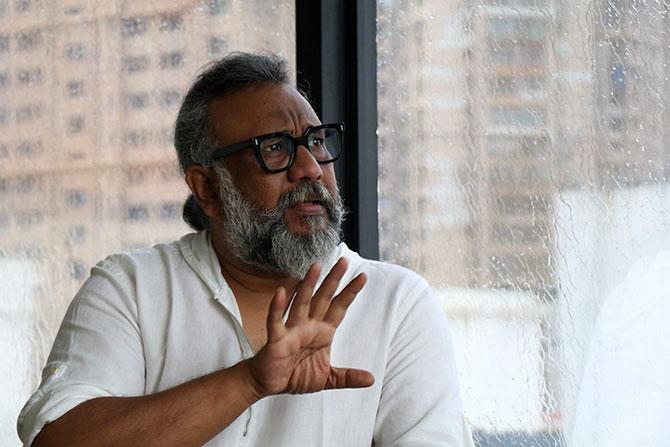 How did you home in on these actors who have made this film what it is?
The best and worst part of being a director is that your performance is over-rated. I didn't do anything, they did.
My job is to see a film first and transmit that information to various other contributors.
It is them who create it and I get the credit. The craft is with them.
Were these actors your first choice to play the roles?
When Gaurav Solanki and I were writing, we started seeing the faces.
For Nihal Singh, we knew it was Sushil Pandey.
As the drafts were being done, more actors were being given the scripts and they were coming on board.
These are phenomenal actors, we had so much fun while filming.
We were eating, playing cricket, playing pranks -- then the shot was called and they were different people.
They are so good that the moment you said 'cut', the prank restarts and discussion on food begins.