'None of these contestants are trained in stunts. In movies, we have cuts, safety nets, green screens, cables... but here, there is nothing.'
'I had to keep motivating them.'
'I would be drained out by evening at times because you are also demonstrating for them.'
Rohit Shetty takes us behind the scenes of Khatron Ke Khiladi 8.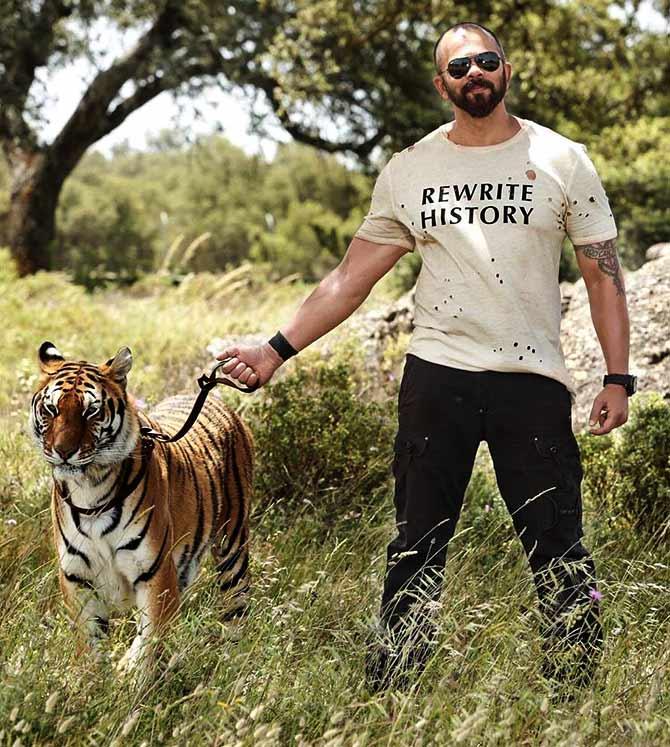 IMAGE: Rohit Shetty shoots Khatron Ke Khiladi Season 8. Photograph: Rohit Shetty/ Instagram
Rohit Shetty returns to television after two years with Khatron Ke Khiladi Season 8, premiering on July 22.
The top director took a break of 40 days from his Golmaal Again schedule to be in Barcelona, Spain, for the reality show.
This time, the contestants are Bigg Boss 10 winner Manveer Gurjar, Bigg Boss 10 finalist Lopamudra Raut, model Shibani Dandekar, actresses Monica Dogra, Nia Sharma, Hina Khan and Shiny Doshi, actors Ravi Dubey, Karan Wahi and Rithvik Dhanjani, and hip-hop singer Shantanu Maheshwari.
"I was prepared to increase the intensity of stunts to challenge the contestants and they have risen to the occasion and proven to be serious contenders," Rohit says. "Their never-say-die attitude was impressive. Also, their dedication, as they gave 100 percent to every stunt."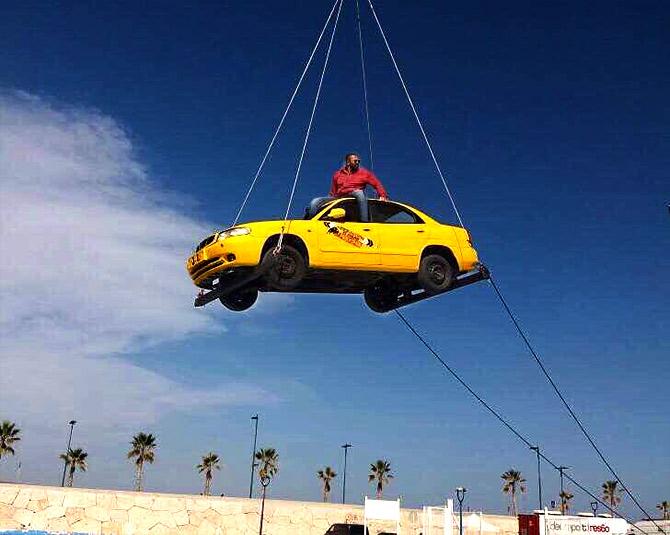 IMAGE: Rohit Shetty does the safety checks before a stunt. Photograph: Rohit Shetty/ Instagram
Which contestant surprised him the most?
"Everyone!" he exclaims. "None of these contestants are trained in stunts. In movies, we have cuts, safety nets, green screens, cables... but here, there is nothing. I had to keep motivating them. I would be drained out by evening at times because you are also demonstrating for them."
Rohit claims some stunts were funnier than his Golmaal films.
Lopamudra and Geeta had to perform a tug of war on two buildings in Ronda city (in Spain's Malaga province) and a lot of people had gathered to watch them.
Geeta pulled the rope but Lopa refused to fall. Lopa would leave the rope and sit down. Finally, Geeta, in her Haryanvi accent, asked Rohit to do something.
'She told me, 'I am giving you the rope, push Lopa down.' After one-and-a-half hours, Lopa jumped but only after she was forcibly pushed down," he says with a laugh.
Animals like tigers, lions and bears will be a part of the show this season.
"The stunt with the tiger was fine, as it was a pet. He prefers living with his owners rather than in a jungle. But the lion was scary. Even though the bear was trained, it was difficult shooting with him," he reveals.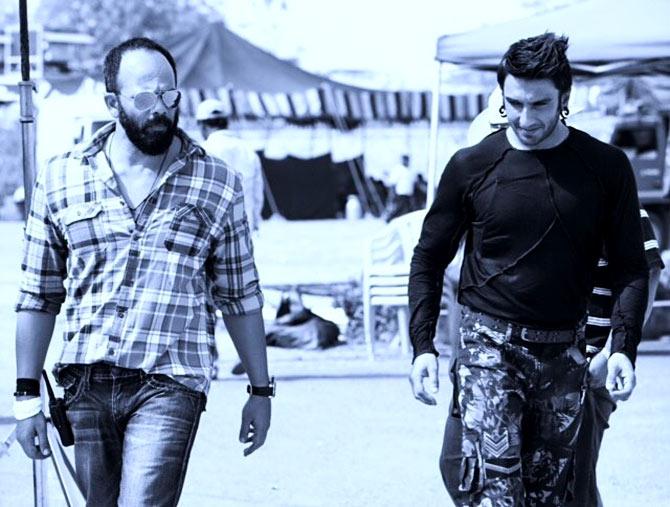 IMAGE: Rohit Shetty directs Ranveer Singh in the Chings ad. Photograph: Rohit Shetty/ Instagram
After Khatron Ke Khiladi, Rohit will complete the last schedule of Golmaal Again, and then start his action film with Ranveer Singh, post Diwali.
Rohit is quite excited about collaborating with Ranveer.
"Ranveer has great energy," he says. "Everybody is talking about our energies coming together. The film with Ranveer will be full of action. For the first time, people will see Ranveer performing so many action sequences. For me, he is a superstar."