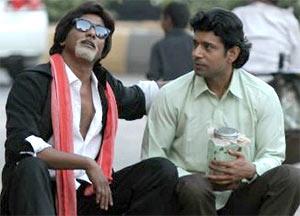 Despite the larger-than-life aura of our film stars that transcends the silver screen and the mythical proportions we associate their lives with, film and television stars are regular people like us.

They see off their kids to school, run errands and keep parlour and spa appointments.

Our joy knows no bounds if we bump into them -- at airports, weddings, at the supermarket and the likes.
But what is it like when you come across someone, who bears an uncanny resemblance to a famous person?

Do you ask for a picture? Approach them and ask if they have been told they look like someone famous?
Did YOU, dear readers, ever come across a celebrity doppelganger and took a picture?
Are YOU a celebrity doppelganger?
We'd love to hear from you!
Mail in your picture and story at moviesdesk@rediff.co.in (Subject line: Celebrity doppelganger) and we'll publish the best ones right here!
Image: An Amitabh Bachchan doppelganger in Bombay Talkies