Sukanya Verma glances at Virushka's photo album of loveliness.
When two of cricket and showbiz's self-made stars decide to marry, there's bound to be much excitement.
Virat Kohli and Anushka Sharma's romance has the magic of love at first sight, the drama of wicked twists and unkind obstacles and the magnificence of a triumphant happily-ever-after.
Quite an album of memories.
Two to tango!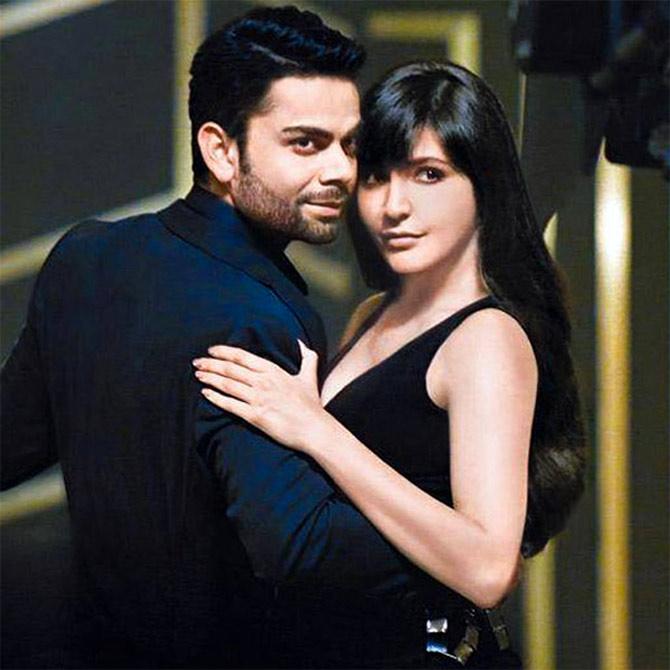 The duo hit it off while filming an anti-dandruff shampoo commercial in 2013. Frequent sightings of Virat in Anushka's north west Mumbai neighbourhood got the grapevine speculating if this is a new 'It' couple in the making.
Kiss of love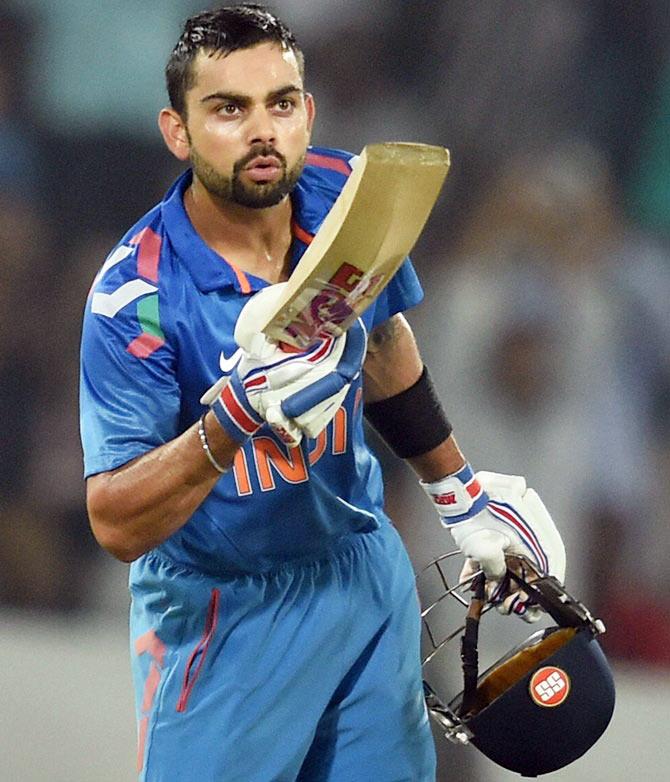 Photograph: PTI
'Jo hai sabke saamne hai (Whatever is there, it is in front of everyone). We are not hiding anything, we are not trying to hide anything; I don't want to hide anything,' Virat announced in true blue Pyar Kiya To Darna Kya fervour, one that was for the world to see after he blew a kiss in his ladylove's direction following a winning half century.
Baby ko chase pasand hai!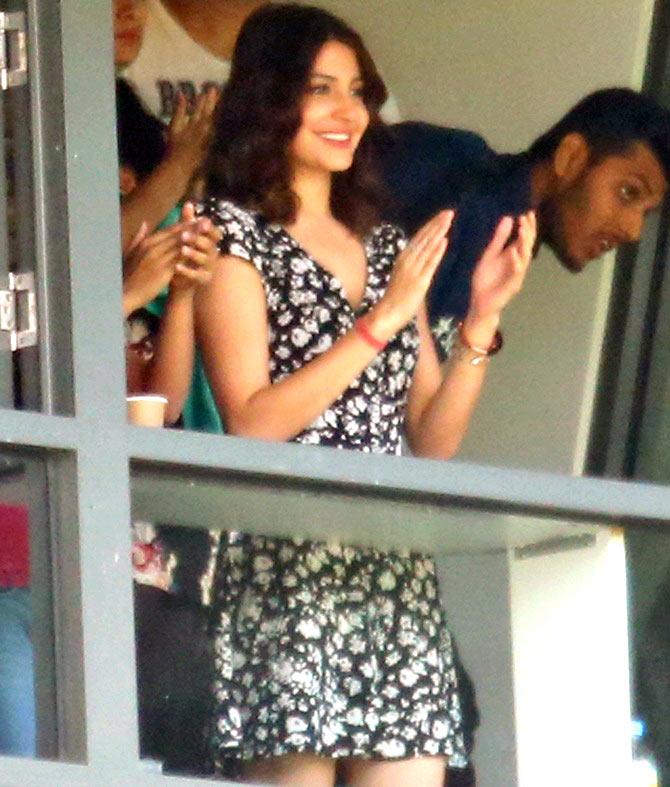 Photograph: Scott Barbour/Getty Images
A visibly pleased Anushka cheers from the gallery.
Mere photo ko seene se yaar chipka le saiyan Fevicol se...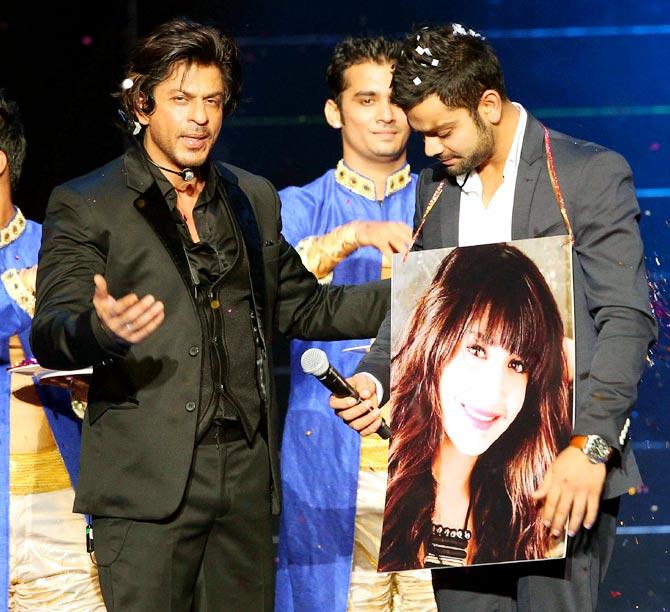 Photograph: BCCI
No surprises for guessing whom Virat picked at a fun IPL Swayamvar session conducted by Shri Surinder Sahni aka Shah Rukh Khan (remember Anushka and SRK's Rab Ne Bana Di Jodi?).
Twinning sweethearts!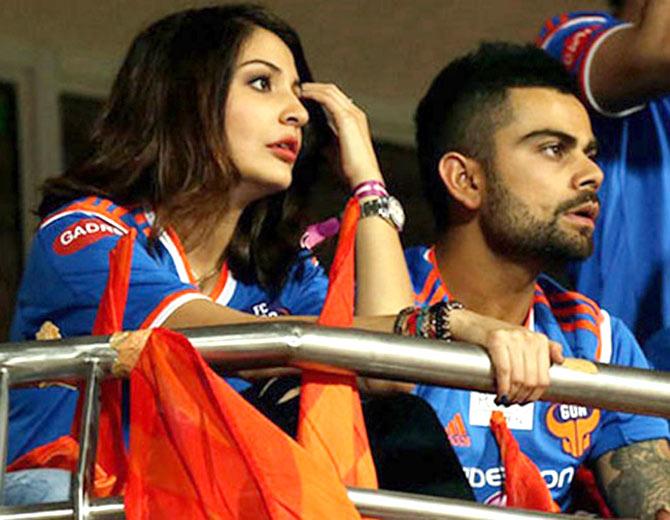 Photograph: ISL
Anushka and Virat's interest in sports piqued ours too.
Special someone's special appearance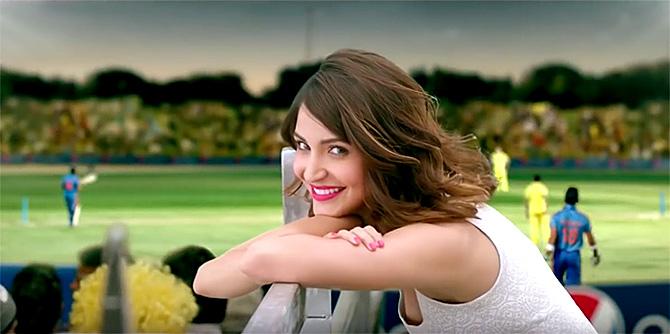 Remember the time when Anushka pitched in a cameo for a Ranbir-Virat Pepsi commercial?
More than arm candy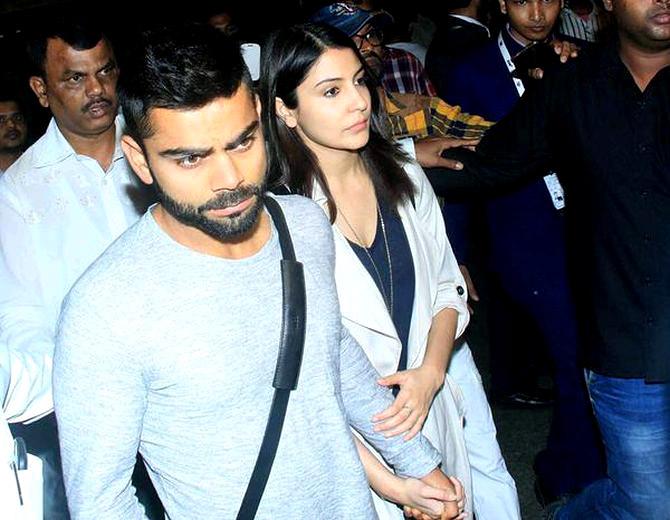 Photograph: PTI
Trolled and blamed by fans for India's shabby performance, Anushka's cricketer beau refused to let it strain their relationship.
Careless whisper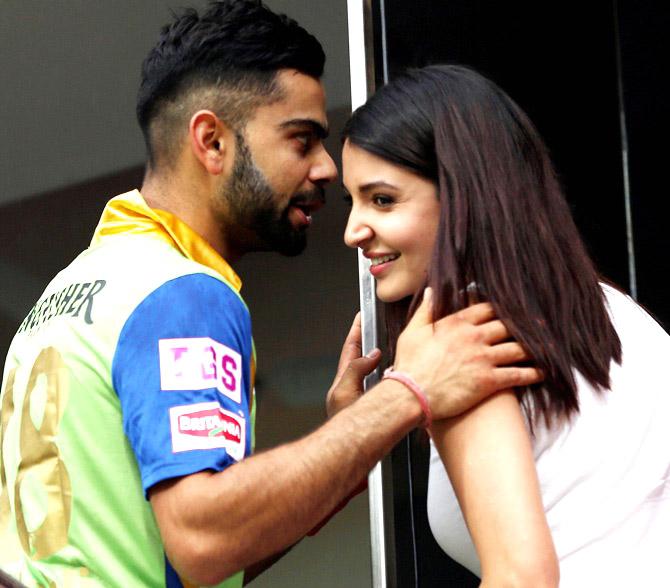 Photograph: BCCI
Mixing business with pleasure got Virat in brief trouble after the BCCI served him a notice for cootchie-cooing with his girlfriend during a rain break in an IPL game.
Love all!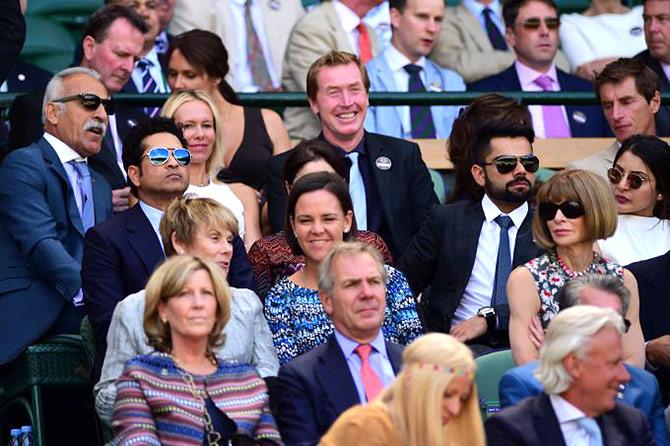 Photograph: Shaun Botterill/Getty Images
The Lovebirds and the Tendulkars catch a match at Wimbledon.
Beauty and the batsman!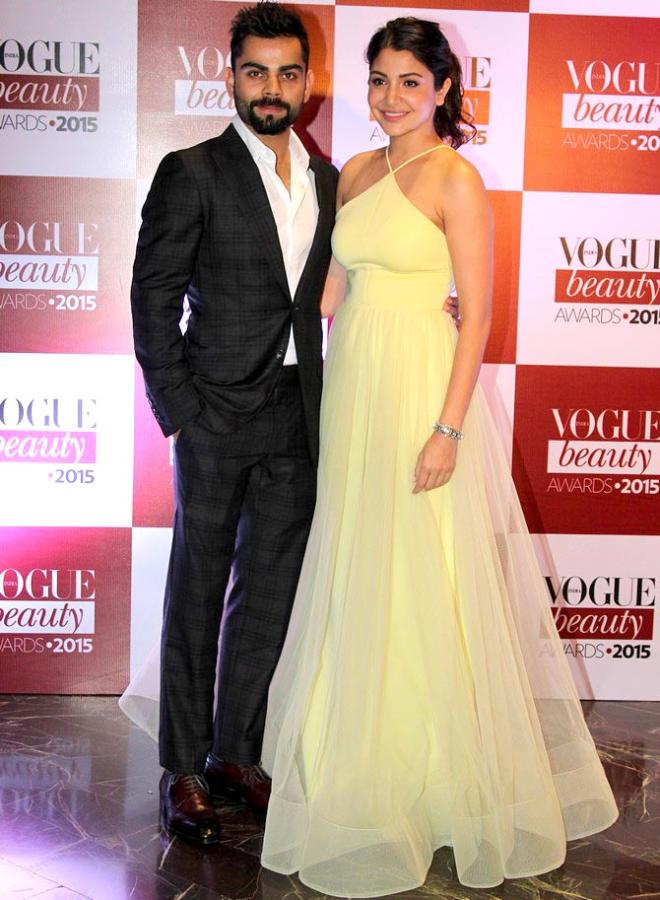 Photograph: Pradeep Bandekar
The pair make their power couple status official with a dazzling arm-in-arm appearance at the Vogue Beauty Awards in 2015.
Taali ho!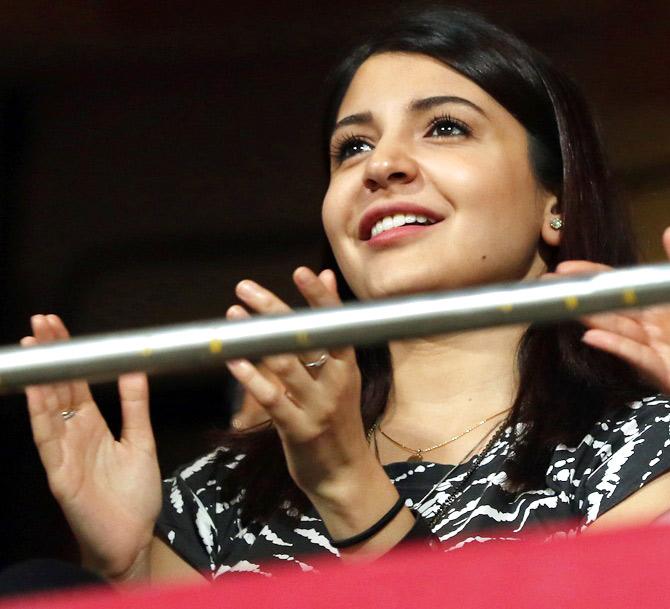 Photograph: Scott Barbour/Getty Images
That unmistakable glow of affection and pride enveloping the PK star as she cheers for her beau is everything.
Shame on haters!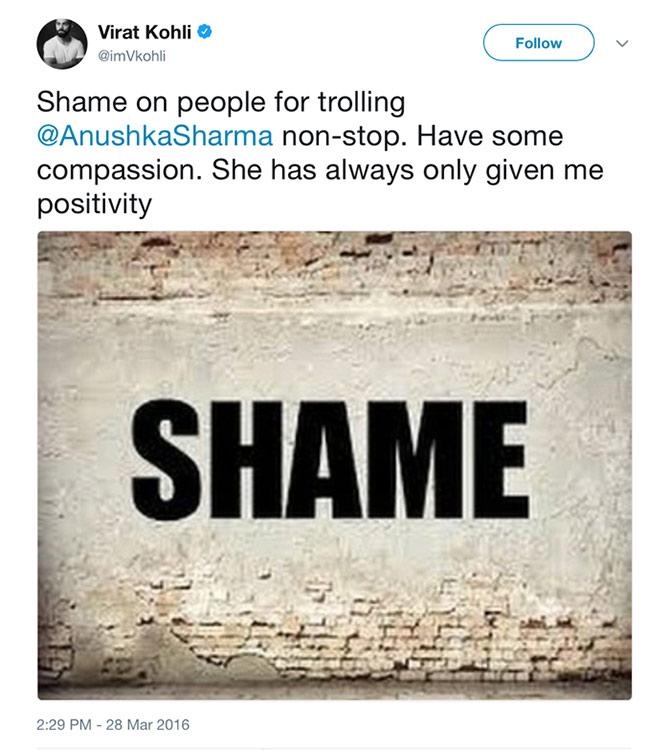 Virat takes on the trolls for their relentless anti-Anushka vitriol by posting a hard-hitting message on his social network wall.
The gesture is so genuine that even the actress decides to call off the break and reunite with her 'one.'
Rock solid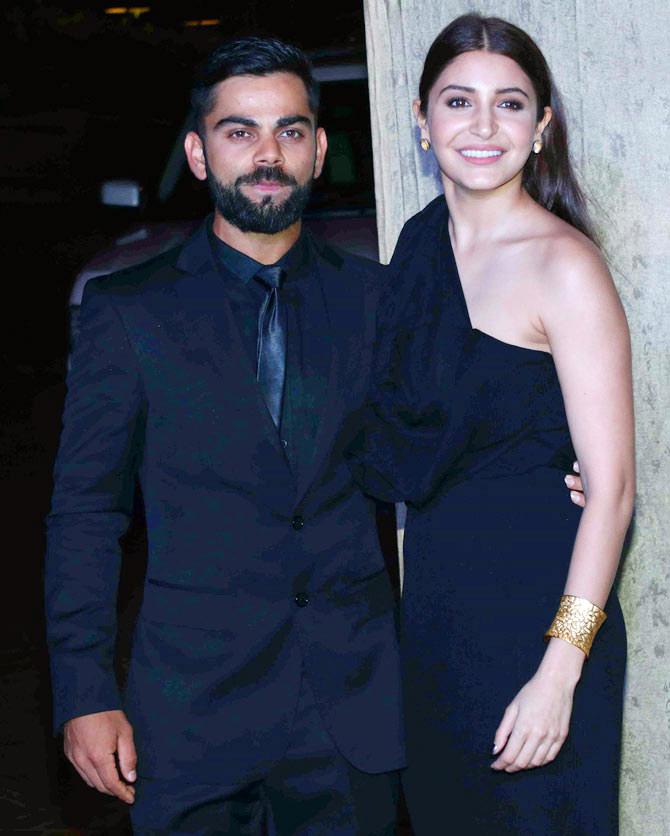 Photograph: Pradeep Bandekar
Virushka party with designer Manish Malhotra and other Bollywood glitterati looking confident and closer than ever before.
Perfect four!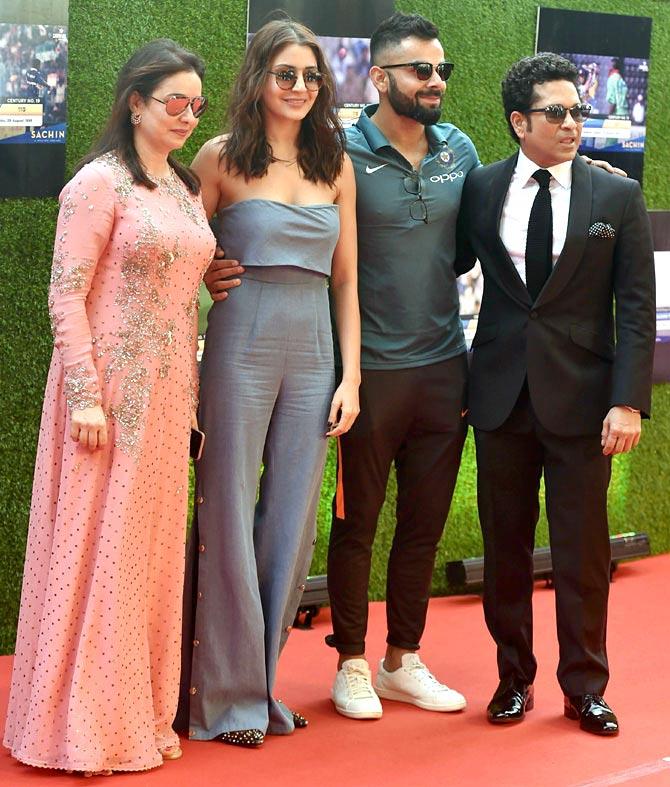 Photograph: PTI
The glamorous duo shows their love for Sachin's documentary at its star-studded premiere.
All you need is love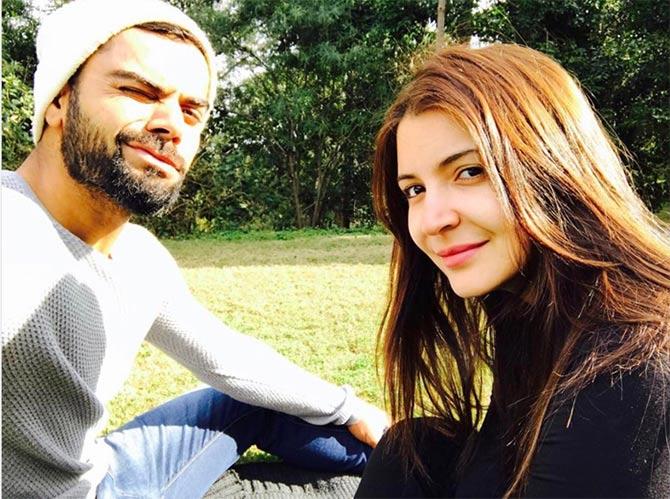 Photograph: Kind courtesy Virat Kohli/Instagram
Everyday is Valentine's Day if you want it to be, believes Virat. We believe him too.
Selfie le le re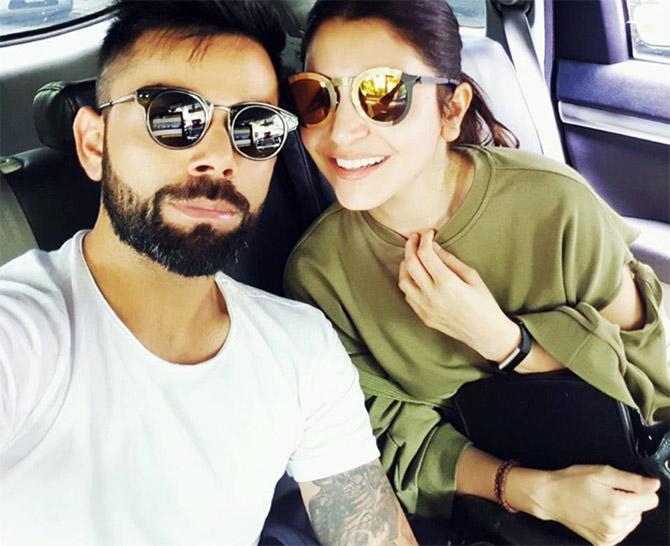 Photograph: Kind courtesy Virat Kohli/Instagram
Just like any other couple in love in the smartphone age, yes?
Yeh vaada raha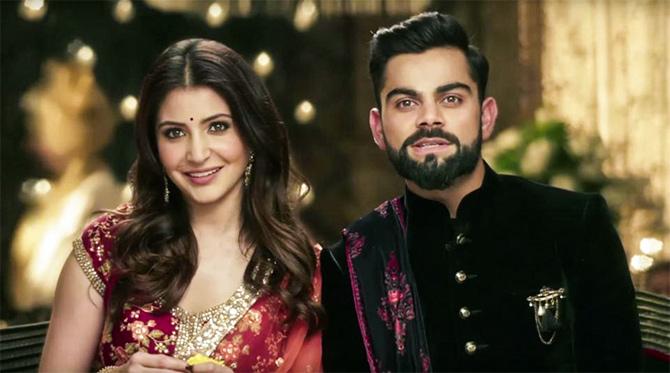 Virat and Anushka's remarkable chemistry as they exchange mock vows for a super mushy Manyavar ad sparked likelihood of a real wedding on the cards.
Clean bowled!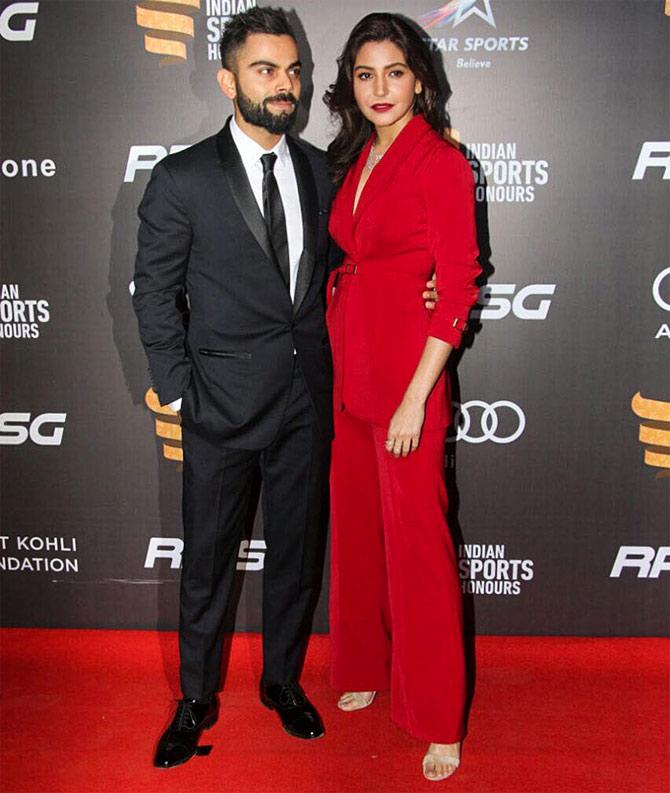 Photograph: Pradeep Bandekar
The gorgeous pair impressed us yet again with their fashion and fondness at an event honouring sportspersons.
Rehearsal time!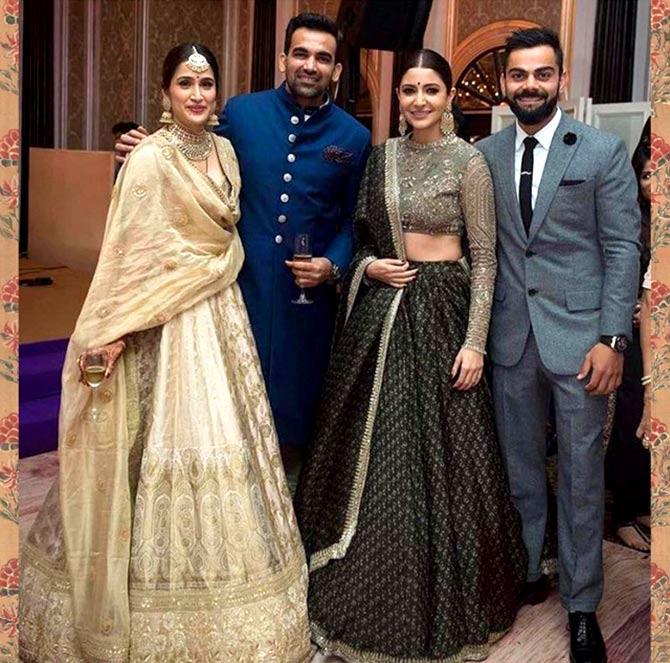 Photograph: Kind courtesy Sabyasachi Mukherjee/Instagram
Virat and Anushka didn't let anyone catch a whiff of their close-on-the-heels wedding whilst attending that of their respective colleagues -- Zaheer Khan and Sagarika Ghatge (a Yash Raj debutante like Anushka) -- in resplendent Sabyasachis.
Mehendi laga ke rakhna!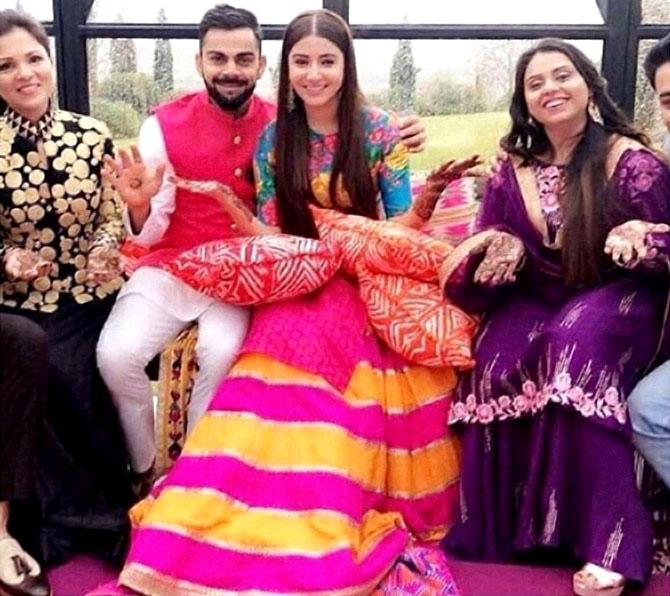 Photograph: Kind courtesy Sabyasachi Mukherjee/Instagram
Somewhere in a scenic Italian setting, Anushka flaunts her intricate mehendi designs. Only this time, it's not for the camera.
Bridal Velvet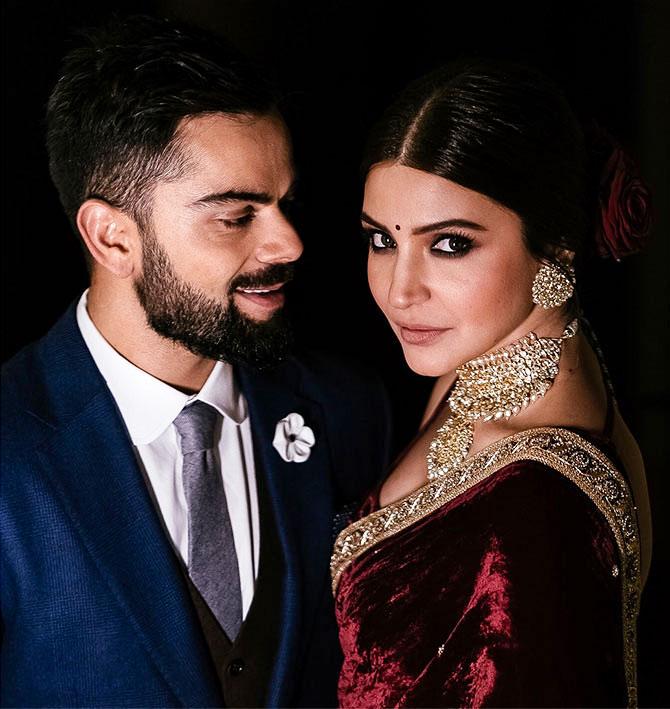 Photograph: Kind courtesy Sabyasachi Mukherjee/Instagram
We can't get over how gorgeous these two look. Bachon ko nazar na lage!
Just married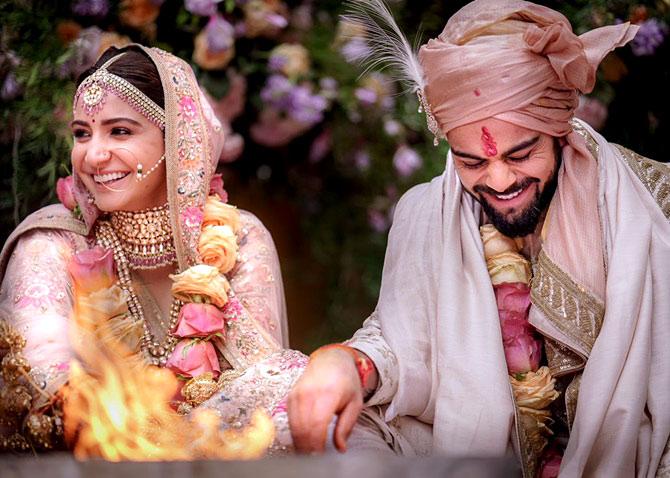 Photograph: Kind courtesy Anushka Sharma/Instagram
A long, happy, healthy and lovely lifetime together, guys!