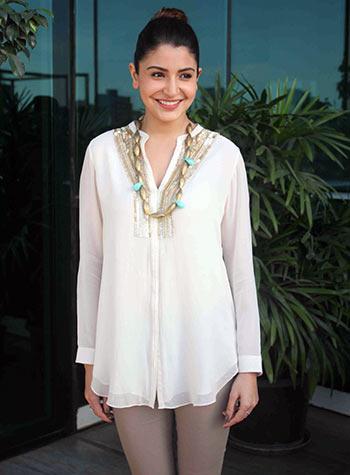 'Some people told me I was too young to become a producer. Others warned me not to produce a film that had such a bizarre subject. I am a relentless person, and today I am happy that I produced NH10.'
Anushka Sharma is thrilled with the response to NH10.
Anushka Sharma is clearly very happy.
The young actress is riding high on the success of her latest film NH10, which is also her first venture as a producer.
She discusses the success of her film with Sonil Dedhia/ Rediff.com
Are you happy that NH10 has brought your professional life into the spotlight again, instead of your personal life?
Thank you so much (smiles).
The media was not helping me, so I had to do something about it.
I have never discussed my personal life and I have always maintained that I want to be known for my work.
Which was the best reaction to your film?
The reactions from audiences as well as my colleagues from the film fraternity have been positive.
People like Shabana Azmi, Rajkumar Hirani and so many others have expressed their appreciation.
The biggest compliment came from the editor of the film (Jabeen Merchant) because an editor is someone who can save the performance of an actor.
The editor told me that it was so easy to edit this film. The writer (Sudeep Sharma) told me that I took the film to another level.
In an earlier interview, you said that you decided to back this film because you liked it as a viewer. Are you happy with the way the audience has responded?
I expected people to like the film, but I didn't think it would get such a positive response.
The response has been phenomenal.
The way in which people have understood the film is just amazing.
We were not saying anything in an obvious manner. The incidents in the film are very subtly put, but people got the message.
The collections of the first three days are stupendous. I am really glad that the film is doing well.
A lot of parallels have been drawn between NH10 and the 2008 British thriller Eden Lake.
It's like saying that every love story is the same.
NH10 is about a road trip and the philosophy of a road trip is that you are in a happy situation and certain unfortunate incidents happen on the way and you try to get out of that situation.
The template is the same, but then every action film or every love story has the same template.
What are the stupidest things people said when you signed up for NH10?
Some people told me I was too young to become a producer.
Others warned me not to produce a film that had such a bizarre subject.
While growing up, we are compared to our siblings or other kids of our age group who are doing well in their studies. It's like what others are doing should be done by you or else you are doing something wrong.
I am a relentless person, and today I am happy that I produced NH10 (smiles).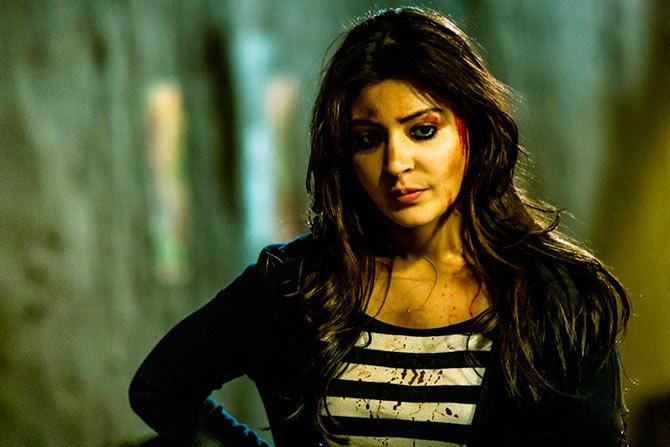 Image: Anushka Sharma in NH10
With hindsight, is there anything that you could have done better?
I would have liked NH10 to be marketed in a better way.
It is difficult to market a film like this as it has no songs and the story is not like a regular commercial film.
We made the film on a tight budget and that's why it is difficult to spend on the marketing.
We made the film for Rs 14 crore and we have managed to collect Rs 13 crore in the first weekend, which is phenomenal.
You could have chosen a safer genre, maybe a romantic comedy.
I love to watch romantic comedies and I love to act in them, but at the same time, I like to do films like NH10.
I don't like obvious things; that is one of the reasons I have done fewer films. What attracted me to this film was that it is original and unique.
Filmmaking is a business and commercial films do get much attention. But we all believed in this film and thought it was important to bring this story to audiences.
Has the success of the film boosted your confidence in backing such films?
Yes, it has reaffirmed my faith in making such films. It wasn't a smooth ride making NH10 because it doesn't have songs or any commercial elements.
We had to cut corners. Now that I have produced one film, it will be easier for me to produce the second one.
You have two films (Bombay Velvet and Dil Dhadakne Do) coming up this year. Are you excited about them?
I am very excited about both the films.
People will see a different side of me as an actor in Bombay Velvet.
With each film -- PK, NH10, and Bombay Velvet -- I look and feel different.
I don't want to do the same thing again and again.