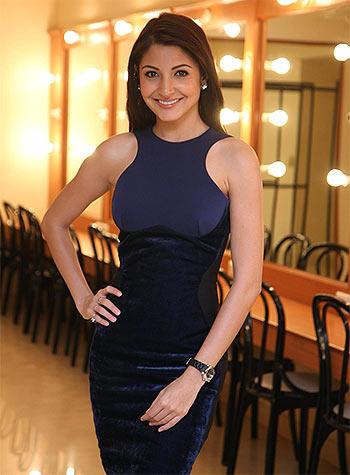 'Playing a different role has shaped me. I would give huge credit to PK and Bombay Velvet for that,' Anushka Sharma tells Patcy N/ Rediff.com

Anushka Sharma is all set to turn producer with her next release, NH 10, a dark thriller about a young couple whose road trip goes awry after an encounter with a group of criminals. It has been directed by Manorama Six Feet Under director Navdeep Singh.
Besides her producing duties, NH 10 also marks another first for the statuesque 26-year-old.
Image: Anushka Sharma. Photograph: Abhijit Mhamunkar

Known for portraying bubbly, vivacious characters with much ease, NH 10 will see Anushka make a clear departure from that mould.

Anushka tells Patcy N/Rediff.com more about the film.
Which states did you travel through for NH 10?

It starts from Gurgoan in Haryana, goes through the states of Haryana and Rajasthan and ends in Pakistan.

Why did you want to produce the film?

The film's story felt so real, this incident could happen to anyone.
When bad people attack you, they don't see whether you are a girl or a boy. I liked that about the story.
It's a situation where you have to rise and fight something. Also, the personal struggle is very relatable.
The characters played by Neil Bhoopalam and me are both in a similar situation.

How did you prepare for the part?

It was a very physically challenging role, so I had to train accordingly. To build my stamina, I did interval training, where you have to run at very high speed, stop, and pick up again to get your heart rate up. I knew I would be running for 12 hours a day and that can get very tiring.
We did workshops to build the characters and their chemistry.

The plot of the film starts within the first 15 minutes of the film, and before that you have to establish these characters as the film is going to be led by them.

We had acting workshops to develop the characters with the help of Navdeep Singh (director of the film) and Atul Mongia who conducted those workshops.
Did you suffer any injuries during the shooting of the film?
Yes. I would get bruises I didn't know of until the next morning when I could see them. I don't know where they came from.

The adrenaline rush is so high at the time of shooting, that you don't feel the pain.

Wasn't it difficult shooting the next day because of the bruises?

Yes, I would be in pain but you can't stop shooting once a film has taken off.
There was a physiotherapist from Jodhpur who would take care of bruises and injuries.
Neil had a neck issue once.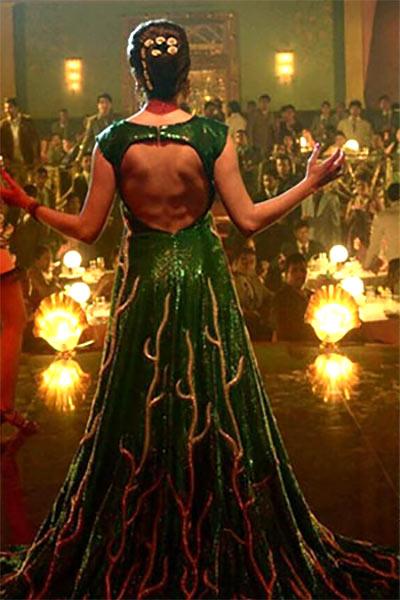 Image: Anushka Sharma in Bombay Velvet
Were there any accidents on the sets?

There is this light called a moon box which gives the moon effect at night when you shoot in the open.
It weighs about 1000 kilogram and is suspended from a crane.
We were shooting at night and there was a strong sandstorm. Things were flying everywhere -- even our food.
The moon box was swinging and we were shooting just below it. If it had fallen, we would all have been wiped off.
I spotted it at the right time and asked people to move. We got that thing down, cancelled the shoot and rushed back to the hotel.

What was more difficult for you, acting or producing the film?

Acting comes naturally to me.
You discuss the script with your director, do a workshop with your co-actor but ultimately you need to sit by yourself and work your thing out.

A producer bears a lot more responsibilities and stress because he/she is dealing with more people and you are involved from an early stage till the very end.
You are fully responsible at every stage for the film to get made and for things to move smoothly.
Is this story inspired from a real life incident?

There are certain incidents in the film that are inspired from real events that Sudip (Sharma, writer) and Navdeep read about over the years.

Do you think the 'A' certificate will affect the film's business?

We knew when we made the film that it could possibly get the 'A' certificate.
But we stayed true to the story and the subject because we are trying to say something through the film.
So it may affect business, but I believe that every film is not for everyone. It was more important for us to say the story the way it is.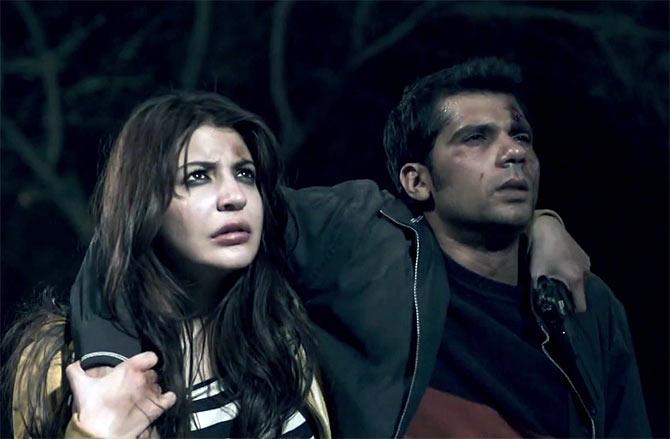 Image: Anushka Sharma and Neil Bhoopalan in NH 10
This is the first time you are playing such a fierce character. Do you think it will click?

I always try to pick up things that are new and that is why I do the films I do. That is also why I have done very few films.
This film excited me because of the genre and the story.
I have so many things to do in the film and that gives me a huge kick -- to show people different facets of my ability as an actor.

With each film -- PK, NH10, and Bombay Velvet -- I look and feel different. I don't want to get slated by doing the same thing again and again.
Has NH 10 been instrumental in your personal growth?

Films do influence you on a personal level. Ninety-five per cent of my life is about my work.

This (the life of an actor) is the life I lead –- travelling, meeting people, working with everyone. This is the learning ground for me. Playing a different role has shaped me.
I would give huge credit to PK and Bombay Velvet in that regard. When I was working on those films, I developed passion as a person. And those movies gave me the strength to back this film.