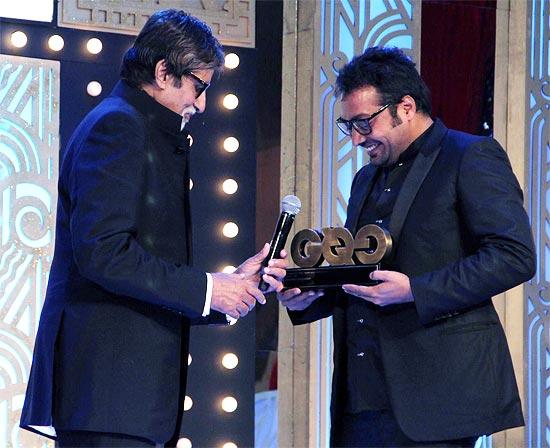 Filmmaker Anurag Kashyap and Amitabh Bachchan have not shared a cordial relationship, until now.

The two recently met at a special screening of director Bedabrata Pain's debut film, Chittagong and were seen getting into an animated conversation.

Kashyap is all set to direct the legenedary actor, who he claims is his biggest inspiration.
Kashyap joins us, as we celebrate the iconic Amitabh Bachchan in this special series, and pays his tribute to the legend.

There was a rule that we had to watch Amitabh Bachchan's movies in a theatre.

I grew up in Gorakhpur (in Uttar Pradesh), and we would try watch films by renting videocassettes. But if there was an Amitabh Bachchan film in a theatre -- in Lucknow, Faridabad or Benaras -- my father would take us all in a car to watch the film.
As a kid, I would simply wait for his films to release. Deewar, Trishul and Kaala Patthar are the defining films of that time.

He is the prime inspiration for filmmakers like me, who have come from North India. When I was growing up, I wanted to be like Amitabh Bachchan. I used to have the same hairstyle and also dress like him. I remember I copied his hairstyle from Shahenshah.

I started my film career with Satya (1998), which I wrote. He liked it a lot and he started hunting for me, as he wanted to talk. 
The first time he called me up, he said, 'Anuragji, aapko dhundna toh Pradhan Mantri Atal Bihari Vajpayee see zyada mushkil hai.' (It is more difficult to find you than Prime Minister Atal Bihari Vajpyee). I wrote a script for him then but it didn't work out. I don't want to get into the reasons for that.

After that incident, we drifted apart. 
In 2005, his film Black released and I wrote an article criticising it. That made him very upset.
I also had an argument with Abhishek Bachchan, and commented about the similarities between my film Chittagong and Khelein Hum Jee Jaan Sey.
All these incidents damaged the relationship even more.
In spite of this, I have always said that I am a big fan of Amitabh Bachchan but I am not a blind fan. If I have liked his work, I have also criticised what I don't like.

We met each other after 14 years recently, and clarified a lot of things.
When we met, I realised he takes criticism well. Also, he talks straight and to the point. Now, I have established a direct connection with him and can talk to him at any point of time.

I have always wanted to work with him and now the ice has broken. We are planning to work with each other now.
I had written a short story a long time ago, about what Amitabh Bachchan meant to his fans. I will make that very soon. I will also write the ideas that I had thought for him. Sometimes I regret not talking to him for 14 years. I am happy everything has been sorted out.