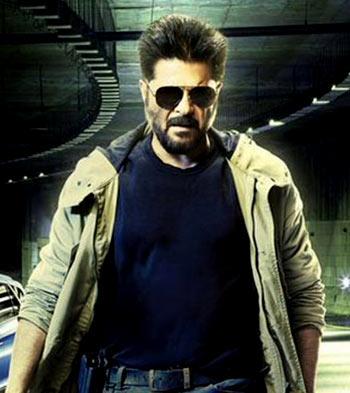 Bollywood actor Anil Kapoor, who is back with Season 2 of his popular series 24, unveiled its action-packed trailer on June 8. Anil reprises the role of ATS chief Jai Singh Rathore.
Aamir Khan was at the trailer launch to support his good friend. While it was rumoured that Aamir will be part of the show, Anil cleared the misconception at the launch. "I would love him to be part of the show," he said, "but, as of now, he is not doing 24."
Anil's daughter, Sonam, was there as well.
Anil, who earned international fame for his roles in the original 24 series and in Hollywood movies like Slumdog Millionaire and Mission Impossible: Ghost Protocol, felt it was tough to balance television and films
"Aamir Khan has always been a leader and an inspiration. While doing Satyamev Jayate, he did nothing else. He is younger than me yet, sometimes, you learn from them."
He added, "I have had a lot of film offers including an international film, but I couldn't do it as I had to shoot in July-August for 24. Besides, I was committed to two films -- Dil Dadakne Do and Welcome Back.
Anil, who has acquired the rights of American TV series Modern Family and Prison Break as well, said he dreams of doing an original television show.
"I am evolving every day. I am learning every day as an actor and producer. 24 has been very educative for me. I dream of doing something original that will travel all over the world."
ATS officer Jai Singh Rathore is returning to save the country from the threat of a deadly virus in Season 2. "It's mentally and physically challenging and I am madly in love with the format, character, content and the way the story moves. I enjoyed watching the trailer I am sure the public will too."
On the kind of preparation he had to do for the role, he said, "I have worked a bit on my voice, apart from my body language. There is a change in my voice in the first and the second season as compared to all the roles I have done before. I had to create that consistency because of what the character has gone through and the person that he is."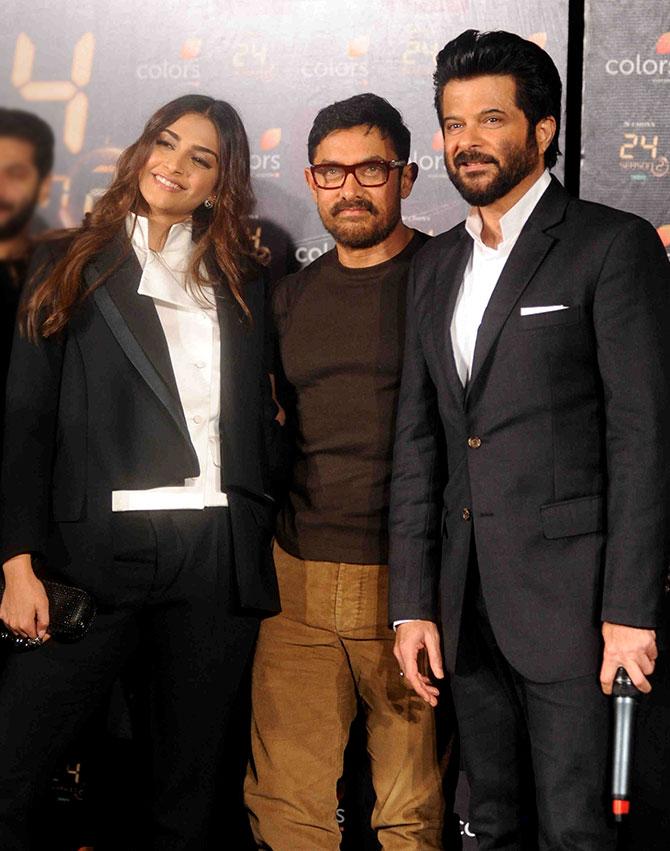 Jai Singh Rathore's character looks more of an anti-hero in the trailer.
"Even in the first season, Jai Singh is grey; he is real. He is not a typical hero. He is not James bond. He is flawed, he makes mistakes. Obviously, he is much darker than in the first season."
The casting of 24 created of lot of curiosity, with names like Tabu being thrown around. "Tabu is a great actress and I am a huge fan. It was not because of the money but the time commitment and the availability that I wanted. She has promised me she will definitely be in the future season. It will be an honour to work with her; she is so passionate about work. If Tabu says yes, I will pay her 10 times more," he grinned.
Season 2's cast includes actors we haven't seen in the last season -- Sakshi Tanwar, Sikandar Kher, Harsh Chhaya, Ashish Vidyarthi and Suvreen Chawla, among others.
There is also a kissing scene between Jai Singh (Anil Kapoor) and Surveen, his love interest in the show. Is there any awkwardness at home when he does such scenes at this point of his career?
"No, I have been working for so many years in the industry. Everybody is educated and independent in my family. It's part of my profession. Usme kya hai (What's wrong with it)? We are trying to make it as real as possible."
Unlike other actors, Anil has escaped the stereotype bug.
"For me, longevity is more important. I want to do things which will allow me to work for longer; that's the reason I started doing different genres. If I did a Ram Lakhan, I would do Eshwar. I kept on taking those risks in my career like Lamhe, Virasat and Slum Dog Millionaire, where I played a grey character."
He didn't hesitate to play father to Priyanka Chopra and Ranveer Singh in Dil Dhadakne Do. "I am ready to play a grandfather or a great grandfather, but the film should revolve around me (grins)."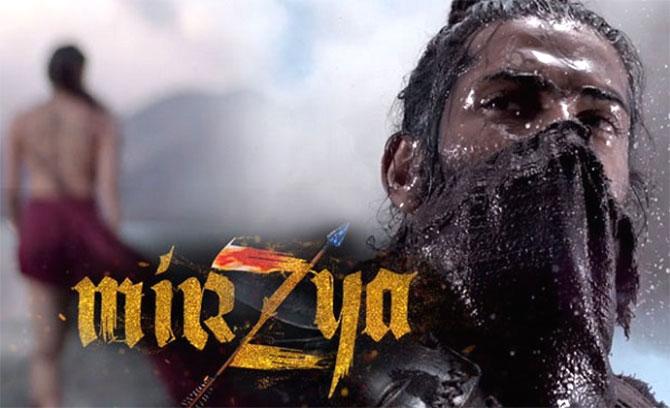 His son, Harshvardhan, is making his debut with Rakeysh Omprakash Mehra's Mirzya. The teaser trailer of the film too released on the same day.
"I better talk less," said Anil. "Let the work and the film speak. Let Rakeysh Mehra and him (Harshvardhan) speak. There are so many people who are not aware that I have a son and they get shock when they find out. They think I have only two daughters. I can only say that everyone in the film is committed and he (Harshvardhan) is passionate about his work."