"Suno suno duniya ke logon, sabse bada hai Mr Gogo."

"Amar aur Prem, yaane ke Amar Prem. Naam sunte hi main samajh gaya tha ke tum dono awwal darje ke filmi aur awaare ladke ho."

"Tum jo ho woh tum nahi koi aur hai, woh jo hai woh woh nahi koi aur hai, main jo hoon woh main nahi, ya main bhi koi aur hoon? Main kaun hoon?"

"Tumhare baarein mein bahut saare gadhe soch rahe honge Raveena."

"Teja main hoon mark iddhar hai."

"Chalo, chalo Tillu ko dande dene hai."

"Sir, yeh Vasco Da Gama ke zamane ki gun hai."
"Kiske mama ki?"

Sound familiar?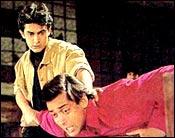 Anyone who claims to be a movie buff is most likely to be an Andaz Apna Apna fan as well. I, for one, consider it to be Number 1 in my list of the Top 5 Hindi funny flicks. The other four being Chalti Ka Naam Gaadi, Half Ticket, Bhoot Bangla and Jaane Bhi Do Yaaron.

Rediff.com's new Mad About Movies Section gives me the opportunity to tell you what makes Andaz Apna Apna a classic.
I was in grade 10 when the film released. Back then, the cable guy would show a film a week after the film's release, so I got to see it immediately. Since the film featured both my favourite Khans (at the time), I would collect cutouts of the film's promotional stills kept myself in the loop about every little information about it.

Let me indulge in some background dough about this laugh raiser. Directed by Rajkumar Santoshi, Andaz Apna Apna brought the two Khans - Aamir and Salman - together for the first, and seemingly last, time on the big screen. Their heroines were Raveena Tandon and Karisma Kapoor who had just begun their careers.
Interestingly, the two actresses got into catfights throughout the making of the film. With bloated egos and petty quarrels, it is hardly surprising Andaz Apna Apna took a good three-four years to see the light of the day.  

Amazingly, there were no traces of this misdemeanour on screen. From an outsider's point of view, all four actors shared great timing and worked wonderfully as a team.

For all those unlucky blokes out there who haven't seen this film, here's a quick recap.

Amar 'Haila', smartass (Aamir Khan), and Prem 'Ooi maa', bumbling nitwit (Salman Khan), are two ambitious guys from Bhopal who want to make a quick buck by conning people. Both buffoons sell their father's bangle shop and hair salon respectively to land in Ooty.
Both also decide to woo the London-returned wealthy heiress Raveena (Raveena Tandon), accompanied by her friend-cum-secretary Karishma (Karisma Kapoor).
Basically, whoever marries Raveena will inherit all of her dad Ram Gopal Bajaj's (Paresh Rawal) fortune. Little do they know that Bajaj has a look alike twin, Shyam, aka Teja (Rawal) who, with the help of his Paplu (Shehzad) Taplu (Viju Khote), is scheming to get his hands on the riches himself.
| | |
| --- | --- |
| | Also Read |
| | |
Another character called Crime Master Gogo (Shakti Kapoor), a cross dresser between a pirate and superhero, also has his eye on the money.
What follows from start to finish is an unstoppable session of laughs, more laughs and yet more of it. The good thing about AAA is that it is a clean entertainer and does not resort to tasteless humour or cheap gimmickry. Although shockingly low on production values, it doesn't matter whether the backdrop is Ooty or Film City because of its frothy, engaging content.

Come to think of it, Andaz Apna Apna doesn't have an out-of-the-world story, nor does it bank on narrative. It is purely a dialogue-cum-(comic)-action-cum-performance-based film.

My favourite scenes in the film include:
* When Amar and his father fantasise about becoming rich and famous.
* When Amar and Prem land at the same guest house and squabble but instantly turn into an epitome of brotherly love – Lord Rama and King Bharata - when the manager shows up.
* When Amar is forced to gobble down kaali mirch ke laddoos.
* When Prem tries to propose to Raveena only to find himself making unusual visits to the loo instead.
* Amar making a football match out of glass of sherbets.
* Karishma telling Prem she is Raveena and Raveena is Karishma.
* Amar and Prem chalking down a game plan to kidnap Uncle, ie Ram Gopal Bajaj.
* Amar, Prem getting rebuked by Uncle and a couple of reels later the reverse.
* The entire climax.

The characters in Andaz Apna Apna are as crazy as it gets. You probably wouldn't find an Amar, Prem or a Crime Master Gogo at every nook and corner. But the believability with which these actors portray ridicule is simply amazing.

Aamir's delicious wickedness and I-am-oh-so-sly act as Amar complemented Salman's brawn-and-dumb-dodo turn perfectly. More than Raveena, it was Karisma who was funny as hell in her outlandish costumes and doltish dialogue delivery. The former, in fact, was the only regular character in this mad world created by Santoshi.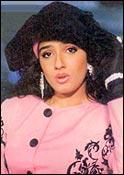 I once asked Santoshi why he hadn't attempted to make a comedy again. He said then he was working on some scripts. The man is now making a cop drama named Khakee with Amitabh Bachchan, Akshay Kumar, Ajay Devgan, Aishwarya Rai and Tusshar Kapoor.

Even though AAA did only an average business at the box office, its popularity is unbelievable on the video circuit.

I have a mini set of friends who adore Andaz Apna Apna with the same intensity as I do. In fact, my colleagues and I once had a Who Knows the Most Dialogues Contest from AAA.

Goes without saying I won :)
Are YOU Mad About Movies? Here's your chance to tell us how much!