'Her short black choli with a deep cut-out back and multi-coloured pom-poms became quite a sensation. It was clearly meant to draw your attention to Kareena's perfect figure.'
Costumes play an important role in Hindi movies.
It matters even more during song sequences, especially item numbers.
Sujata Assomull and Aparna Ram document iconic and influential looks in the movies in their book, 100 Iconic Bollywood Costumes, through their text and illustrations respectively.
A look at how costumes enhanced item numbers through the years... through these excerpts from 100 Iconic Bollywood Costumes.
Helen
Teesri Manzil (1966)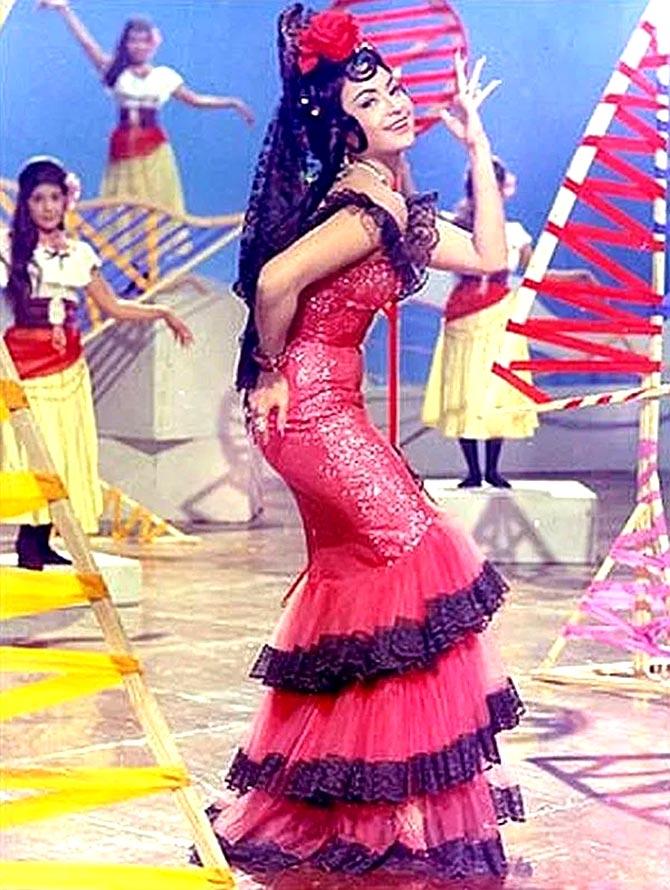 Credited Costume Designers: Mrs Parekh, Bhanu Athaiya, Leena Shah and Bilquis Khan
Directed by Vijay Anand, this crime thriller was one of the most important movies of the 1960s.
Rocky (Shammi Kapoor), the heart-throb drummer of a band, is accused of breaking the heart of Sunita's (Asha Parekh) elder sister, who was so shaken by Rocky's snub that she apparently committed suicide.
Sunita wants Rocky to pay for his role in her sister's death.
Then there is Ruby (Helen), a dancer in the club Rocky performs in, who is in love with him.
This is a 'whodunnit' thriller that has you guessing who the killer is till the very end.
It is the cabaret costumes of the original 'item girl', Helen, that have had the most visual impact on the industry, especially in the song, O Haseena Zulfonwali Jaane Jahan.
The song opens with a play of shadows and a through-the-looking-glass feel to add to its fantastical style.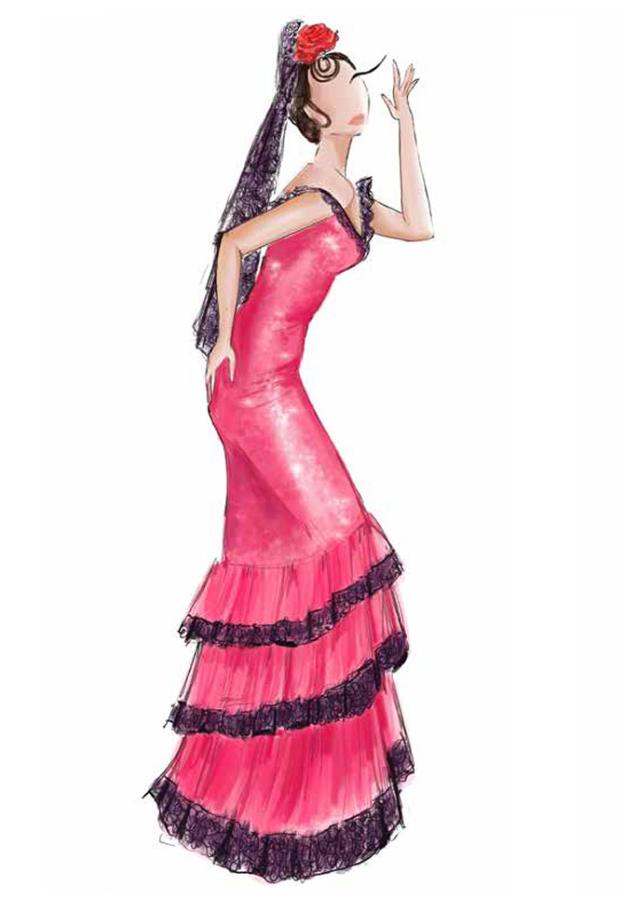 In true Bollywood fashion, Helen goes through a range of costume and wig changes during this one song.
This includes a Spanish-style flamenco dress in red, with black lace details and an oversized flower worn on the crown of her head.
The silhouette was fitted around Helen's waistline in order to show off her figure.
She was known to enjoy playing dress-up for her films but also deeply understood the importance of costume to the overall story.
This song is an ode to that.
The set for this number can only be described as brash, yet your eyes are firmly fixed on Helen, who truly was the ultimate showgirl.
Bhanu Athaiya says of the flamencostyle dress, 'I have created many Western cabaret costumes for Helen; however, this Spanish costume from the song O Haseena Zulfonwali is my favourite.'
Helen
Jewel Thief (1967)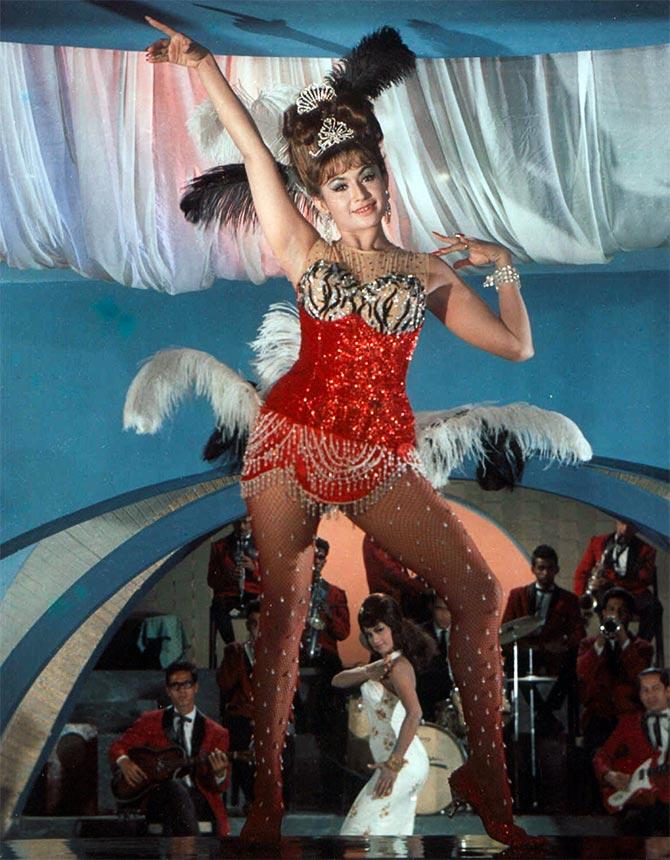 Credited Costume Designer: Mani Rabadi
A spy thriller by Vijay Anand, known to be inspired by Alfred Hitchcock, this film was obviously an ode to James Bond.
In the lead was Vijay's dapper brother Dev Anand in a double role as Vinay and Prince Amar.
There were also four Bond-style femme fatales in the film, including Anju Mahendru, Tanuja, Faryal and Helen, the vamp.
Helen's cabaret number from Jewel Thief is considered one of her most iconic and memorable, and her costume played a big part in shaping this legacy.
In the song Baithe Hain Kya Uske Paas, she wore a red-sequined, leotard-styled costume featuring animal-print details on the bust, with black and white ostrich plumes attached to the back of the outfit.
It was finished with sheer sparkling stockings and a tiara in her beehive hair. Even her heeled shoes were encrusted with crystals.
While at first glance her dress looked like a bustier, it was in fact a sleeveless outfit, and as the camera moved closely onto Helen, you clearly saw a nude covering on the shoulders that had more sparkles encrusted in it; Helen was known to wear body stockings under most of her outfits to maintain modesty.
She never looked vulgar, no matter how skimpy her outfit was.
Baithe Hain Kya Uske Paas was meant to be an over-the-top bar dance number that seductively stood out in this slick movie.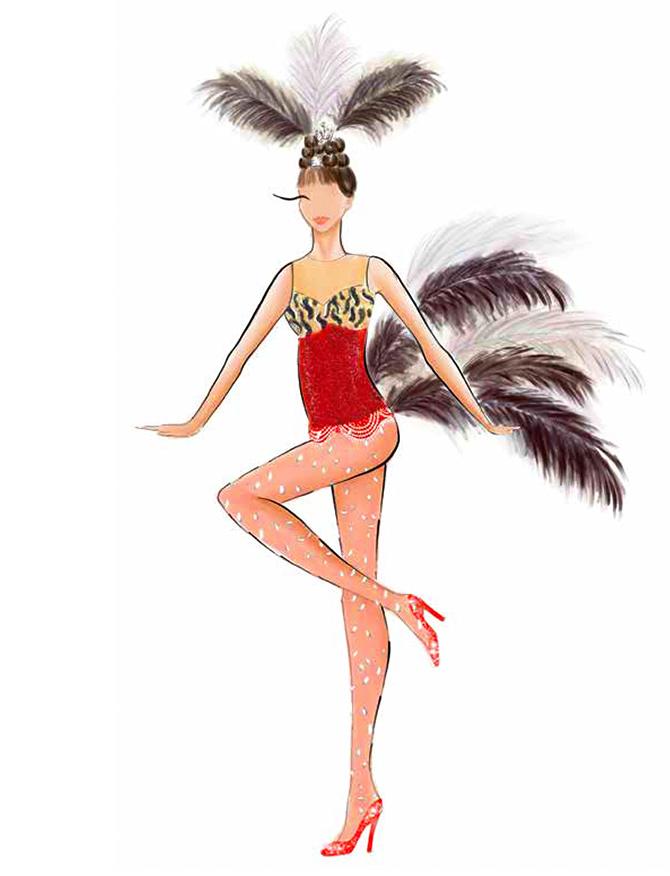 Says Priya Tanna, editor of Vogue India, 'We don't credit Helen enough for her contribution to fashion and film. The way she showed skin in a very sexy and classy way is something we can take cues from even today. She brought body confidence to Bollywood [and] was India's first siren.'
The film marked the beginning of a long-standing relationship between Helen and costume designer Mani Rabadi.
The exotic costume Rabadi crafted was carried with élan by Helen, or 'H-Bomb', as she was also known, and it was a match that worked well. In the song, she oozed both sensuality and poise.
Her look may seem over the top today, perhaps even bordering on outrageous, but many modern item girls are inspired by her -- be it Malaika Arora or Kareena Kapoor.
To be an item girl, you have to stand out and be both bold and beautiful, and Helen knew this very well.
Helen
Don (1978)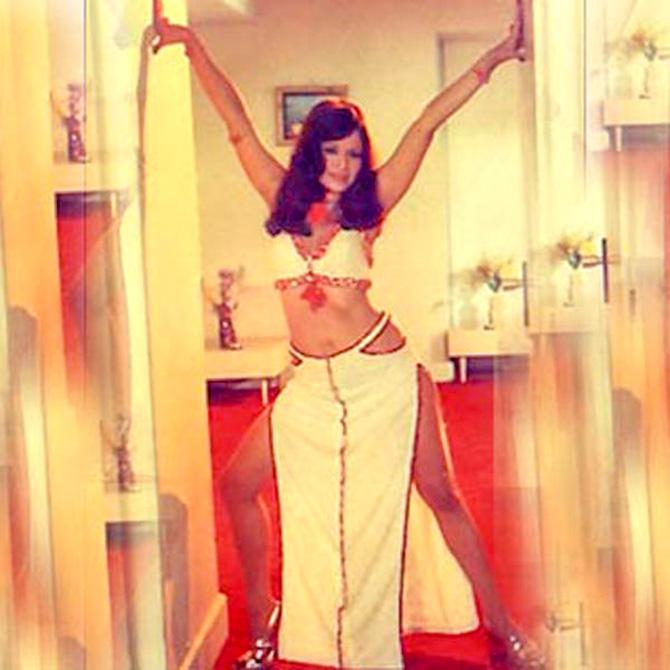 Credited Costume Designers: Mani Rabadi and Smt S Irani
This crime thriller starring Amitabh Bachchan and Zeenat Aman in the lead roles quickly became a blockbuster.
It spurred remakes in Telugu, Tamil and Malayalam, and in 2006, Farhan Akhtar paid homage to film with his 'redux' Hindi version, Don: The Chase Begins.
In the original movie, Helen's cabaret number in the song Yeh Mera Dil was the film's most sizzling moment.
In this song, Kamini (Helen), whose fiancé was killed by Don (Amitabh Bachchan), is disguised as the seductress Sonia.
She tries to distract Don so that the police can catch up with them and arrest the mobster.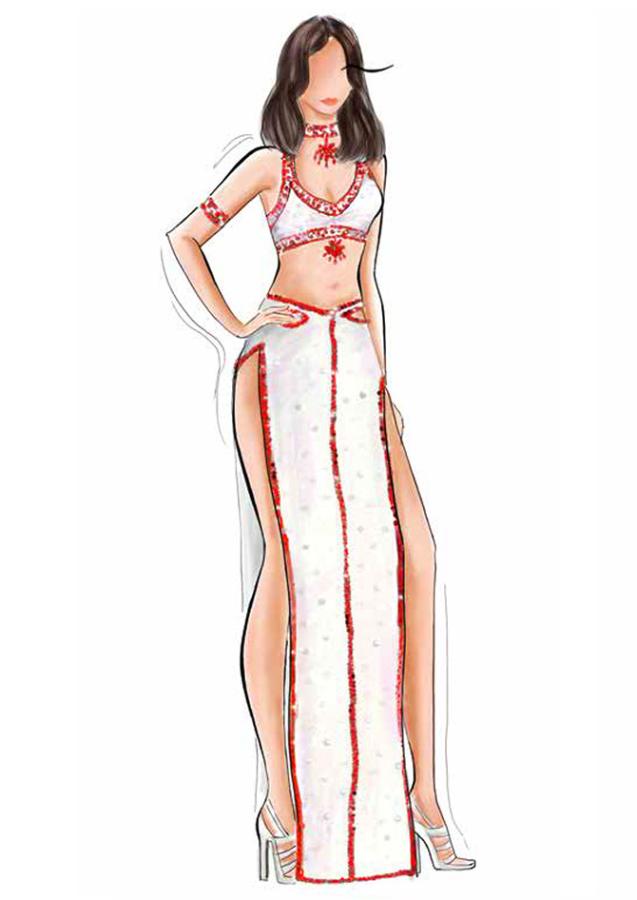 The original item girl, Helen exuded sex appeal, and her skimpy costumes were part of her trademark.
Her nails were talon-shaped and painted burgundy.
Two large cocktail rings and a bracelet studded with red stones adorned her hands.
Though she often wore body stockings, in Yeh Mera Dil, her white, low-cut top teamed with a low-waisted skirt with long slits left little to the imagination.
Working on this film's costumes was Mani Rabadi; she and Helen had a history of working on clothes that were unexpected, over the top and in the realm of the burlesque.
If anyone else but this showgirl had worn them, they would seem garish, but Helen knew how to keep it risqué yet classy.
The outfit was embellished with a red stone border, and she wore blue contact lenses and silver sandals -- she wanted to make a bold statement.
Interestingly, when Kareena Kapoor reprised the song in Farhan Akhtar's 2006 version, she wore a gold dress with slits, and was actually more covered up than Helen.
Aishwarya Rai
Bunty Aur Babli (2005)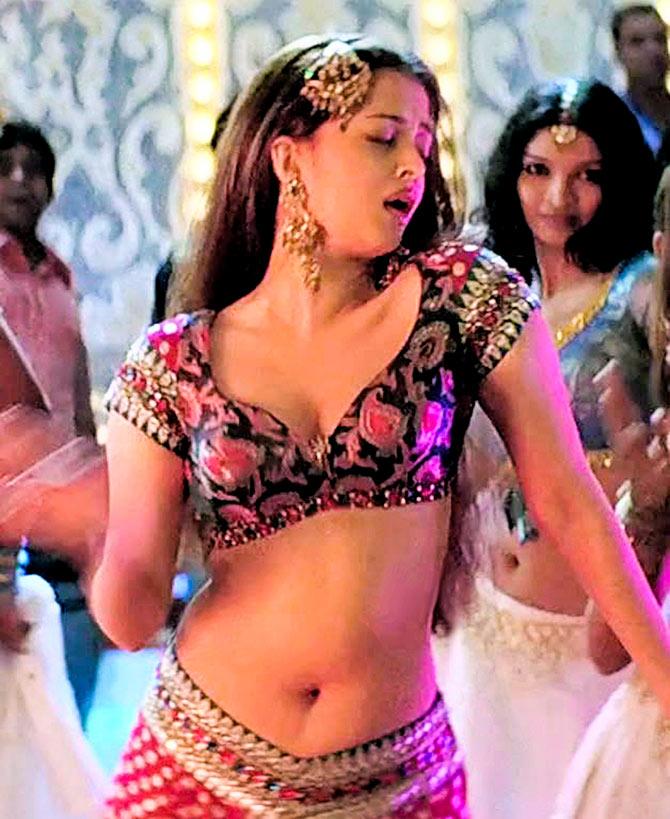 Credited Costume Designers: Aki Narula, Ameira Punvani and Bipin Tanna (for dancers)
Shaad Ali's second film, which was inspired by the American cult classic, Bonnie and Clyde, has Aishwarya Rai making a special appearance as a bar girl for the song Kajra Re.
Based on the qawwali genre of music, this hit track features Aishwarya dressed like a modern-day courtesan in a bright-hued lehenga without a dupatta.
The choli is short and has a deep cut-out in the back, and the lehenga is worn low.
Her hair is straight and her make-up not overdone, giving the look a contemporary feel.
But the passa, payal and hath-phool ensure that it has a traditional side.
Kajra Re also features Abhishek Bachchan, who plays the 'Clyde' character, Rakesh, a k a Bunty, and Amitabh Bachchan as joint commissioner of police, Dashrath Singh.
It is said this sensual number also marked the beginning of Abhishek's relationship with Aishwarya, whom he later married.
Recalls film critic and author Udita Jhunjhunwala, 'The song became famous for the troika -- Amitabh Bachchan, Abhishek Bachchan and Aishwarya Rai -- [as well as] Gulzar's lyrics, Shankar-Ehsaan-Loy's music... [and] the colours, styling and choreography.'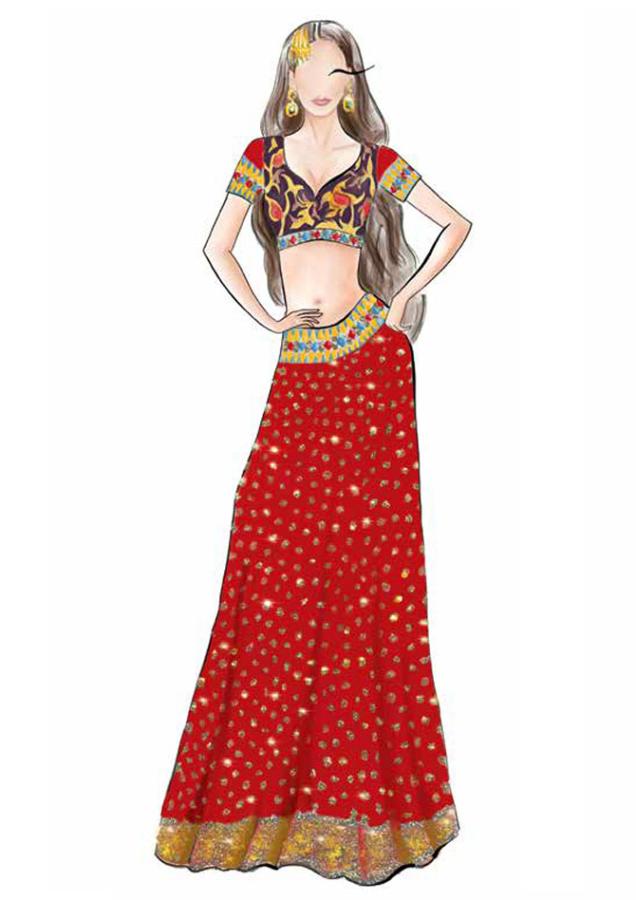 Aishwarya did look smoking hot in that lehenga and short choli. Kajra Re was a rage in nightclubs and, of course, the audience was curious to see the chemistry between Aishwarya and Abhishek.
There is no question that the vibrant styling of this song added some punch to this item number and ensured that Aishwarya's appearance was indeed special.
The choli from Aishwarya's look in Bunty Aur Babli made an appearance in another film, Band Baaja Baaraat, where it was worn by a background dancer with another lehenga.
Often, production houses keep the costumes after a film and reuse them in some way; both Bunty Aur Babli and Band Baaja Baaraat come under the Yash Raj banner.
Sometimes actors do request to keep the outfit, but clearly, as much as Aishwarya sizzled in this look, she decided to let the production house keep the costume.
Bipasha Basu
Omkara (2006)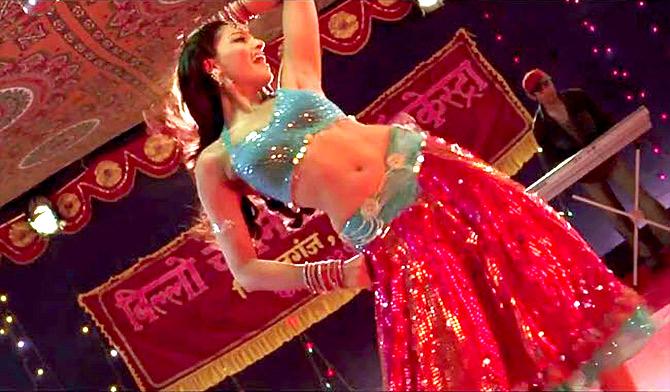 Credited Costume Designers: Dolly Ahluwalia Tiwari, Rocky S (for Bipasha Basu) and Anna Singh (for Ajay Devgn)
The director Vishal Bhardwaj is an evident admirer of William Shakespeare, having made three films based on the English playwright's work.
In Omkara, Vishal manages to stay true to the story of Othello, but gives it a 21st century Bollywood do-over.
Winning multiple awards in India, including Filmfare's Best Costume Designer for Dolly Ahluwalia Tiwari, the film was screened at both the Cannes International Film Festival and Cairo International Film Festival.
Ajay Devgn played the title role, a bandit boss who has the backing of local politicians.
The Bianca of the film is Billo, played by Bipasha Basu; the role of a dancer-girl and mistress gives her one of her all-time career highs with the song Beedi.
It is almost the film's item song, but only unofficially, as it is performed by one of the main cast members.
From its music, composed by Vishal himself, to its lyrics, written by Gulzar, to Bipasha's fresh take on the nautch (dance) girl, dancing with steps choreographed by Ganesh Archarya, this song gave the badlands of Uttar Pradesh a sense of cool.
This is 'dirty dancing' at its best and had both mass and class appeal.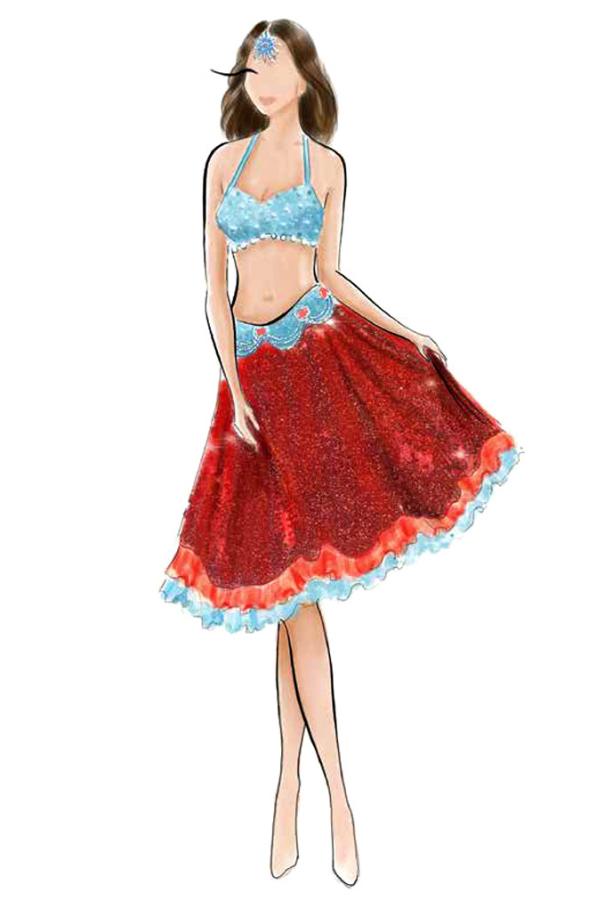 Dolly Ahluwalia Tiwari, overall costume designer, is known for her attention to detail.
She worked with designer Rocky S to create the dancing costume of Beedi, a ghagra choli infused with the bling of a disco dancer.
Rocky recalls: 'Bipasha has the most fabulous body, so I really wanted to focus on her midriff, so the blouse was kept short and her lehenga skirt worn low. It was bold, bright and brazen. The fuchsia and orange sequined lehenga was teamed with a self-embroidered halter blouse. The idea was to make it look very sexy and modern, but it also needed to appeal to the masses.'
Rocky kept the ghagra length to what village girls would wear, but gave the blouse a more fashionable feel by opting for a halter style.
He says, 'The idea was to give it a "night clubby" feel, yet ensure it did not look out of place in the village set-up.'
Finished with a large stack of bangles on both wrists, a nose stud, anklets and a tattoo-style amulet, this 'more is more' styling ensured that Bipasha sizzled in this song.
Kareena Kapoor
Dabangg 2 (2012)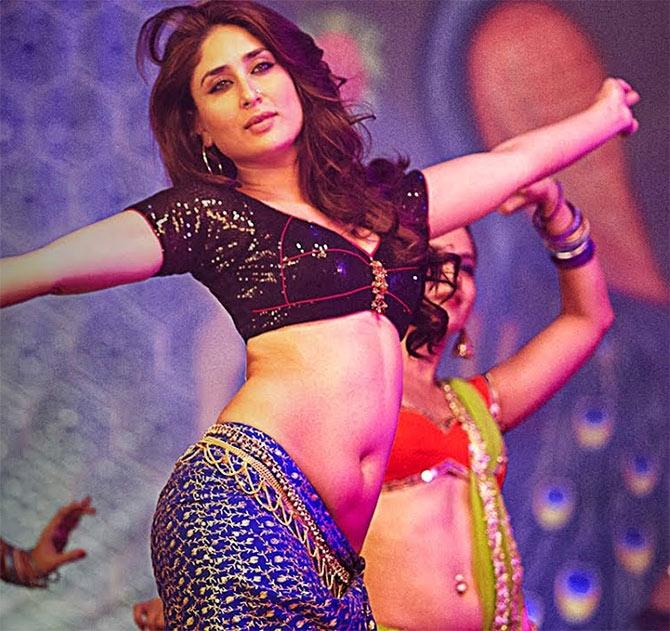 Credited Costume Designers: Alvira Khan Agnihotri and Ashley Rebello
The second installment in the Dabangg series, this film was directed by Arbaaz Khan.
Salman Khan reprised his role as Inspector Chulbul Pandey, and so did Sonakshi Sinha with her role as Rajjo Pandey.
Both Malaika Arora Khan and Kareena Kapoor made special appearances for item numbers, and Kareena's Fevicol Se became an instant rage.
Her first on-screen appearance after her marriage to Saif Ali Khan, the song confirmed that Kareena was not letting her change in marital status affect her career.
Malaika was also a producer on the film, and in an interview with The Times of India in 2012, Kareena thanked her for taking charge of everything, including costumes.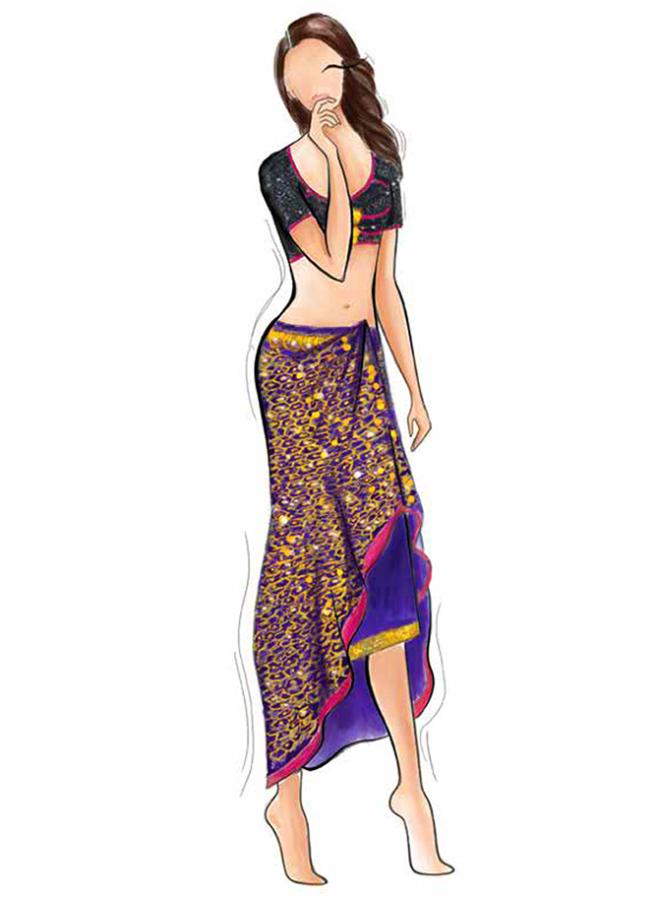 However, it was Manish Malhotra who was primarily responsible for Kareena's look in Fevicol Se.
He says, 'Farah Khan was the choreographer and she wanted a metallic, rustic, sequined dance-girl kind of look. This was a very in-your-face blouse. But the colours that I chose were very metallic and modern to keep it contemporary.'
Her short black choli with a deep cut-out back and multi-coloured pom-poms became quite a sensation.
It was clearly meant to draw your attention to Kareena's perfect figure. While the skirt looked like a sari tied around the waist, it was all pre-stitched.
'I had done something like that for Kareena in Ra.One's Chammak Challo. It is all very fitted,' adds Manish.
Voluminous, bouncy hair and simple hoop earrings gave a carefree and easy feel to the look; a nose ring gave it an ethnic edge.
This was a modern and alluring take on the village belle look of the 1960s.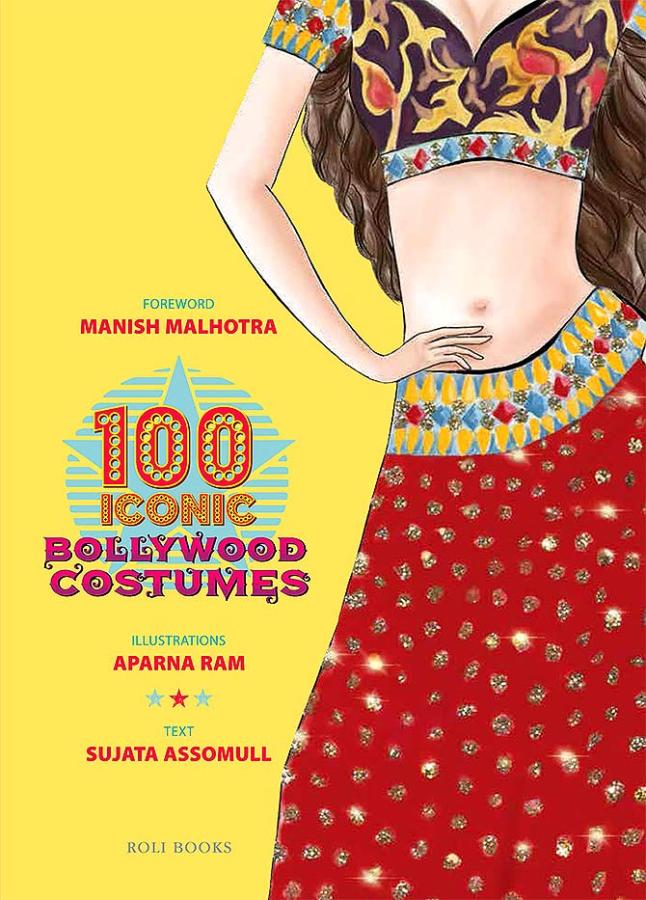 Excerpted from 100 Iconic Bollywood Costumes by Sujata Assomull and Aparna Ram, with the kind permission of the publishers, Roli Books.