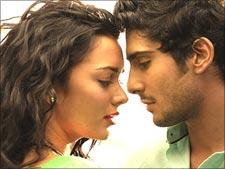 The upcoming Gautham Menon-directed musical
Ekk Deewana Tha
, which has songs composed by Academy Award winner A R Rahman, landed in a controversy when a Catholic group wanted the word '
Hossana'
removed from a popular song in the album.
To clear the air about this and also promote the film, the producers called a press conference in Mumbai. Present were the film's cast and Fox Star's CEO Vijay Grover. Rahman's flight was delayed so he couldn't make it on time.
"The song has become a chartbuster and this is a great achievement for not only the film but also for Rahman. The song is charting at number one on radio in three languages," Grover announced.
He claimed that, "
Hossana
is a term of endearment which has a lot of positive value. The reality is it is a beautiful love song. This film along with the music video has been approved by the Censor Board. There is no doubt about what we have put out. The song has been sabotaged by people who have their own interests and agendas.
"Javed Akhtar and A R Rahman are highly regarded people in the industry who wouldn't do anything that would insult anybody or hurt sentiments," Grover stated.
Lead actor of the film Prateik (
Dhobi Ghat, Aarakshan
) said the film's music had a magical effect on him. "I get in a very romantic mood. The songs of the film put me in an altogether different state of elation."
There are reports that Prateik
and his leading lady, British model Amy Jackson, are romantically involved. Any truth in that?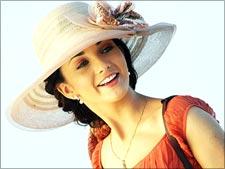 "Look, she is a very pretty girl and I am truly fond of her. I'm trying, but she happens to be a very hard-to-please girl. What to do?" Prateik quipped.
Amy Jackson then took the mike and said, "Ever since I moved to Mumbai from London, Prateik has been very, very supportive. The film happened and I must say we have come very close. It's a very intimate relationship.
"He is a very special person. We have a great chemistry. It is a romantic film, so sparks are bound to fly. We enjoy each other's company."
Asked if he is living with Amy in her Bandra apartment, Prateik said he wished the report was true.
"I feel really good about myself when you say that. Look at her; she is gorgeous (points at Amy). But, no, I haven't moved in."
Asked if she was using the relationship merely to accelerate her Bollywood career, a visibly displeased Amy said that was far from the truth.
"I had no clue about Bollywood and my knowledge about the industry was non-existent. After this film happened, I'm enjoying every moment to the fullest. I don't think I would need any false report to strengthen my career. I can manage it on my own."
About Bollywood, the latest British entrant said, "It is one of the largest film industries in the world and I knew nothing about it. But, now, after this film and meeting the media, I feel I have always been a part of it."