'It was impossible to please everyone with Amy Winehouse's story because it is complicated and dark. Everyone has his or her own version of what was going on and I found myself caught in the middle of it.'
Director Asif Kapadia takes us through the journey of making his Oscar-winning film, Amy.
British filmmaker Asif Kapadia made a splash in the film world with his first feature film, The Warrior (2001).
A quiet, small film but with the sense of an epic, The Warrior was set in Rajasthan and starred Irrfan Khan in his first lead role. It won two BAFTAs, including one for the best British film of the year. It was released in the US by Harvey Weinstein's Miramax company.
A couple of features later, Kapadia turned to documentary filmmaking.
His first, Senna, was about the late Brazilian Formula One racing driver Ayrton Senna. Senna died in an accident at the age of 34. Kapadia used hours of live footage of the racing driver.
Kapadia has completed his second documentary, Amy, about the British singer Amy Winehouse, who died a tragic death at the age of 27, in 2011. This film explores the dark side of the singer who was addicted to drugs and alcohol and was bulimic.
Amy premiered at the Cannes Film Festival in May and has just opened in the US, the UK and India.
In July 2015, Aseem Chhabra/Rediff.com met Asif Kapadia at The Bowery Hotel in the Lower East Side of Manhattan, and discussed his movies.
We re-publish the feature to celebrate Amy's success at the Oscars on February 28 where it was declared the Best Documentary Feature.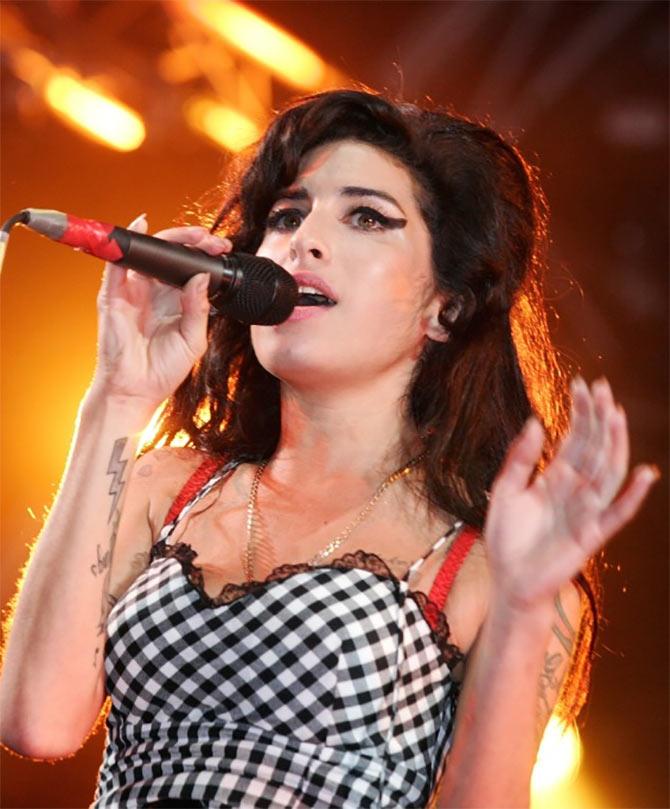 You used footage in both films about people who are no longer alive. Both films are brilliant, but the end results are different. Everyone, including Senna's family, loved that film. Amy didn't turn out that way, especially with Amy Winehouse's father.
You don't necessarily make films to please everyone. You are trying to tell the truth of the person's life.
For me, Senna's story and journey was such that it brought people together. Even though he died young, it was kind of a feel good movie.
Meeting the people who knew him was a bit like being around him. He just had this positivity and energy.
When you make a film about Amy, you are dealing with her energy. And her energy is darker. There's a lot more going on, a lot more tension, conflict.
The experience of making a film about Amy has got to do with people who are not getting along, and are arguing with one another.
They didn't get along even when she was alive...
The finished film is kind of true to her because everyone is unfortunately still bickering and have different points of views. They aren't able to agree with one another.
Did you ever feel concerned that the truth that you were going to present based on the footage you had access to and your interviews with her close friends would be only one side of the truth?
At one point, I thought I was going to make a film that nobody was going to like. It was impossible to please everyone with her story because it is complicated and dark.
Everyone has his or her own version of what was going on and I found myself caught in the middle of it. So the aim for me was to be true to her. The film is about her. Her name is in the title. That's all I care about.
I wanted to show the real girl, the real Amy, the person who is funny and intelligent, who wrote the songs. And I wanted to understand what happened to her and why. Everyone is secondary to her.
How much did you know about Amy before you started this project?
I am a Londoner and she lived down the road. I had both her albums.
I knew her music, though not that well.
I never saw her live, I never met her. But I knew a lot more than the general public does.
Did you feel you were ready to take on a challenge of a dark story? Or is that the reason you wanted to make this film?
Yes, you just kind of jump in. There's an instinct telling you this is the film to do.
I don't know if you are ever ready. You just start making the film.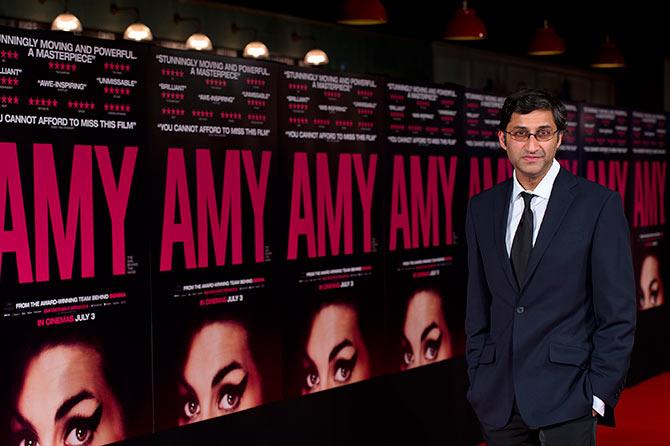 Image: Director Asif Kapadia at the London premiere of Amy. Photograph: Ben A Pruchnie/Getty Images
Do you know what kind of a film you would have made if you hadn't met Nick Shymansky (Winehouse's first manager and a close friend), and if he hadn't given you the amazing footage of Amy before she became a star?
That relationship definitely opened the door to the film.
Suddenly, the footage arrived and I started getting the story.
Otherwise, it would have been a different film. I think it would have been very difficult to make the film.
Every film has its own journey.
I know every film has challenges, but with a feature at least you have a script to start with.
In this case I enjoyed the process of making the film without a script, with absolutely nothing, no research. We just started making the film.
Didn't you do that also with Senna?
With Senna we had an expert, a writer who had seen every race and read every book.
He was someone on the team who was my go-to-guy, who would tell me what was important as I didn't have time to watch all the footage.
With Amy we didn't have that. So we had to go along as best we could.
After you met Nick Shymansky did you say to yourself 'I finally have the story that nobody knows'?
Seeing that footage of a young girl, being happy, being funny, that's when I definitely said there's a movie now.
Now I could see her journey. I knew from talking to people that no one had seen this footage before. This was very intimate material about someone who later became mega famous.
She was very low key, down to earth, getting dressed in rest rooms and driving around in cars, sleeping in the back seat with a pillow.
That was a massive turning point.
I read that Nick Shymansky had seen Senna and thought you could make a film on Amy. But he was not ready to make it then.
Yes, because it was only a year after she died and it was too soon. It was still very raw.
No one had really grieved or come to terms with her death. But I had started to make the film and realised I loved the people I was talking to, especially Amy's friends.
They were carrying all of this anger and pain of her dying and what had happened. The fact that no one could stop it.
In a way, meeting and talking to them became like a therapeutic process. They all looked better at the end of the interviews. The film came out because of the trust from all of the contributors who spoke to me.
One of the saddest things I felt was that even her security guards couldn't stop the flow of alcohol to her house, even though they were so protective of her.
I don't know where that alcohol came from. It's a sad question. They tried. I think they were genuinely good guys.
But you know an alcoholic or someone with that kind of problem will hide stuff and find a way to get it.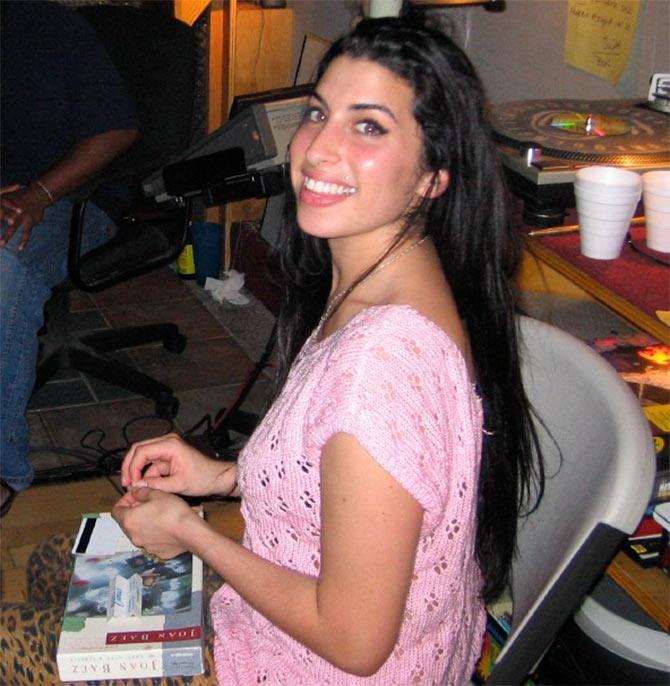 You interviewed Amy's father and he was fine while you were making the film.
Yes.
He can't stop you; he doesn't own the rights to his daughter's story.
I don't know. I guess he is part of the estate.
But the recording label, the publishing team, and the estate, were all on board at the beginning. I told them I will make the film if you just leave us alone to make it, and they did.
We showed the film to the main contributors at the end. Different people had different notes saying you haven't gotten that right or that's not what I meant. But that's just the nature of the process. And then the father had qualms about certain things.
If you look at the details, he had an issue with a few words. And we didn't have time to cover some sections.
Do you think in the song Rehab she was saying she should have gone to rehab, but was prevented from doing so because it would halt a lucrative career?
The song became a dance song, but for me it is a cry for help.
I just can't imagine dancing to her songs any more. In your film, you show people dancing to her songs.
Yes, people used to dance all the time. She had backup dancers.
Do you feel like dancing to her songs now that you have finished the film?
No, because they have a deeper meaning now. There is a lot more substance to that song once you understand the story behind it.
I think the music is great. It's okay if people want to dance. When they see the film, they will understand the art, which is much deeper.
You spent three years working with the subject. How did it feel, seeing her life every day?
It was quite a heavy experience working on this one. Maybe because there was so much pain around it and people telling you their personal experiences.
Addiction, people dying young... subjects like that are not pleasant.
But then there is humour in there. She's funny. She counter-balances it. The real girl is really hilarious.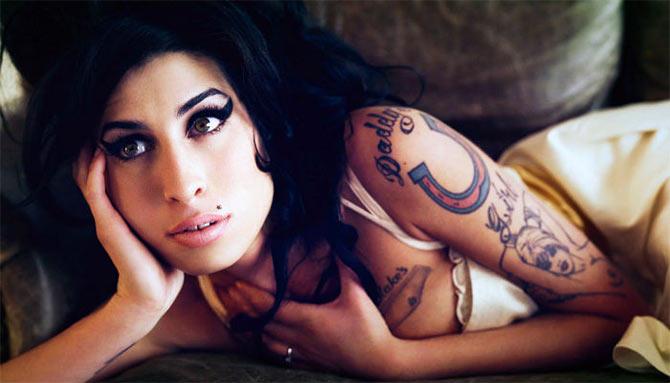 What did you learn about Amy that you really did not expect?
I think it is her humour. (Like) when she';s showing the hotel room to her friend. She is a real performer.
But the person who became famous later on hardly ever communicated with the audience. There is such a difference. That change was quite shocking.
The songs were going to be key. Very early on I realised that the songs were going to be the spine of the film.
But you didn't show the videos.
I didn't want to show the videos. It was about the songs.
For me, the reference was like a Bollywood film. The songs are the story, the narrative.
In England, people don't understand Hindi movies. They cut the songs out to make the films shorter.
For me, this was the nearest to doing a musical because like in Indian movies, the songs are released first. People go to see the movies because they know the songs.
That's one of the reasons I went to see the film because I knew some of her songs.
But you don't know the meaning, how they link up to the story. That was my thinking, of turning it into my version of a Bollywood film. But now you understand the emotion behind it.
If you just listen to the songs, you get carried away by the music. But what she's saying is really more important than the voice.
I wanted to know a little bit about your background. You were born in England, but your parents are from India.
They are from Gujarat. They migrated in 1966.
What do your parents do? Are they still working?
My mum died. She was a machinist. She made clothes. And she brought up five kids.
My dad was a postman. He was a lawyer in India, but when he came to England, he had to start again. He's retired now.
And you decided to make films?
I studied art and graphic design. Then I helped out with a film as a runner. I thought this is cool.
One film led to another and to the next one. I was quite useful on the set and I loved to travel.
So my interest in film came from working on the set.
How did your parents react when you said you wanted to make films?
I don't know if they really understood what I was doing, but they were really cool.
I am the youngest of the five. They let me do what I wanted to do.
And they liked your film The Warrior?
Yes, they did, even though it was quite art-house for them.
My mom liked the classic 1970s stuff with Amitabh Bachchan. She liked Mukesh songs. She liked Raj Kapoor's films.
My dad liked The Godfather and Gandhi. He liked that kind of quality film. He was a big fan of Mohammad Ali, things I am a fan of.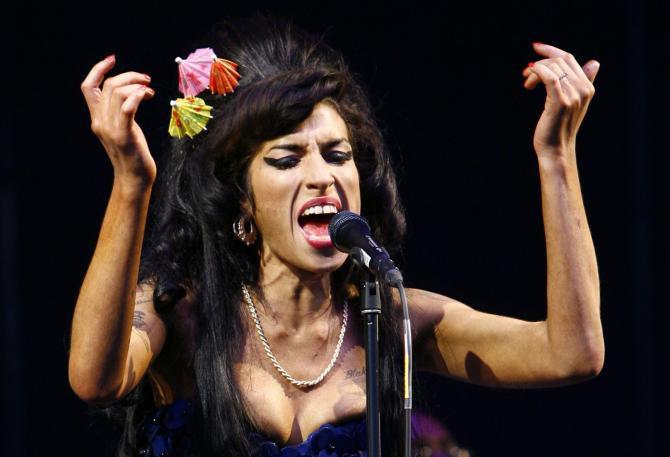 What kind of films did you watch growing up?
I didn't watch films.
You didn't watch The Godfather as a teenager?
No, I played football. I was out and about. I didn't have the patience.
My love for cinema came from making films.
I am a doer, not a watcher.
I did go to the cinema, but I found it boring. I was kind of restless.
But you are a tremendous storyteller.
Thanks. I wasn't a film-nut by watching; I became a filmmaker by doing.
What are you doing next?
I am doing a drama called Ali and Ninonext. I am in post-production now. I made two films at the same time.
It's about a Muslim boy and a Christian girl. It is set in the Caucasus region, where Russia meets Persia, Europe meets Asia, Christians meet Muslims.