'Life is unpredictable and it's not like once you have fallen in love with someone, you can't fall out, right?'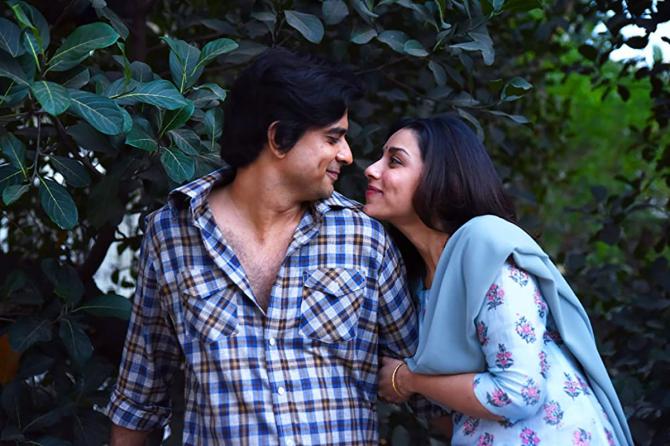 Amrita Puri plays the wronged woman in the love triangle Ranjish Hi Sahi, a Web series created by Mahesh Bhatt and co-starring Tahir Raj Bhasin and Amala Paul.
It may seem to come from a world that is a part of Bhatt's films like Arth and Woh Lamhe, but as Amrita insists that it's not a biopic of adaption.
The actress gives her take on love, marriage and fidelity, and tells Rediff.com Contributor Mohnish Singh, "I don't even know if the institution of marriage will be what it is 50 years from now."
How exciting was it to take a trip down memory lane by revisiting the glamorous era of Hindi cinema of the '70s?
It was quite magical.
You step on to the set and get transported from 2019 to the 1970's.
We did not shoot with too many breaks; we shot in a chunk.
You really then begin to believe, you know. Every day you wake up and you go to the same set and you dress the same way.
It really transports you.
The trailer reminds us of such films as Arth and Woh Lamhe. Is Ranjish Hi Sahi set in a similar world?
It is set in a similar world because it is the same time and same period.
It's going to look the same, it's going to remind you of characters, and that's what it's supposed to do, you know.
But that doesn't mean that it is Arth or Woh Lamhe. It's a story that Pushpadeep Bhardwaj has written.
It's one of his own experiences as a struggling director as well.
He has taken a lot of different characters and situations. It is not a biopic or adaptation.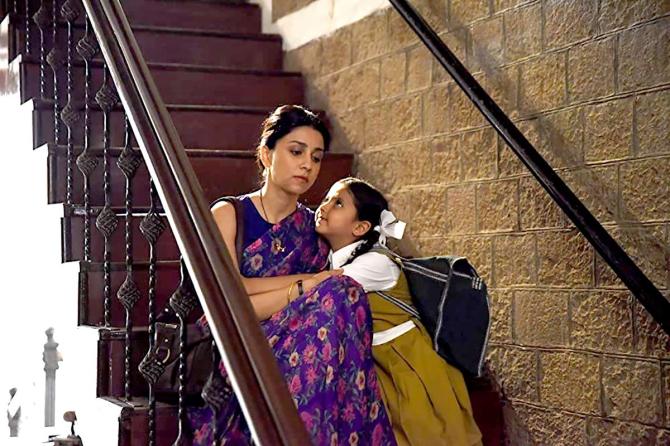 Can we say that it is part fiction and part non-fiction?
I would say that, yes, there are things or elements from the Web series that are inspired.
But again, it is not a biopic and it is not what people are thinking.
Do you think Ranjish Hi Sahi is going to be a breath of fresh air in a time when every second streaming show is a thriller or a crime drama?
I hope so.
Which is your favourite love triangle film from Bollywood and why?
Kuch Kuch Hota Hai.
What is your take on infidelity?
Don't do that.
What advice do you have for all those people who have grown out of love with their partners but are still stuck in a loveless relationship?
I don't think anybody really chooses so.
You know, like I will marry her, but I will cheat on my partner. Because you would be a bit of a sociopath then.
It's more than that.
Life is unpredictable and it's not like once you have fallen in love with someone, you can't fall out, right?
There are people who are stuck in loveless marriages, and that leads us to the fact that they do things they did not even expect they would do.
I am sure that it is not something that people are pleased with when they commit infidelity because they are hurting somebody.
But at the end of the day, I think that honesty is really important.
If you are unhappy, it is better to get out than stay in a marriage and cheat on your partner.
Do you believe that the definition of love has gone from being about the couple to being about the individual?
It is important not only to be in love but as clichéd as this sounds, one needs to love oneself too.
And to love yourself, you need to be fair to yourself, especially if you are in a marriage or a relationship where you are no longer in love.
It means walking out even if it hurts the other person. And I think we are evolving towards that as a society.
I don't even know if the institution of marriage will be what it is 50 years from now because really, it is a social contract.
It is something that the State or the government decides that 'now you two love each other, now you two stay together for the rest of your lives.'
It should be up to the individuals. There shouldn't be a piece of paper that says, 'Now you are bound.'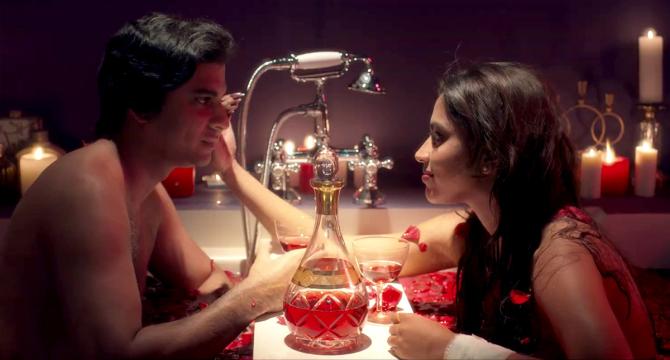 What were your first impressions of Tahir Raj Bhasin?
I thought, 'Wow, what a stud!'
How was it to work with Amala Paul?
I did not have too many scenes with Amala because she plays the mistress. We had only one scene together.
But we had a great time just hanging out whenever we would shoot on the same day.
I think she is a cool, unique, person, who has a free spirit.
I used to really love listening to her life experiences.
I would like to add that, apart from thinking that Tahir is a stud, I remember the moment when he came in, took out his script and he had all these tick markers, you know, those little ones with different colours.
He had marked and made all his notes and I was like, 'Amrita, you better pull up your socks because this guy does his homework.'