'I barely manage to be in front of the camera and act.'
Amitabh Bachchan gets shockingly modest.
Amitabh Bachchan has really done it all -- from playing the Angry Young Man iconically, to playing a young teen at the age of 67 to acting in a film partly named after him.
In Shamitabh, the Big B shares the screen, and the film's title, with Dhanush. Directed by R Balki, the film will introduce Akshara Haasan.
Amitabh discusses Shamitabh, his long career, and tries to explain why his television serial Yudh did not work. Patcy N/ Rediff.com takes notes.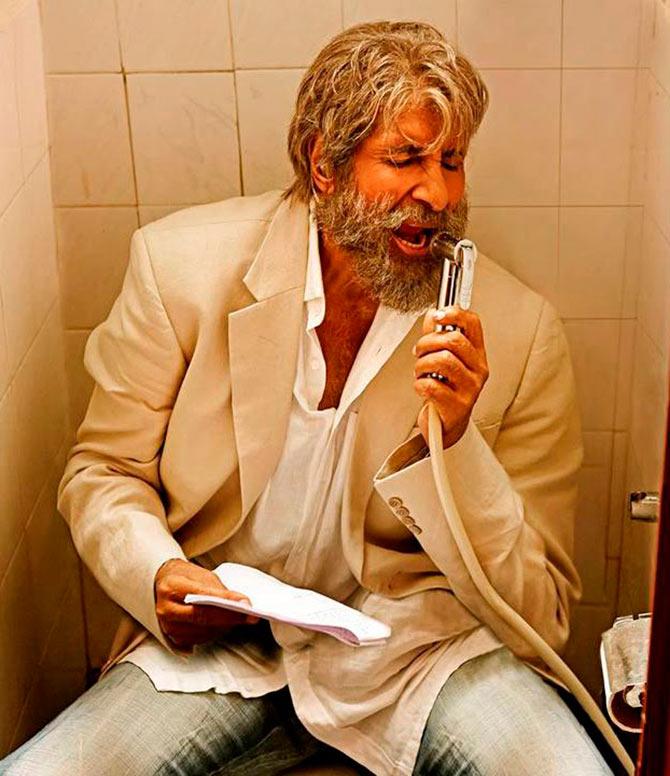 Image: Amitabh Bachchan in Shamitabh
How do you work on your characters?
The way the director says I should.
A character is designed according to the director's vision and we go according to that.
So if Shoojit Sircar (the director of his upcoming film Piku) designs something for me -- what he feels his character should look like, speak like, and behave like -- I do that.
Like you did in Paa.
Balkisaab's thinking is different from the others. He characters are different, stories are different.
I am fortunate that the characters that he gave me have been very unique. I like it because it's challenging.
Why is this film called Shamitabh?
The film's name is not because I am Amitabh and he is Dhanush and we have added the two to name the film.
There is a reason behind it. You have to watch the film to know that.
It is interesting how this name comes about in the film.
Is it true that Shah Rukh Khan was supposed to be in the film and the 'Sh' came from that?
Shah Rukh was in talks to do this film but it did not work out.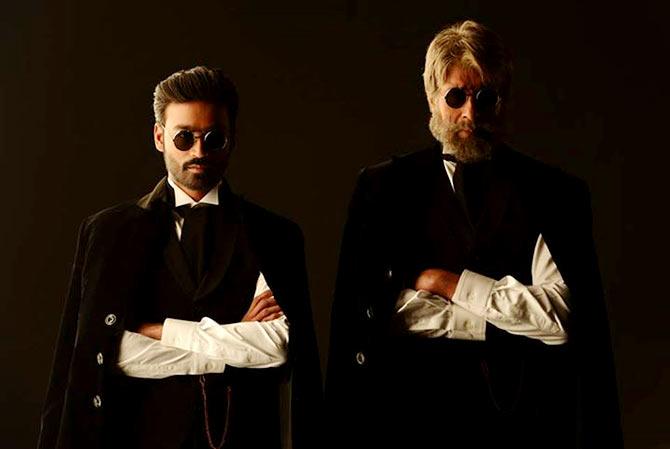 Image: Amitabh Bachchan and Dhanush in Shamitabh
Did you suggest Dhanush's name to Balki?
Yes. We sat and discussed a lot of things together; this was one of the things we discussed.
I have always admired him as an actor. I have seen his films and I like his work.
Then I saw Raanjhanaa. He is a very accomplished artist and a huge star.
Now that I have seen the almost finished film and have worked with him, I feel that he was a wonderful choice.
You don't drink or smoke but the character you play in the film is a drunk. How do you portray that?
We are not the people we are in films. When have you seen us beating 10-12 people? When do we romance so many different heroines?
I am not an alcoholic, I am not strong enough to beat up 10 people. But I portray that.
It comes through observation and some idea that you have about how an alcoholic will behave. If it's in agreement with what the director wants, then I do that.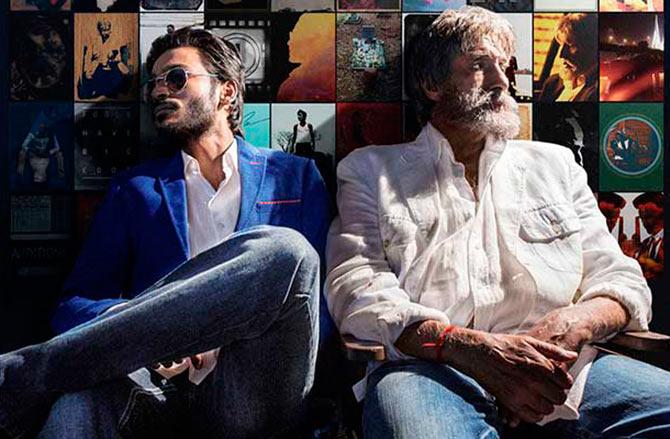 Image: Amitabh Bachchan and Dhanush in Shamitabh
How comfortable are you singing in a film today from the earlier days?
I was never comfortable, not then and not now. Bahut he besura hoon main (I am tuneless).
Today we have machines to do all the work; we sing besura and go away and then the composers work on our voice through the machine.
Even when I sang earlier, my music director would work a lot on my voice.
I am not a singer. I get petrified to sing, but somehow the circumstances happen that you have to sing and so I have gone ahead and done it.
The way a film is promoted has changed completely. Nowadays, the gist of the film is not given away at all.
There are two ways of promotions -- we give the idea of the story and ask the audience to come and watch the film.
Some people say that if you do that, you deprive the audience of the surprise factor.
Some people feel the other way. They hold on to the story. They don't declare the story. They may give a little hint of it in the trailer, make it attractive for the people.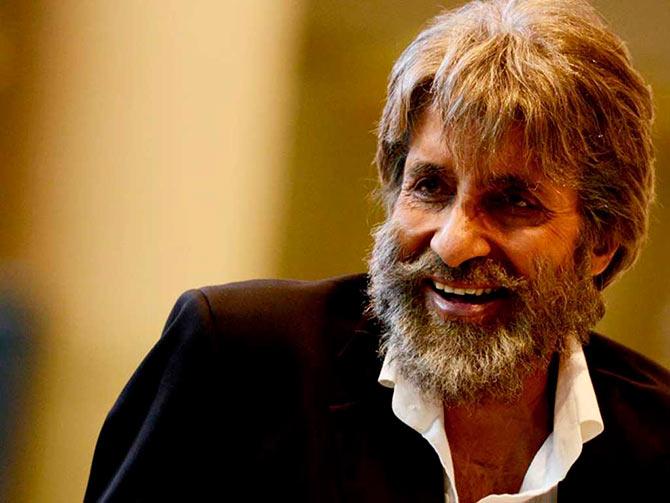 Image: Amitabh Bachchan in Shamitabh
Aamir Khan, the marketing guru, says, 'Marketing is the creation of the desire to consume'...
I am not as intelligent as Aamir Khan. I don't know marketing. I barely manage to be in front of the camera and act.
But there are many people who know marketing extremely well and surely know much more than I do.
How different is this movie directed by R Balki? This is your third film with him, after Cheeni Kum and Paa.
Balki is trying to say something different with this film.
As an actor, working on every film is challenging. There are some roles that give you sleepless nights; you worry about how you will do the role.
Would you like a film to be made on you?
It would be a disaster because there is nothing to say in that story. A biopic on me would be terrible.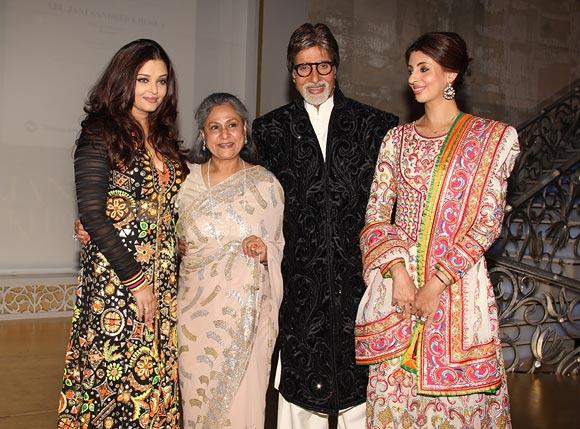 Image: The Bachchans: Aishwarya, Jaya, Amitabh and Shweta. Photograph: Pradeep Bandekar
Your daughter Shweta has started writing a column in a newspaper. Is she influenced by you or her grandfather Harivansh Rai Bachchan?
Not me, she must be influenced by her grandfather. I can't write.
It is her personal decision to write.
She writes her thoughts and I am happy that people appreciate her.
These days, it's rare to see two big stars working together as they used to do, like in Deewar and Shakti.
That is a personal choice and decision.
Most of my films are multi-starrers, apart from Zanjeer.
Deewar, Trishul, Muqudar Ka Sikander, Laawaris... an endless list. I had lovely co-stars.
Healthy rivalry is always good; we didn't want to damage anybody.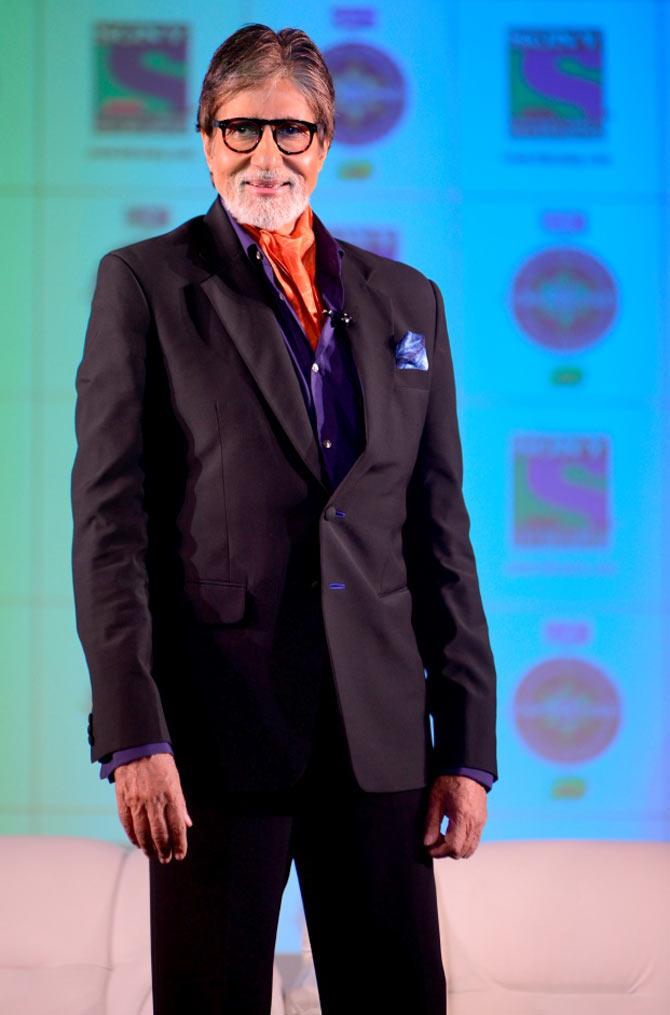 Image: Amitabh Bachchan in Kaun Banega Crorepati

You did so well on Kaun Banega Crorepati but your television serial Yudh didn't work.
People did not like it so it did not work. Acting alone doesn't make a serial work. People should like the story, and they didn't like it, so it didn't work. I will try again.
Will you act in other tele-serials?
I am open to it. If it is interesting I would like to do it. Yudh didn't work.
We thought we needed to break away from the current stereotype we were seeing. But I think that will prevail in time to come.
We made an attempt but were not successful. I think we will try again and see how it goes.
Any young directors you have not worked with but would like to work with?
There are so many. Every Friday comes a film and they are all so brilliant.

Not just directors, even artists, leading men, leading ladies, they are so brilliant and so efficient, they have massive talent.
I admire all of them, they are all very good. I am amazed at their talent. I am so appreciative of that. It's a wonderful time for Indian cinema.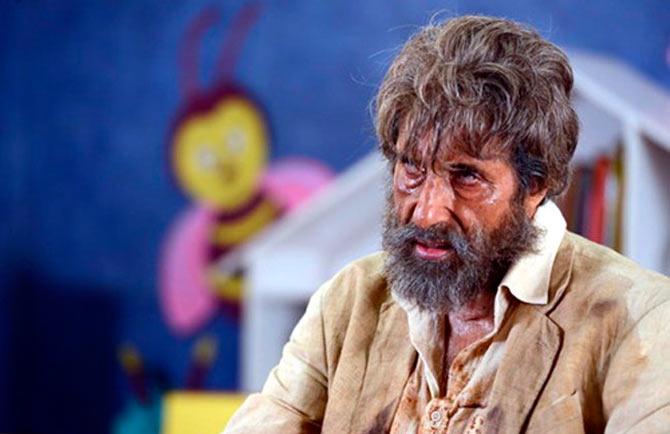 Image: Amitabh Bachchan in Shamitabh
Is there something that you have not done and still crave to do?
I hope so. I hope there are people who can think for me as I don't have that capacity to think what I should be doing. But when somebody brings a proposal that excites me, I go ahead.
How many scripts do you reject in a day?
Nobody comes to me; forget rejecting I don't get that many scripts.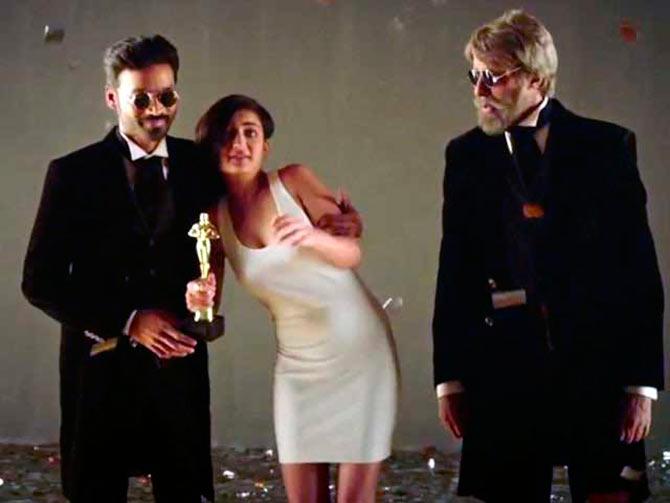 Image: Dhanush, Akshara Haasan and Amitabh Bachchan in Shamitabh
Akshara makes her debut with Shamitabh. How was she on the sets?
She is fine. I don't make anybody comfortable. I just go there and do my job.
Everybody does their job; they are all very proficient actors. They have worked very hard, they come prepared, that's how it is.
It's wrong to think that anyone gets intimidated on the sets. It's not like that.
All your contemporaries are out of work, but you are going strong. Why do you think this is?
That is not true. All are working, whether it is Vinod (Khanna), Jeetendra, Dharam (Dharmendra) or Shatru (Shatrughan Sinha), they are doing such good work, especially Vinod and Shatru.
They both started in the villain's role. After that, they started doing heroes' roles. And they shone there also.
Then they joined politics and have been successful.
I have just done one thing in life -- acting. I went to another place too (referring to his brief foray into politics) but I lost and came back.
Will you get into politics again?
Nahi nahi. Raajneeti to humko aati nahi (No, no. I don't understand politics).