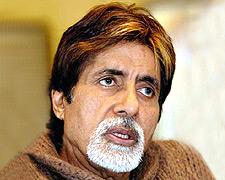 Amitabh Bachchan, who's been visiting cities, fulfilling social and professional obligations, took some time out of his busy schedule to blog about Dev Anand's
passing away
.
He wrote: "One never associated him with death, it was always about life every time you saw him. It takes a while for us all to contend with the loss and there is a silence after the initial shock that follows."
The Big B then goes on to recount the days when he was one of the fans and would make discreet visits to the movie theatres to catch the latest Dev Anand film.
He adds, "His attitude and singular style in his performances, would get us out of our hostel beds in the middle of the night, jump the boundary walls of the college to the nearest film theatre repeatedly, just to witness
the magic of his charm and energy. And on our way back we would sing along with his songs, his deliveries of dialogue and create this wonderful world he had structured for us to be remembered forever."
Bachchan also recounts his last meeting with the legend in his post, "I had last met him recently when he personally invited me for the premiere of his film. He was frail and weak, but still dressed in his inimitable style, young and modern and the strength of his attitude still with the same gusto. He signified something that was endless, a continuity which we all took as a given."
Photograph: Paresh Gandhi/rediff.com

Also Read: The man no one knew: Shekhar Kapur remembers Dev Anand

Please post your tributes to Devsaab here.