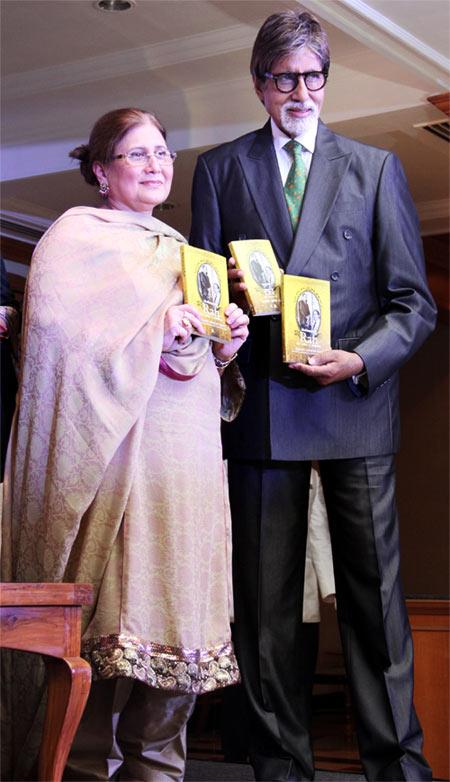 Veteran singer Mohammad Rafi enthralls his audiences even today with his beautiful voice and brilliant songs.
His daughter-in-law
Yasmin K Rafi
has showcased his life in words, in her book titled
Mohammad Rafi, My Abba- A Memoir
, which was launched on November 25 at Mumbai's Taj Lands' End, Bandra, in the western suburb of Mumbai.
Yasmin's husband -- the late Khalid Rafi -- was Rafi's third child.
Amitabh Bachchan, who released the book, said, "I feel privileged that I was called to release this book. We have seen many greats in our lives but we have not documented their achievements for the coming generations. All this will be lost if no one writes about them."
"It's particularly intimate when a family member writes as then they will know the titbits that we will not witness. I hope this book is an inspiration for others to write biographies of our greats," he added.
"Years ago, we had gone to Siliguri, West Bengal, for a two-day programme. Shashi Kapoor had organised it. Mohammad Rafi was the performer for the first day and another singer was to perform the next day.
"Rafi
saab
performed on the first day to raptourous audiences and left the next morning. The other singer did not turn up. Shashi was in jitters, and didn't know what to do.
"He told me to go bring Rafisaab back from the airport. When I reached the airport, the flight was waiting to take off. I pleaded with the authorities and finally, they relented. The plane was stopped.
"I told Rafisaab that the other singer did not turn up, and if he could come back for a day. He did not say a word. He just picked up his bag and came with me. Such was the humility of this man." 
Bachchan continued in his praise for the singer: "Those days, there were no computers to iron out your voice and re-work the song. You had to sing the song again even if one musician in an orchestra of 100 played one wrong note."
In her address, Yasmin said that when he would come home from recordings, he would play the song for the family and ask nervously, 'Kaise hai? Is it okay, have I sung properly?"
Writer Salim Khan, who was supposed to release the Hindi version of the book and also speak on the occasion, did not turn up.

Photograph by: Uttam Ghosh