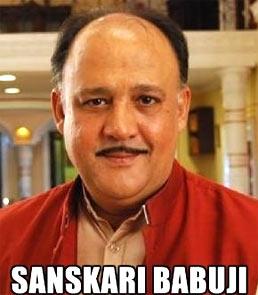 "I have suddenly become the talk of the town," Alok Nath laughs, over the phone.

There's no denying that, thanks to some hilarious jokes dedicated to him that's doing the rounds. They have even made him a trending topic on Twitter.

Here's a sample:

'When Alok Nath was born, the doctor said, Badhaai ho, babuji huay hain.'

'Alok Nath removes his slippers before playing TempleRun and distributes 'prasad' after crossing each level.'

'Alok Nath went to sunburn and did SURYA-NAMASKAR'

'Alok Nath went to Vaishno Devi for his bachelor's party. With his family.'

'Alok Nath's morning tea is made with Gangajal.'

Alok Nath is quite amused with the attention. "I started wondering why I was trending for no reason, as I am not on Twitter or any other social networking site. I am happy and taking this in my stride. I am glad that people are writing about me."

The actor even forwards his favourite jokes to his friends.

"My favourite ones are: 'Ye Alok Nathji ke sanskaro ka hi asar he ki unke ghar ka cooker bhi seeti nhi maarta' and 'Salman Khan is still a virgin because of the sanskar given by Alok Nath in Maine Pyaar Kiya'," he laughs.
"I am constantly getting new jokes, and have liked most of them," he continues. "In fact, today there were some morphed pictures of me. I particularly like the 'Being Baabuji' photograph. Some of the jokes are vulgar and I think those should be stopped."
Alok Nath says that some people are comparing him to Tamil superstar Rajinikanth, who has his own collection of hilarious jokes.
"I have got calls from people who are comparing me to Rajinikanth. I don't consider myself a big celebrity. When you can make jokes on Rajinikanth, who am I in front of him?" he says modestly.
Initially, Nath was shocked when he first heard that he was trending on Twitter. "Farooquesaab (Farooque Shaikh) had passed away just a day earlier, and when people saw that I was trending on Twitter, they started calling up my family, asking about my health and whether something had happened to me."
The actor feels that the entire episode started on Sunday because one of his superhit films Hum Saath Sath Hain was being telecast on television that day, and someone may have thought of making a joke of his character.