'We have suffered grave and irreparable loss, harm and injury which could never be compensated in terms of money.'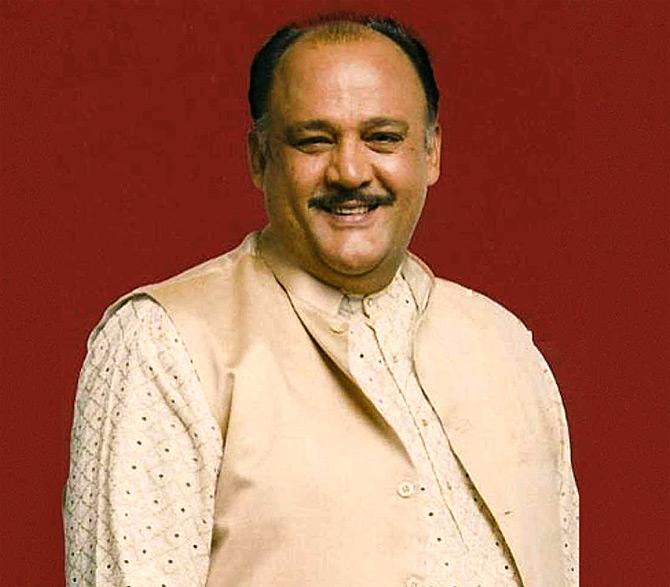 Alok Nath has filed a civil suit in a Mumbai court against writer-director Vinta Nanda in connection with her accusations of rape against him, and sought Rs 1 as damages for allegedly defaming him.
Ashu Alok Nath, the actor's wife, recorded her statement before a magistrate in connection with her complaint against Nanda and sought that defamation proceedings be initiated against the writer-director.
Responding to the development, Nanda's lawyer Dhruti Kapadia said they will fight the matter legally.
Alok Nath moved the Dindoshi sessions court in north west Mumbai with a civil suit seeking Rs 1 as damages and an apology from Nanda for defaming him.
The actor and his wife had on Saturday, October 13, filed an application before the Andheri metropolitan magistrate, seeking a direction to the Amboli police station, north west Mumbai, to take cognisance of the letter sent by them in which they sought defamation proceedings against Nanda.
The actor's wife appeared before Magistrate R M Nerlikar who recorded her statement and complaint.
She told the court that their (Nath's and her) reputation has been damaged because of Nanda's allegations.
The magistrate has now posted the matter for further hearing on November 1 when the court will also record statements of three witnesses on behalf of Nath and his wife.
In a social media post on October 8, Nanda alleged that a 'sanskari' actor had raped her 19 years ago.
Although Nanda did not name Nath in her post, social media identified the actor who is known for playing characters endorsing 'moral values' in films like Maine Pyaar Kiya, Hum Aapke Hain Koun!, Hum Saath Saath Hain and Vivah.
His lawyer Ashok Sarogi refuted the allegations as 'baseless' and 'devoid of any merit'.
The complaint filed by the couple says, 'The complainants (Nath and Ashu) have on October 12 addressed a letter to the Amboli police seeking action under sections 499 (defamation) and 500 of the Indian Penal Code against Nanda.'
The police, however, said since the offences are non-cognisable in nature, it would be appropriate if an order is passed by the court concerned, reads the complaint.
'We are, hence, seeking the court to pass necessary direction to the Amboli police station in-charge to take cognisance of our complaint and hold an inquiry,' the couple said in the complaint.
'We have suffered grave and irreparable loss, harm and injury which could never be compensated in terms of money,' they said.
Because of Nanda's post, which although did not name Nath but subsequently he was named by others, Ashu and Nath have been victimised unnecessarily by way of defamation of their reputation in the society, the complaint said.
'Without commenting on anything about her (Nanda), the fact remains that all such occasions, such as the #MeToo campaign, are being encashed by way of utilising the social media for the purpose of either gaining some name and fame or for the purpose of defaming the reputation of a person,' it alleged.
Because of the baseless allegations, Ashu and Alok Nath were 'terrorised' to even step out of their house as people are looking at them with a 'different attitude', the complaint added.
In a statement, Nanda's lawyer Dhruti Kapadia said, 'The so-called defamation proceedings are not served upon us as yet -- however and whatever the proceedings will be, we will deal with everything following due process of law.'
Kapadia said they are awaiting decisions of various associations where Nanda has filed her complaint like the Cine and TV Artistes Association, Screen Writers Association and Indian Film and Television Directors Association.
'Pursuant to decisions we will further decide our next step of action,' the statement said.