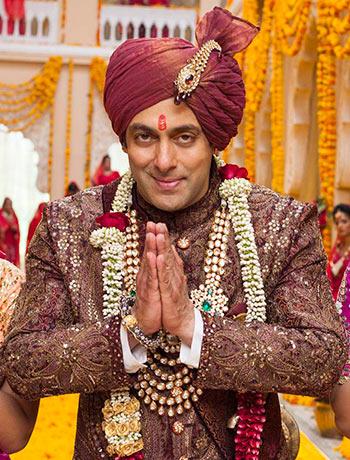 'The beauty of my job is that no matter how well I do it, people will say this guy is insensitive, romancing Sonam, dancing with Jacqueline, going to Poland to shoot a film, when he has a hunting case and an accident case against him.'
'He's enjoying himself; he's earning Rs 600 crore but people don't know how much I have.'
'All my good work goes against me.'
Salman Khan gets candid.
A Salman Khan interview can be dangerous and definitely not good for the ego.
You never know what kind of a mood Bollywood's superstar will be in.
Mostly, his mood is monosyllabic and laced with sarcasm.
This time around, it was different. Despite attending an event before facing four group interviews, the Khan was in a mood to talk. And laugh.
It could have been the deliciously fragrant biryani he was tucking into for dinner.
Or it could be the fact that he had recently finishing filming for one of India's gentlest, most sanskari filmmakers, Sooraj Barjatya, who Salman confesses brings out the best in him as a human being.
Patcy N/Rediff.com took the opportunity to ask India's most-loved hero a few questions.
You live with a close-knit family and director Sooraj Barjatya creates that on screen. Was it easy for you to relate with such a family?

Sooraj and I are amazing at that.
When we deal with the family and the small problems at home, that ghar ka romance, aankhon ki sharam, the respect towards mom and dad -- we are very good at that.

You are playing a double role after a long time in Prem Ratan Dhan Payo. How different is this film from Judwaa, your earlier film that saw you in a double role?
Totally different.
Judwaa was the first lot of characters that came to me after the many Prem characters that I did. So it was very difficult for me to play those characters.
But now, after doing so many of those, this was a difficult character to come back to.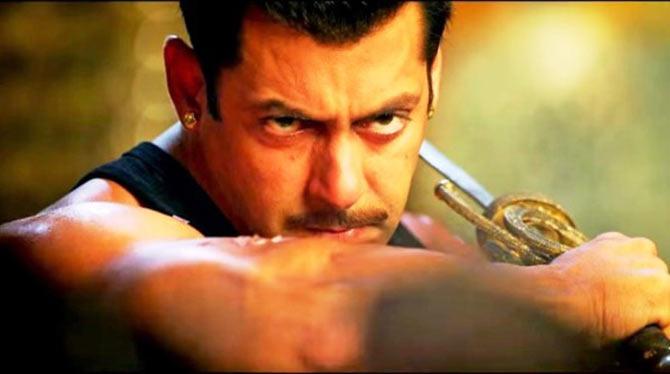 Image: Salman Khan's alternate avatar in Prem Ratan Dhan Payo
So PRDP was more difficult than Judwaa?

If I really read the script, then this would have been very difficult for me.
I don't read scripts; I listen to the narration from the director or the writer.
When I listen, my mind sees the visuals. I ask the director if he's thinking on the same lines too.
I need to be on the same plane as the director when I am listening to the script; I need to visualise it. I need to know the direction in which the director is going. If I read a script, I don't know where the director wants to go and my mind goes all over the place.

When Sooraj narrated the subject, I knew this was something we wouldn't have any problems doing because I can see him directing it and myself performing the scenes.

The idea of Prem Ratan Dhan Payo was conceived sometime in 1993 -94. Why did it take so long to start shooting the film?

Sooraj was not able to crack it. It was too large a film to make it then. The timing was not right.
Actually, he had three films. Vivaah and Ek Vivaah Aisa Bhi got completed faster.

We have a huge responsibility, after Maine Pyar Kiya, Hum Aapke Hain Koun..! and Hum Saath-Saath Hain, because if what we do doesn't work, it would become difficult for the next one (the next Sooraj-Salman movie).
The industry is not supportive -- they would say we lost the plot, lost the magic, it's not working anymore... So we have to be very careful with what we do together.

Did you make any suggestions?

The script was ready and suggestions happen everywhere.
Everything is written but to add a little bit to that is no big deal. Sometimes, we make suggestions on the sets itself.
This is a very funny film; it's an amazing subject. It's a beautiful love story where she (Sonam Kapoor) is a princess and has to be very careful. She is okay about being with him but he respects her and cannot cross those boundaries.
Then, there are brothers and sisters with whom they have problems. And when you solve a serious problem, you cannot solve it with seriousness. You have to make them laugh; you have to get them (the whole family) together.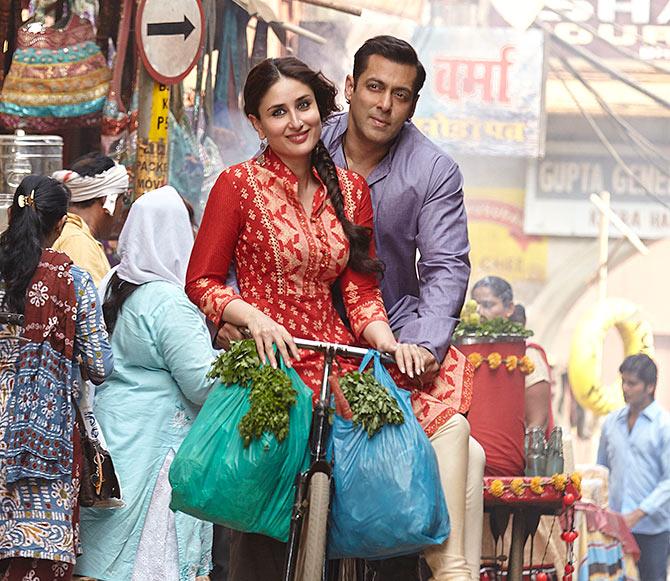 Image: Salman Khan and Kareena Kapoor in Bajrangi Bhaijaan

Is it a challenge not to let your larger-than-life personality overpower your characters like Prem or Chulbul Pandey?
No, it is still very large (laughs). My Bajrangi Bhaijaan character is one of the largest characters I have done.

You are one of the greatest phenomena Indian cinema has seen; you get so much love from colleagues and fans around the globe. Does it ever scare you?

It scares the hell out of me now (laughs).
Especially these last three to four months till December 27, it will be as scary as hell.

Why?

Because my film is releasing in November and my birthday is on December 27.

Yes, you're turning 50.
(Interrupts) 27. Very soon, you will be two years older than me.

So how does it feel turning 27?

27 is the right age. I have always liked that age.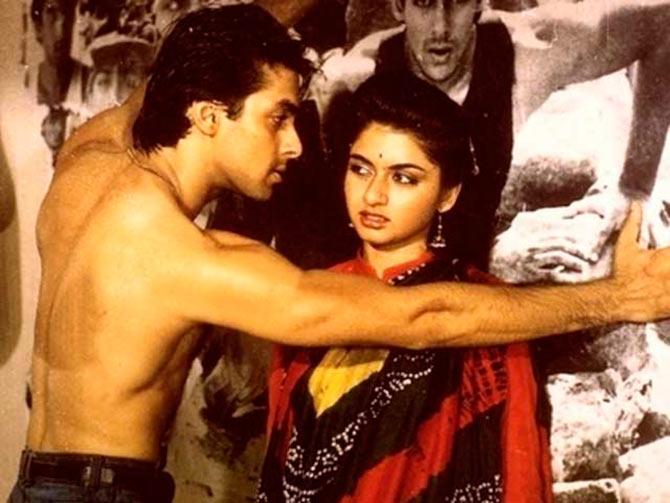 Image: Salman Khan and Bhagayshree in Maine Pyar Kiya

Are you happy with your journey so far?

It was very quick.
I was just telling someone the other day that, from the first day I started working, the first day I was launched -- for me, it was Sooraj Barjatya – that job actually got me recognition.
The four years before that, when I was struggling, I did not know what was going to happen, whether I would make it or not, whether I would be able to afford a house or a car, whether I would be able to buy petrol for my car, or whether I would have to cycle all my life and live at my father's house... I was modeling then and was worried when I would get a film -- would I get a film to act in or to direct... Those were the questions on my mind then.
There was constant pressure on me.
Then one night, I got a job and everything changed. My life turned around. And I feel the next morning came 27 years later.
For me, the day I made it is just yesterday. It feels the journey was very quick.
If you think a journey is long, you would take a holiday. But I don't take holidays. I come late but don't take holidays.
Why don't you go on holidays?
I enjoy my work. I wanted to work so when I got that opportunity, why should I not work? Why should I go on holiday?
Earlier, you worried about getting a job, a house and a car. What worries you today?
My court verdicts.
I have been given five years every time, so it's become 15 years now. That's a big worry on my head and my parents' head.
And it's not in a magistrate court; it's in the high court. Let's see what happens now. A sword is hanging over your head, and you see your parents reacting to it and what they are going through.
But with that, there's comedy as well with Bigg Boss.
The beauty of my job is that, no matter how much well I do it, people will say this guy is insensitive, romancing Sonam, dancing with Jacqueline, going to Poland to shoot a film, when he has a hunting case and an accident case against him.
He's enjoying himself; he's earning Rs 600 crore but people don't know how much I have.
All my good work goes against me.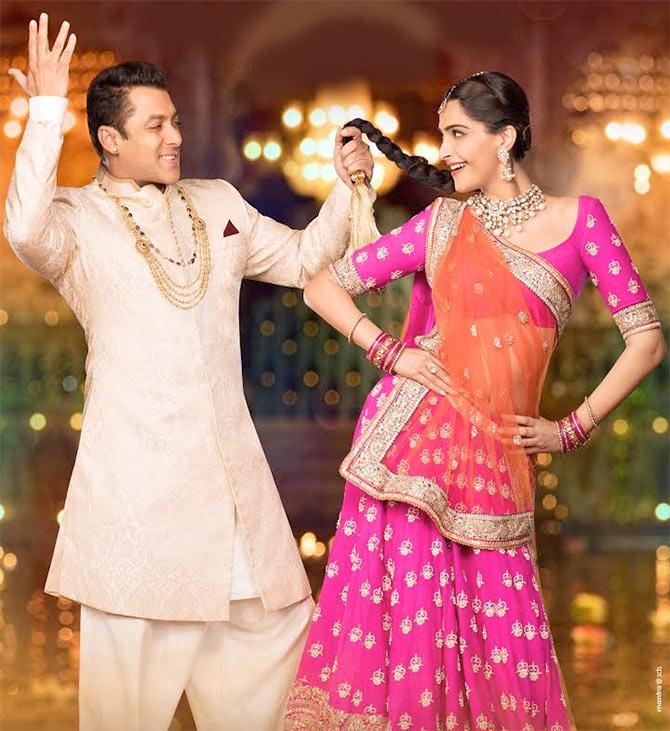 Image: Salman Khan and Sonam Kapoor in Prem Ratan Dhan Payo

You say your journey has just begun. Is that why the fire in your belly to do good work has not gone out yet?
When you like something, you will always be enthusiastic. Even in school, you are thrilled about the subjects you know well. The subjects that you are not good at, and should be really working on, don't interest you.
I enrolled in the science stream at St Xaviers' College. But then I thought, was I going to be a doctor?
So I thought I'll go into the arts stream. But then I thought, what would I do in Arts? Then I thought of just getting a degree.
Today, I am in a field where I am good at everything -- I can do comedy, dance, emotion, action.... I'm the Jack of this trade, even when it comes to screenplay, dialogue, improvisation... Then, there are specialists like the action director, the dance director, the DOP (director of photography). They enhance my limited knowledge and make larger-than-life characters.
I am very happy with the field of work I am in now because I know it and enjoy it.
The day one loses the enthusiasm, you'll become an old man.
Sultan is tough for you…
Yes, and the strenuous work has not yet started. I have got another month of training to do. I am getting hurt all the time from my ankle to my knee, my back, leg and shoulder...
Now I wonder why I did it. I don't give up, that's why I took up the challenge. But it is difficult to get the beefed-up look.
I am 87 kilos. I have to be around 93-94 and have one month to get there.
I have two different body types in the film.
Aamir's film, Dangal, is also based on the sport of wrestling. Do you feel concerned?
No, not at all. If there are two action films or two love stories being made, nothing changes.
Wrestling is a sport and there are two films on sports.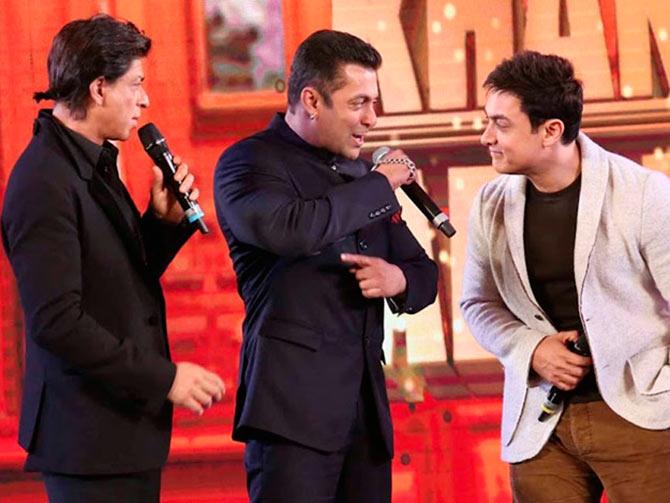 Image: Shah Rukh Khan, Salman Khan and Aamir Khan on Aap Ki Aadalat

The other three Khans -- Aamir and Shah Rukh -- also turned 50 this year.
They are turning 50; I am turning 27.
You started your career with Shah Rukh.
Shah Rukh came in much later. Aamir debuted first, I came next, followed by Ajay (Devgn), then Akki (Akshay Kumar). Arbaaz was offered Khiladi first, so I know. Then Shah Rukh came in.
Any memories?
We are friends, not lovers.
Any wishes for him?
I wish him all the very best. I wish the best of health for him and his entire family, and success. May he have an amazing life.
I hope his children take his name forward. I wish that not just for him but for everyone.
Have you seen the rushes of Bajirao Mastani?
I heard the script is very nice. Kareena (Kapoor) and I had done a photo session.
I have seen the promo; it's a very large scale project. Ranveer Singh, Deepika Padukone and Priyanka Chopra look amazing.
What are your Diwali plans?
In the akhada, getting hurt and the family applying bandages.
Birthday plans?
I will be training on my birthday too.