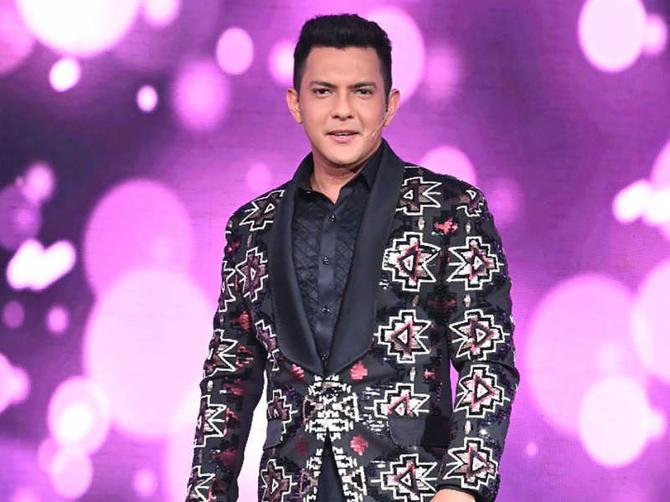 Aditya Narayan is probably the busiest showbiz entertainer in Mumbai now.
As Indian Idol reaches its finale on August 15, the show's host is shooting non-stop for the event.
"We are shooting the grand finale over a period of five days because it's a 12-hour finale. The winners will be announced live, but the rest will be pre-recorded. A large chunk of shooting will happen on August 15 itself," he tells Subhash K Jha.
Aditya will perform at the finale too.
"I am performing with my father and with Shanmukha Priya. Mika Singh, Javed Ali and Amit Mishra will also perform. Bharati Singh and her husband Haarsh, and Jai Bhanushali will help me with the hosting since it's an 18-hour finale."
That isn't all.
Aditya has more surprises in store.
"This is the first that that Papa (Udit Narayan) and I will co-host a segment. Our act is very interesting because I am singing one of his most popular songs Main Nikla Gaddi Lekar from Gadar while Papa will sing my hit song Tatat Tatat from Ram Leela."
Speaking of Ram Leela, there is a story going around that during the making of Ram Leela when Aditya assisted Sanjay Leela Bhansali, the director broke Aditya's expensive phone when it disturbed the shoot.
Aditya vehemently denies this: "Arre, sir, ab kya bolein? I have reached a point where I have to literally search to find something nice written about any popular public figure. SLB is a once-in-a-lifetime film-maker and a national treasure. What I have learned from him as his AD (assistant director) on Ram Leela by purely observing him and cannot be put into words."
As Indian Idol wraps up, Aditya Narayan prepares to host another show.
"I will be hosting a new show after Indian Idol: Sa Re Ga Ma Pa. The auditions have started. I am looking forward to that as well."