Gangubai Kathiawadi dominated the 68th Filmfare awards, held on April 27 in Mumbai, as it picked up 10 awards including Best Film, Best Director for Sanjay Leela Bhansali and Best Actress for Alia Bhatt.
Badhaai Do followed next with six awards, Best Actor for Rajkummar Rao and Best Actress (Critics) for Bhumi Pednekar. Bhumi shared her award with Tabu for Bhool Bhulaiyaa 2.
Veteran actor Prem Chopra was given the Lifetime Achievement Award.
Film folk was truly grateful for the recognition, and they gave a shout-out for those behind their success.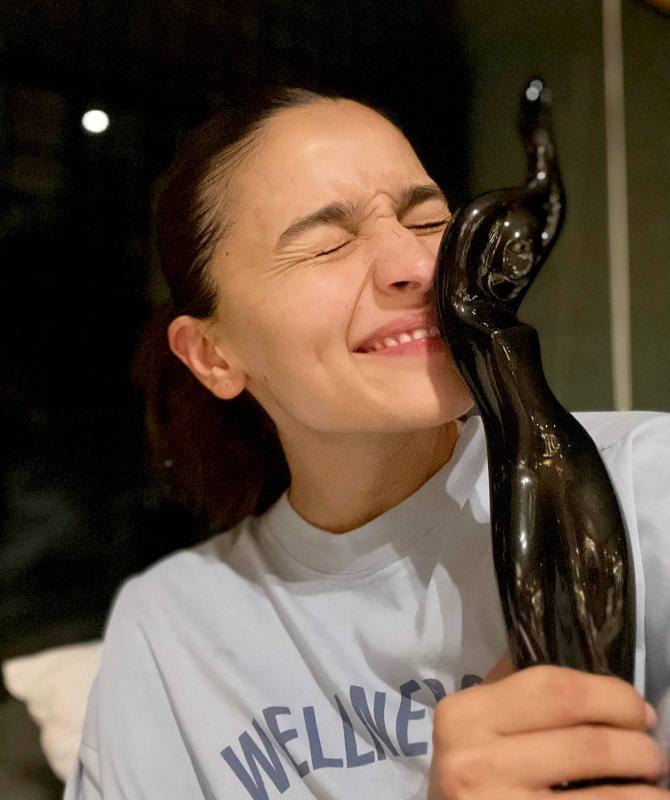 Alia Bhatt kisses her Best Actress award and writes: 'The day we wrapped Gangubai Kathiawadi
'No matter the outcome, just the experience of shooting the film, learning and growing under the guidance of Sanjay sir -- that's my blockbuster. I left that set a different person - and that was ONLY because of this amazing team!
'Gangu .. meri jaan .. my alter ego, belongs to you Sanjay sir. Thank you for believing in me, so I could believe in myself. I will forever be in your debt! I've always said you make the world believe in magic and if on this journey I can be even half as hard working, half as dedicated and driven as you -- I will consider myself very fortunate!
'To my audience -- my fans, my family! Thank you for being my constant inspiration to do better. Always.
'My whole team, I am me, only because of you. You keep me in one piece.
'And last but not the least! My beautiful family that grounds me and keeps me steady - Mama, Papa, Tanna I love you .. my other mom -- my mom-in-law & my father-in-law up there whose blessing is always with me.
'My gorgeous husband, for hearing me rant about my day for hours and motivating me whenever I was down and out! And my baby girl, who wasn't there at the time, but I will continue to thank for the rest of my life for the joy and peace she brings to me Eternally grateful.'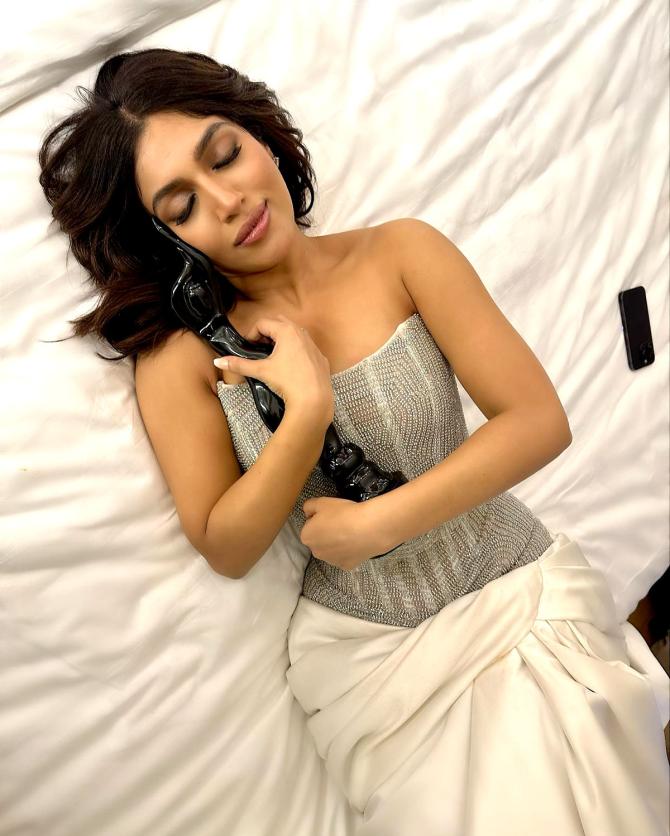 Bhumi Pednekar wins her third Filmfare award after Dum Laga Ke Haisha and Saandh Ki Aankh, and writes: 'My third one :) #BadhaaiDo will be etched in my heart forever #FilmfareAwards2023
'Thank you god, my family, friends, all my film makers and my audience.
'6 wins last night on a popular platform, shows things are changing and for the better. There couldn't have been a better time than now to celebrate Badhaai Do.
<p 'We stand tall with our Queer friends with the hope that our film contributed into making this world a fair and equal place for all. Jo bhi ho, Love is love
'My dearest @rajkummar_rao, congratulations on your big win. You are one of the finest of our generation. You've inspired me in so many ways. Upwards and onwards my friend.
'#HarshwardhanKulkarni our Harry. Your kindness, empathy, craft and love for cinema reflects in every part of Badhaai Do. Love you Harry. Thank you guiding me through this experience. Congratulations Harry!
'Our super writers @sumadhikary and #AkshatGhildial. Hamare do anmol ratan. Thank you for writing Sumi and Shardul the way you both did. You both are the soul of our film. Congratulations of your multiple wins.
'@sheeba.chadha you are so special and definitely my lucky charm. We started with Dum Laga Ke Haisha and now Badhaai Do. Sheeba you are.
'My @jungleepictures team. Thank you @amritapndy for making this film, standing rock solid with it. #VineetJain sir your trust in us has been our biggest support. @ameetdhanwani #Mamta #Anoop and team Junglee
'I want end this love note by acknowledging my co actors @chum_darang and @gulshandevaiah78 . You both complete Badhaai Do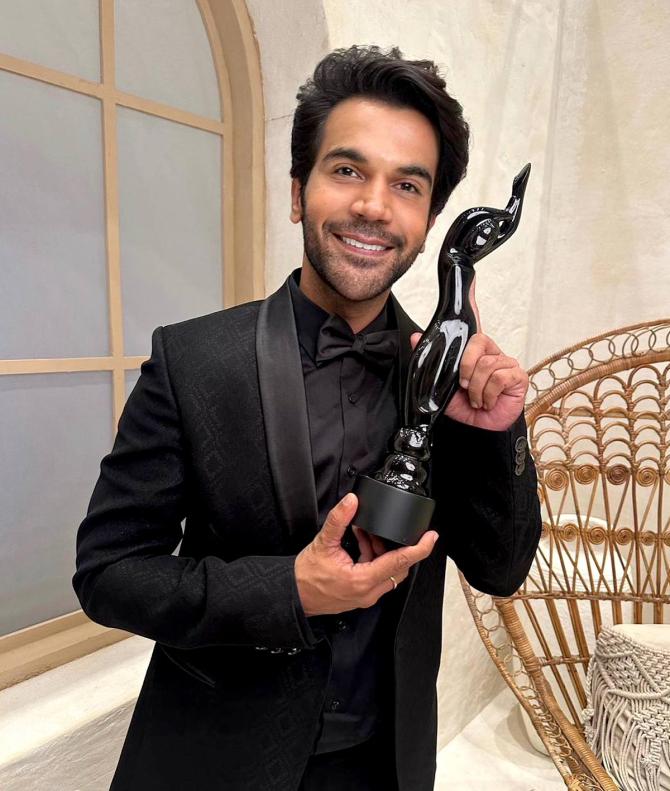 Rajkummar Rao was grateful for his big win too: 'Won the Best Actor Popular Award last night at the 68th Filmfare Awards 2023 for #BadhaaiDo. Thank you God.
'This one is very very special. My 4th black lady and this wouldn't have been possible without you my love @patralekhaa who always pushes and encourages me to do good work. Thank you love for always being there.
'Thank you my most beautiful family both in Gurgaon and Shillong.
'Big Thanks to YOU guys, our audience for giving so much love to our #BadhaaiDo. I love you guys.
'Thank you @filmfare @jiteshpillaai and the most wonderful Jury.
'Thank you #Harshwardhan Kulkarni mere bhai and congratulations. You're a magician and always keep this magic alive. #BadhaaiDo gave me a brother for life.
'@bhumipednekar Mubarak ho meri dost. Thank you for being such a wonderful Co-actor and for taking this beautiful journey with me, nobody could've played Suman better than this. Buddy hai yaar tu.
'Thank you @sheeba.chadhaji for that hug on the terrace. Every Shardul needs a mother like you. Congratulations on your win.
'Thank you @chum_darang @gulshandevaiah78 and @seemabhargavapahwa ma'am #ShashiBhushan for adding so much to this story with your sheer performance.
'Thank you @jungleepictures @amritapndy for backing this beautiful story. Thank you #VinitJain sir for your trust on this story.
'Thank you @anishjohn83 mere bhai for making this process so joyful and for your immense talent and just for being you.
'Thank you #Akshat and @sumadhikary for bringing this important story alive for the world and congratulations guys.
'Thank you @ameetdhanwani , #Mamta #Bhavna #Anup the whole team at @jungleepictures.
'Thank you @swapsagram mere bhai. #Prateek #Kirti @rohitrchaturvedi you guys are phenomenal and I love you guys.
'Thank you @itsamittrivedi #Khamosh and @vijayganguly for such beautiful music and choreography. #LoveIsLove.
'And for those of you who haven't seen this beautiful film yet. It's available on @netflix_in'
Patralekhaa praised him too: 'Raj, what a win for such an important film. You always knew that this one was special.
'I still remember you where so moved and you were still weeping after performing the scene where you come out to your family and mother.
'When you wore those glasses in the movie it was a moment where time stood still.. Acceptance of oneself !!
'To see your physical transformation and diet that you followed was overwhelming. All he ate was broccoli and some non fat paneer.
'I in my heart always knew this was another benchmark performance of yours. And now you walk out with a Filmfare award for best actor that too in the Popular category. Bhadhai lo.'
This is Rajkummar's fourth Filmfare award after Shahid, Bareilly Ki Barfi and Trapped.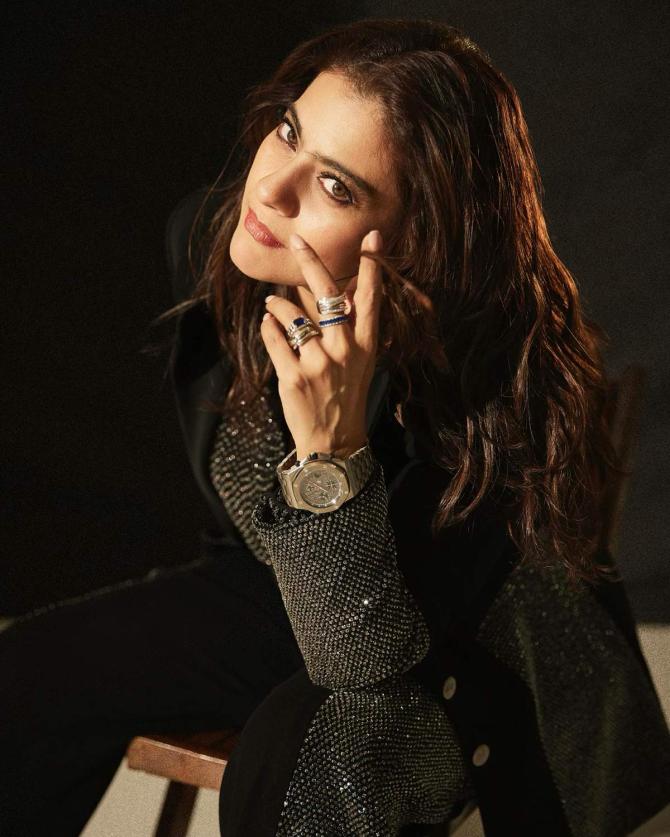 Kajol explains her outfit for the Filmfare night: 'Decided to be my own hero today off the red carpet and on it ! Inspiration from the all time red carpet heroes #ajaydevgan #salmankhan #srk #aamirkhan #doitlikeawoman Credits:- Idea :- mine Outfit :- Manish malhotra Execution :- Radhika Mehra Watch :- my husband's.'
The Winners, at a glance:
Best Film: Gangubai Kathiawadi
Best Film (Critics'): Badhaai Do
Best Actor in a Leading Role (Male): Rajkummar Rao for Badhaai Do
Best Actor in a Leading Role (Female): Alia Bhatt for Gangubai Kathiawadi
Best Actor (Critics'): Sanjay Mishra for Vadh
Best Actress (Critics'): Bhumi Pednekar for Badhaai Do and Tabu for Bhool Bhulaiyaa 2
Best Director: Sanjay Leela Bhansali for Gangubai Kathiawadi
Best Actor in a Supporting Role (Male): Anil Kapoor for Jug Jugg Jeeyo
Best Actor in a Supporting Role (Female): Sheeba Chaddha for Badhaai Do
Best Music Album: Pritam for Brahmastra: Part One - Shiva
Best Dialogue: Prakash Kapadia and Utkarshini Vashishtha for Gangubai Kathiawadi
Best Screenplay: Akshat Ghildial, Suman Adhikary and Harshavardhan Kulkarni for Badhaai Do
Best Story: Akshat Ghildial and Suman Adhikary for Badhaai Do
Best Debut (Male): Ankush Gedam for Jhund
Best Debut (Female): Andrea Kevichusa for Anek
Lifetime Achievement Award: Prem Chopra
Best Music Album: Pritam for Brahmastra: Part One - Shiva
Best Lyrics: Amitabh Bhattacharya for Kesariya from Brahmastra: Part One - Shiva
Best Playback Singer (Male): Arijit Singh for Kesariya from Brahmastra: Part One - Shiva
Best Playback Singer (Female): Kavita Seth for Rangisari from Jug Jugg Jeeyo
RD Burman Award for Upcoming Music Talent: Jahnvi Shrimankar for Dholida from Gangubai Kathiawadi
Best VFX: DNEG and Redefine for Brahmastra: Part One - Shiva
Best Editing: Ninad Khanolkar for An Action Hero
Best Costume Design: Sheetal Sharma for Gangubai Kathiawadi
Best Production Design: Subrata Chakraborty and Amit Ray for Gangubai Kathiawadi
Best Sound Design: Bishwadeep Dipak Chatterjee for Brahmastra: Part One - Shiva
Best Background Score: Sanchit Balhara and Ankit Balhara for Gangubai Kathiawadi
Best Choreography: Kruti Mahesh for Dholida from Gangubai Kathiawadi
Best Cinematography: Sudeep Chatterjee for Gangubai Kathiawadi
Best Action: Parvez Shaikh for Vikram Vedha