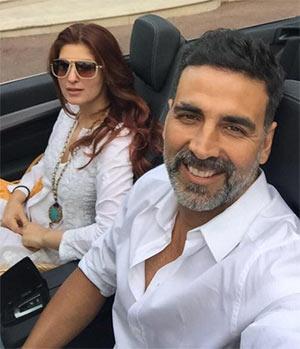 A look at the top tweets from your favourite Bollywood celebrities:

Like Aishwarya Rai Bachchan, Akshay Kumar and his wife Twinkle are also enjoying their time out in France.
Akshay tweeted a picture, left, and wrote: 'And the holiday begins...loving driving around the picturesque Antibes in Nice, great view and even better company :)'

Kumar will be next seen in Karan Malhotra's Brothers, which releases on August 14.
***
'Kangana is killing it again'

The trailer of Kangana Ranaut and Imran Khan's next film Katti Batti is out and everybody loves it!

Karan Johar: Quirky funny and romantically intriguing #KattiBatti looks lovely!! Imran and Kangana are on fire!

Anurag Kashyap: Arey koi roko Kangana ko #kattibatti @nickadvani tabahi hai. Well done.

Rajkummar Rao: Seems like lot of fun. Congratulations sir @nickadvani. Can't wait to see it & Kangana is killing it again.

Sudhir Mishra: Proud of Nikhil Advani. Find out why! Meanwhile d trailer of Katti Batti's terrific. Kangana seems set2 do impossible: top her performance in TWM.

Katti Batti will release on September 18.
***
Kajol, Shah Rukh start shooting for Dilwale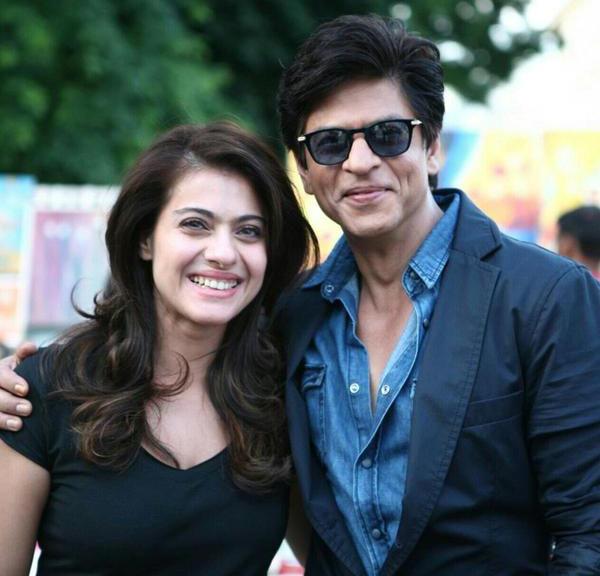 Kajol, last seen opposite Shah Rukh Khan in My Name Is Khan, has started shooting for their next film together Diwale in Bulgaria.

She posted a picture, above, and wrote: 'Back in front of the camera with an old friend after a very long time. You might know him.'
Shah Rukh tweeted a picture and wrote, 'Count ur age by friends, not years. Count ur life by smiles, not tears."Lennon. By that maxim this team is ageless.'
The film also stars Varun Dhawan and Kriti Sanon.
***
Salman gears up for Bajrangi Bhaijaan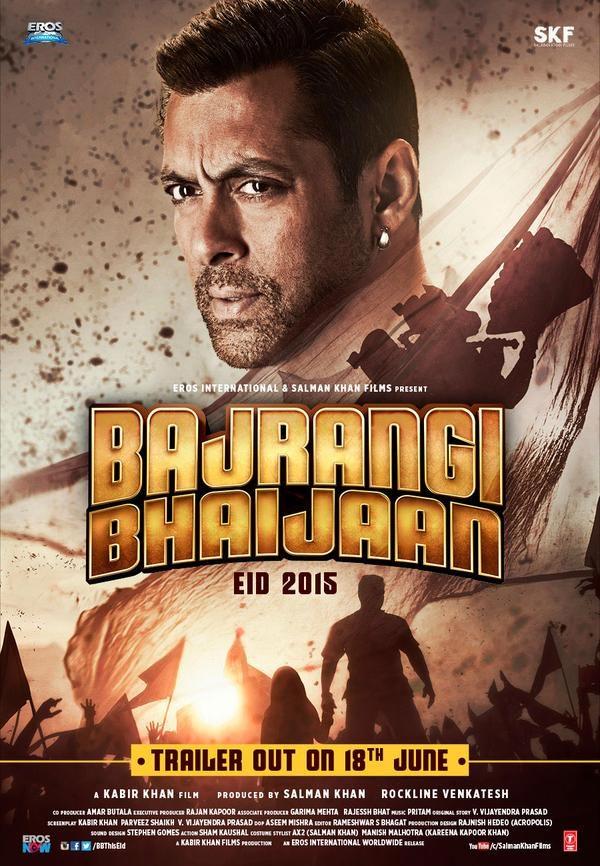 Salman Khan, who recently threatened to quit Twitter, is looking forward to launch the trailer of his upcoming film Bajrangi Bhaijaan on June 18.

He shared the latest poster, above, and tweeted: 'Aree Kaha toh tha Glimpse tha ;)'
Read all about the 'Glimpse' right here.
Bajrangi Bhaijaan will release on July 17.
***
RGV: Hollywood films are eating up Bollywood films

Jurassic World has become the highest global opener of all time and Ram Gopal Varma wants Indian filmmakers to learn from it.
'Jurassic world opening weekend is more than 500 million dollars..This is not a. Block buster ..it's Dinosauric buster. It's not only Jurassic world ..Dinosaur like Hollywood films r eating up Bollywood films with their new age concepts nd ultra thrill content,' RGV tweeted.

'If we don't leave our prehistoric film making nd copy their vision, Indian film makers will soon be extinct nd Hollywood dinosaurs will rule,' he added.
Read the Jurassic World review here
***
Meet the Kapoor & Sons team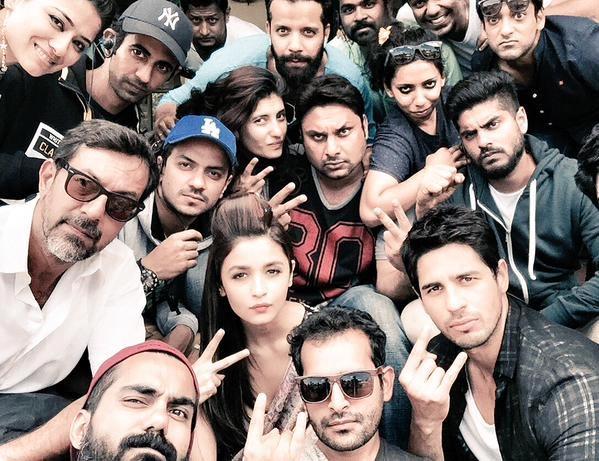 Alia Bhatt recently started shooting for Shakun Batra's Kapoor & Sons in Coonoor and shared a picture from the sets, above.

'Shoot shenanigans #kapoorandsons' she tweeted.

The film will also feature Siddharth Malhotra, Fawad Khan, Rishi Kapoor and Rajat Kapoor.
***
Bollywood welcomes the rains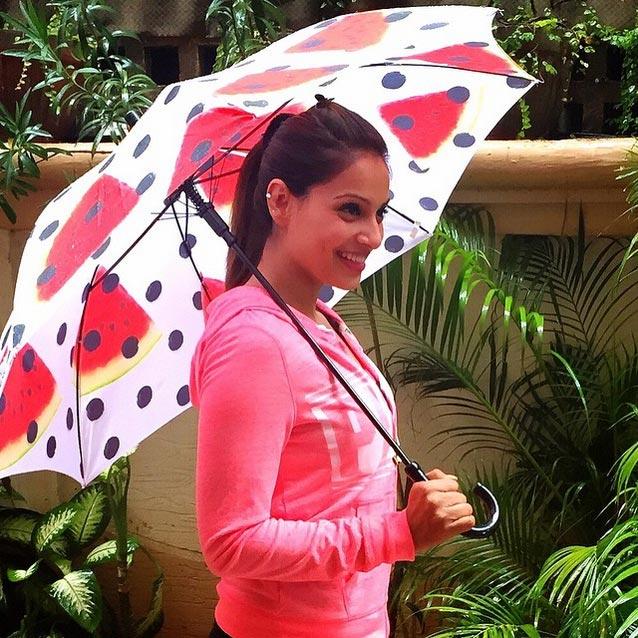 As rains have hit several parts of India, Bollywood celebrities took to Twitter to welcome the monsoon season.

Bipasha Basu shared a picture of herself, above, and wrote: Battling the rain even in Ah-Choo mode with our Watermelon Print Umbrella!

Farhan Akhtar: Raindrops keep falling on my head.. Reminds me to buy a jacket with a hoodie next time!!! #twitterpetohbantahai

Raveena Tandon: Enjoying morning cuppa on my balcony..green shining, washed by these glorious rains! just know how the peacock feels!
***

Randeep Hooda bonds with Kajal Aggarwal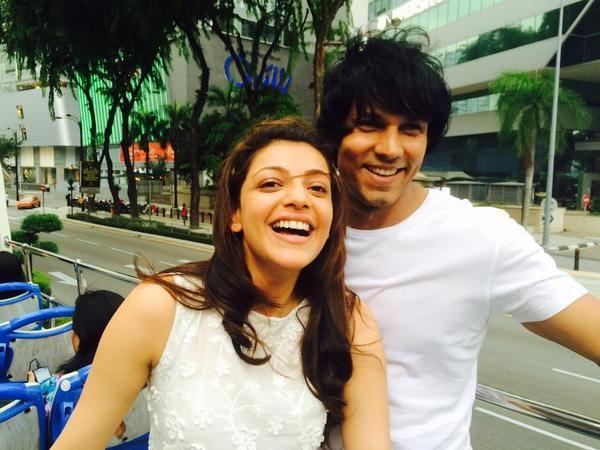 Randeep Hooda is shooting his film Do Lafzon Ki Kahani in Malaysia, and seems to be enjoying the experience.

He shared a picture of himself with co-star Kajal Aggarwal, above, and tweeted: 'Love is in the air.. the gorgeous & talented #KajalAggarwal .. Kaula Lampur.. Do Lafzon Ki Kahani.'

The film will be directed by Deepak Tijori.