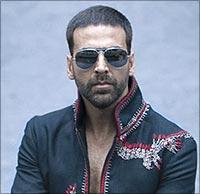 When it comes to Akshay Kumar, everything about him must be a hundred percent natural. Or so the actor has always maintained.

But all that's about to change now.

For his role of Dawood Ebrahim in the sequel to Once Upon A Time In Mumbaai, Akshay will have to resort to prosthetics for the first time in his career.

A source says, "Akshay will have to be shown turning from the gangster's protegee in the first part to the mentor in the sequel. We're going to present him in such a way that he will appear both boyish and mature. Akshay will have to show more than 15 years of his character's life-span. We'll show him from the age of 25 to 40. We'll have to work out various looks denoting the different stages in the character's life."
Akshay will apparently try to replicate the younger portion of the character's look by getting the prosthetics and makeup department to look at his old pictures. For the older look, Akshay will use his father's pictures as a reference.
Says a source close to the project, "Once Upon A Time In Mumbaai was entirely Ekta Kapoor's baby. We took up one of the biggest incidents in Mumbai that nobody had tackled in films anywhere. We gave the film a whole retro 1970s look with Salim-Javed styled dialogues. Now we'll take the story further. The film will hinge on Akshay's talents. He has to show how having betrayed his mentor he is unable to trust anyone."