Sooryavanshi and Annaatthe have already collected 6 percent of the film industry's 2020 revenue.
Shine Jacob reports.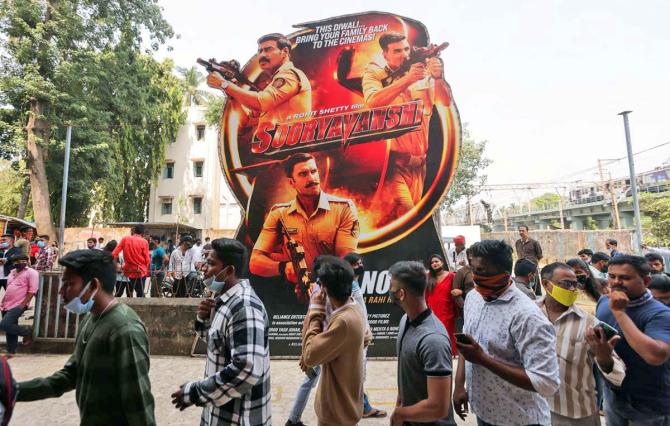 The movies are back and how!
Sooryavanshi (Hindi) and Annaatthe (Tamil), the two blockbuster Diwali releases, have breathed fresh life into the Indian film industry, which was devastated by the COVID-19 pandemic.
The films have fired up theatres, and in the first week have jointly collected over Rs 400 crore (Rs 4 billion) worldwide.
According to latest available numbers, the Akshay Kumar-starrer Sooryavanshi, which released on November 5, collected Rs 201.44 crore (Rs 2.014 billion) globally in its first eight days till Friday.
Rajinikanth's Annaatthe, which hit theatres on Diwali (November 4), collected Rs 211.44 crore (Rs 2.114 billion) worldwide in these nine days.
From theatres alone, the two movies have already claimed around 6 per cent of the revenue that the entire Indian film industry collected in 2020 -- that included domestic and overseas theatricals, broadcast rights, digital/OTT rights, in-cinema advertising and ancillary revenues.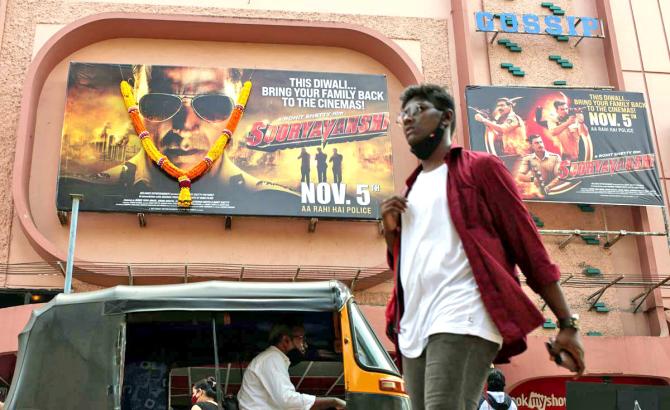 The booster dose came after the Indian film industry had plunged by 62 per cent in annual revenue from Rs 19,100 crore (Rs 191 billion) in 2019 to Rs 7,220 crore (Rs 72.20 billion) in 2020, according to an Ernst & Young report.
"The importance of the film (Sooryavanshi) is not just from the numbers perspective. The film has brought the audience back to the theatre. It has removed that fear and scepticism around watching a film in a movie theatre from the minds of the audiences," said Shibasish Sarkar, former chief of Reliance Entertainment and current chairman and chief executive officer of the media firm IMAC.
Another Diwali release, Eternals, also fared well and collected Rs 27.33 crore (Rs 273.3 million) in India in the first eight days.
According to trade analyst Manobala Vijayabalan, the net India collections of Sooryavanshi in these first eight days were Rs 127.56 crore (Rs 1.275 billion), and for Annaatthe in the Tamil Nadu box office for the first nine days were Rs 127.34 crore (Rs 1.273 billion).
"These numbers are miles ahead of what the 2019 releases like Bigil and HouseFull 4 saw. The numbers are clear proof that audiences are always in search of entertainment and they are willing to pay for it," Vijayabalan told Business Standard.
"This will boost the confidence of filmmakers and encourage them to release their films in cinemas."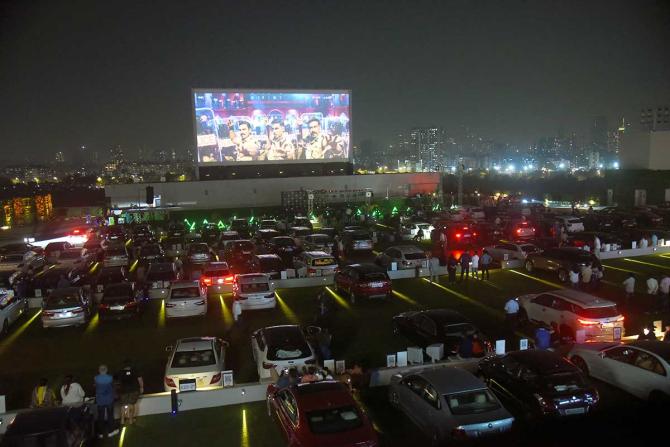 The bCinema Owners and Exhibitors Association of India anticipates that enthused by the success of the two Diwali launches, as many as 400 films across languages are gearing up for release.
"The revival process had started in August itself with releases in Telugu, Tamil, Kannada and Punjabi through movies like Love Story (Telugu) and Doctor (Tamil)," said Rajender Singh Jyala, chief programming officer, Inox Leisure, one of India's largest multiplex chains.
"Since Maharashtra contributes around 25 per cent to the Hindi film industry's revenue, no big Bollywood film was being released since cinemas in the state were shut. With Maharashtra opening up, we could not have asked for a better beginning than Sooryavanshi."
p>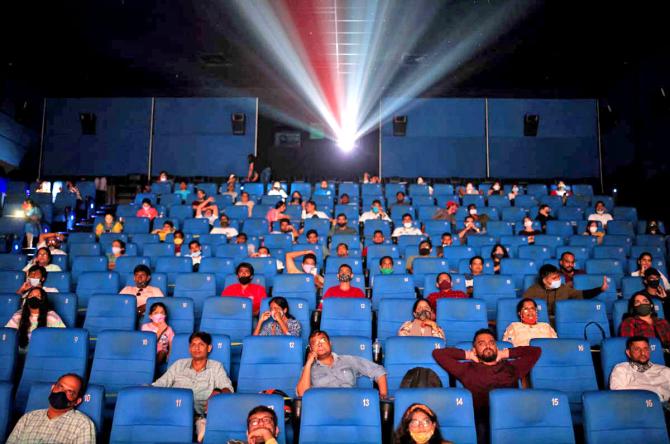 Sarkar said that for Sooryavanshi, the marketing strategy was to "spend intelligently" through aggressive outdoor, mobile-specific and digital campaigns.
"We are now extremely aggressive on all the digital platforms such as YouTube, Facebook, WhatsApp and Twitter," Sarkar said, adding, "Not only that, there was an integration with large digital platforms like Paytm and BookMyShow. We have not gone and spent our energy on newsprint, but on the news portals we have been very aggressive this time."
Feature Presentation: Ashish Narsale/Rediff.com