Dance like Akshay Kumar this month!
He has acted in all kinds of movies -- big, small, solo, two-hero, multistarrers and remakes -- and across all possible genres, from action, comedy, romance, horror, mystery, fantasy, science fiction to animation.
He has romanced a bevy of Bollywood beauties, from Rekha to Raveena Tandon and Sridevi to Sonakshi Sinha.
He's played everyone from God (OMG: Oh My God), gangster (Once Upon A Time in Mumbai Dobara) and gay (Dishoom) and worn everything between a dress and a dungaree in every shade of fluorescent and pink.
He's jumped off buildings, tossed WWF wrestlers, uncovered treasures, solved crimes, exorcised demons, hoodwinked CBI, build toilets and saved the world so many times in the last 26 years, we truly believes he's a 'khiladi.'
Once ridiculed as a 'junk food actor' now a National-award winning one, it's been quite an upswing for the superstar dedicated to reinventing himself relentlessly.
Adventurer, entertainer, fitness freak, family man and burgeoning social activist (if his current projects are any indication), Akshay Kumar turns 50 on September 9.
Plenty to celebrate, we bet.
And so for his milestone birthday, Sukanya Verma has compiled a party playlist of Akki's hip-shaking chartbusters.
Party all night, Boss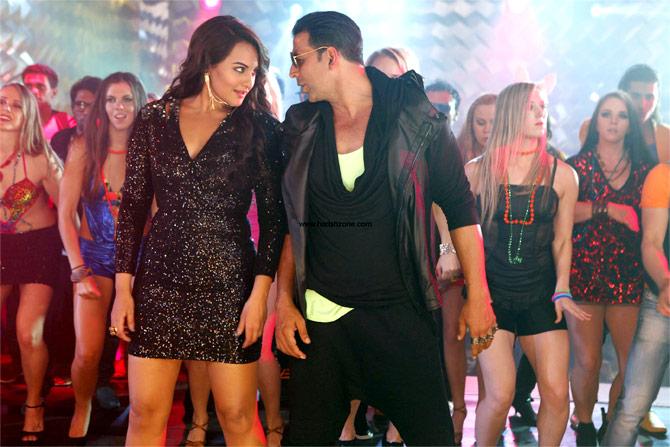 Akshay's groovy ditty of party animals, by party animals and for party animals is an absolute must on this list even at the risk of antagonising a certain disapproving aunty.
Tu Cheez Badi Hai, Mohra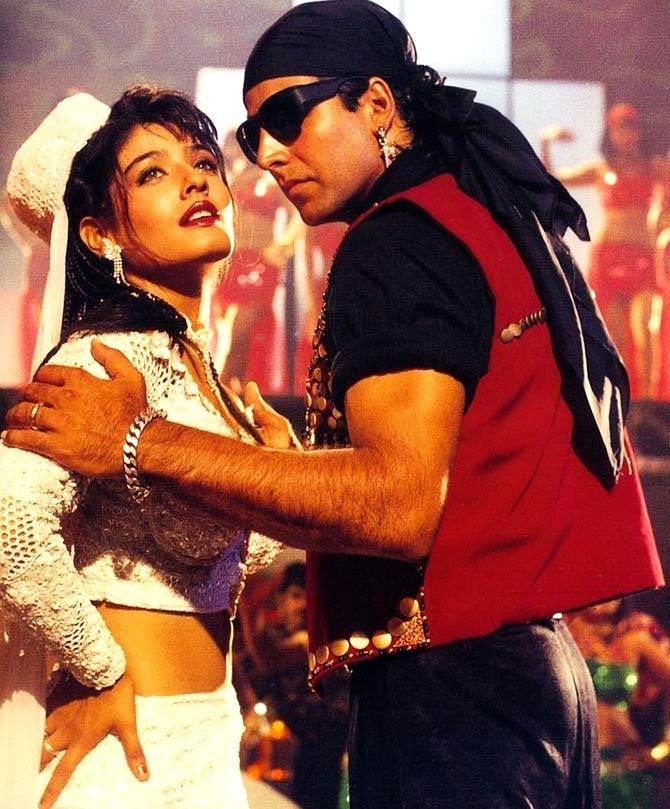 Armed with bling and bandana, the gummy grinner says cheese alongside a ravishing Raveena Tandon for the most Mast Mast track of Mohra.
Main Khiladi Tu Anari, Main Khiladi Tu Anari
Akshay and Saif Ali Khan bounce, bobble and celebrate their differences to floor-burning effect in the title track of their hit buddy film from 1994.
Subah Hone Na De, Desi Boyz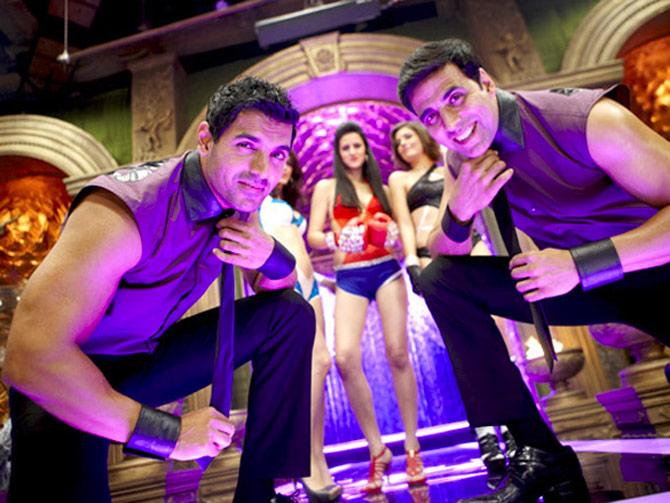 Even those with an acute case of left feet cannot resist shaking a leg around this terribly addictive number.
Akshay and John Abraham performing a strip tease to its tune is pure bonus.
Hookah bar, Khiladi 786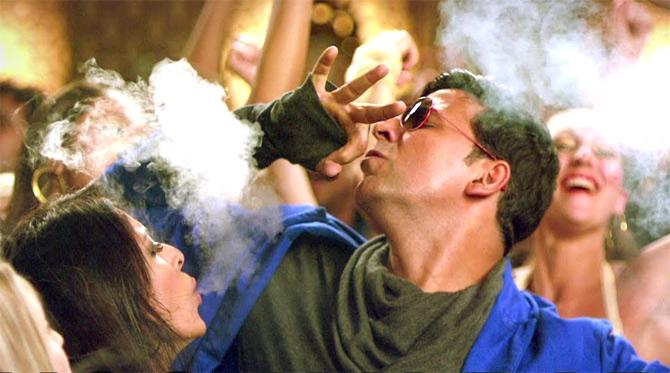 Few can liken love to hookah bars let alone make it sound as mysteriously hooking as this mindless zombie of a song starring the cool, charismatic Mr Kumar.
Haseena Gori Gori, Tarazu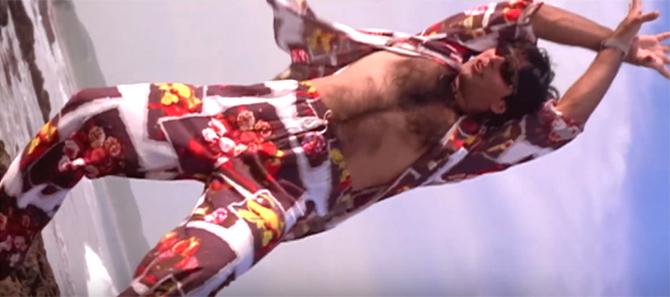 Shaggy is likely to throw a fit on discovering this desi version of his catchy Summertime, but props to Akshay for pulling off THOSE moves in THAT attire.
Hum Hain Seedhe Saade Akshay, Khiladiyon Ka Khiladi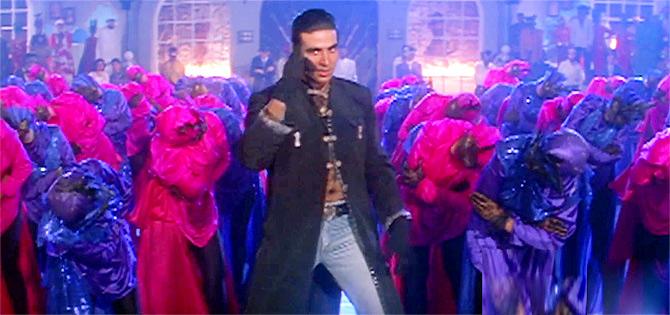 As the debate on nepotism rages on, nothing raises a toast to his hard-earned stardom like the man himself, chest thumping to the beats of Na Hum Amitabh, Na Dilip Kumar, Na Kissi Hero Ke Bache, Hum Hain Seedhe Saade Akshay.
Dhanno, Housefull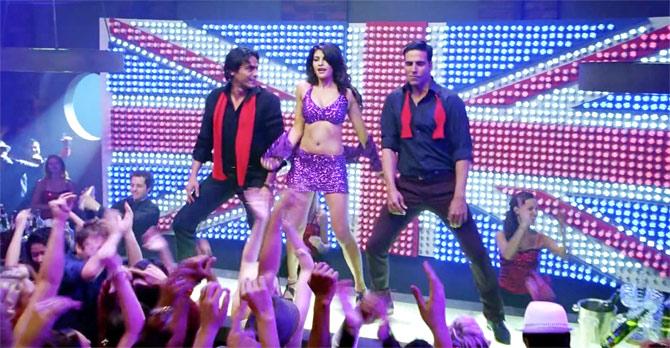 People on the floor -- learn a thing or two about letting your hair down like Akshay Kumar in that Dhanno ditty from Sajid Khan's birdbrained comedy.
Mehbooba, Ajnabee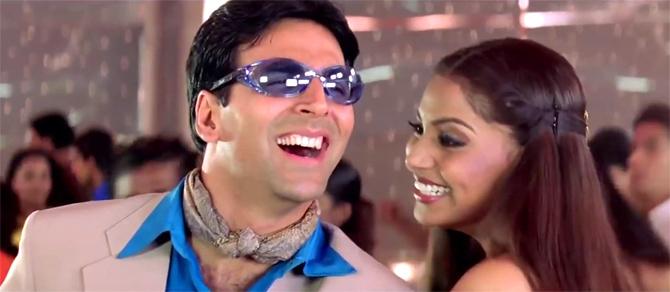 Abbas-Mustan's twisty thriller may not make much sense, but the sight of Akshay and his scorching Mehbooba Bipasha Basu making merry on the dance floor of a cruise ship totally does.
Let's Play Holi, Waqt: The Race Against Time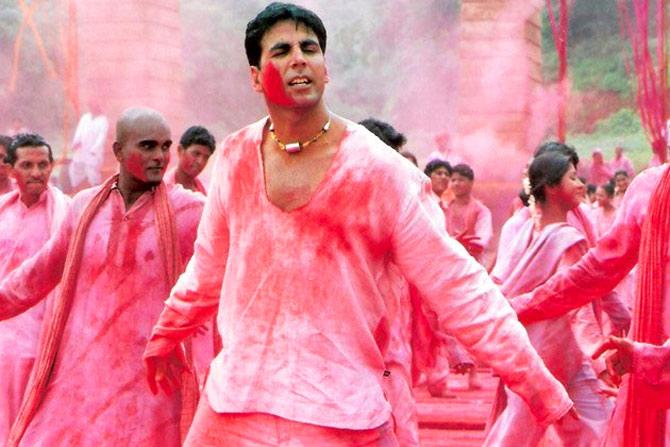 One of the mandatory go-to Holi tracks of the last decade, it's amusing to witness Akshay splattering colours and cheer in Anu Malik's peculiar voice.
Go Pagal, Jolly LLB 2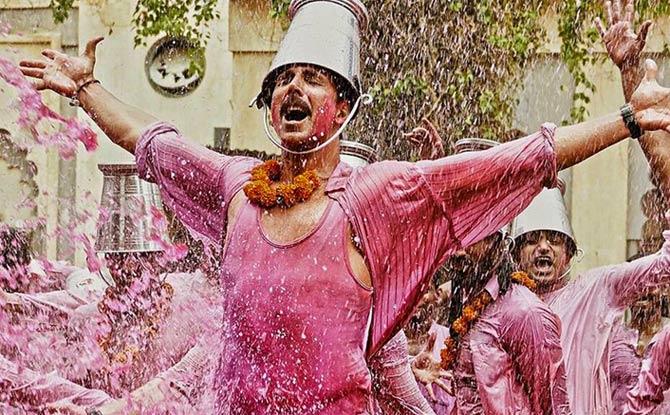 The star ups his Holi game to another level in the zesty new melody from Jolly LLB 2.
All Day All Night Mujhe Yaad Sataye Teri, Phir Hera Pheri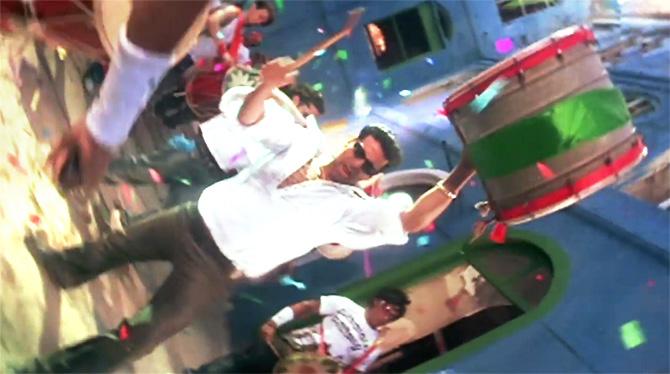 Ever so game, Akshay has a ball embracing Himesh Reshammiya's brand of nasal creativity in the earworm-prone All Day All Night.
Dil Dance Maare, Tashan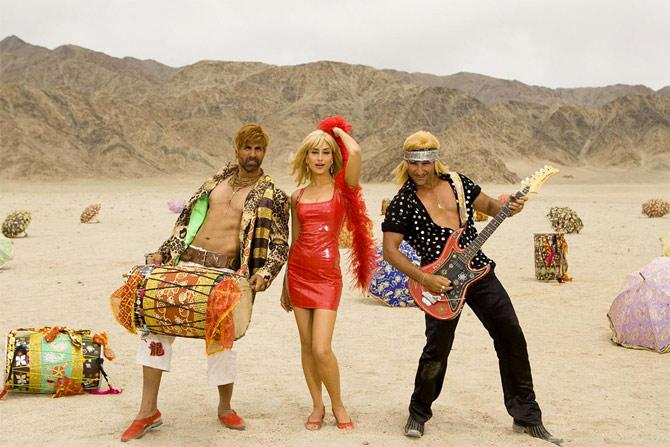 Puerile lyrics, dhinchak tune and ridiculous get-ups aside, there's still plenty to strum and drum about Akshay-Kareena-Saif's in-your-face ardour in Dance Maare.
Signal, Bhagam Bhag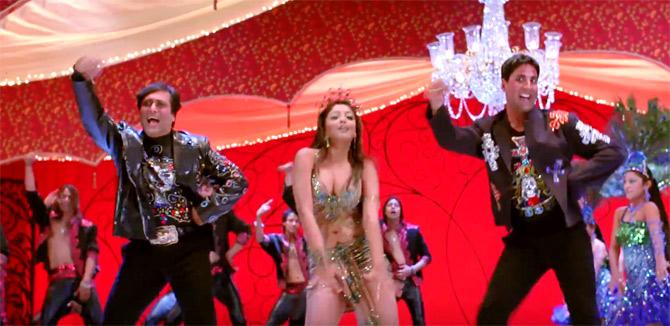 What's not to love about Govinda and Akshay Kumar exuberantly matching steps on stage to singer Remo's energetic Signaaaaaaaal?
Ask Trinidadian musician Superblue.
Mast kalandar, Heyy Babyy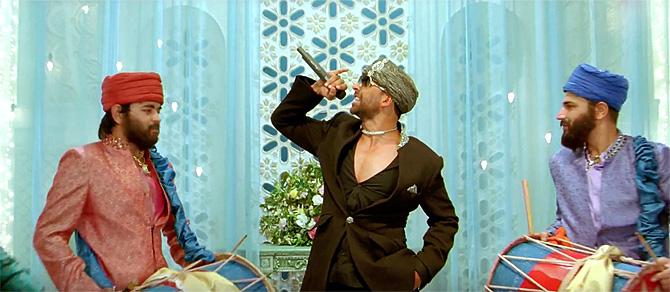 Bhangra body meets qawaali elements to bring the house down in the high-voltage drama of Akshay's super peppy dance-off with Shah Rukh Khan.
May the best Mast Kalandar win.
Hare Ram Hare Krishna, Bhool Bhulaiya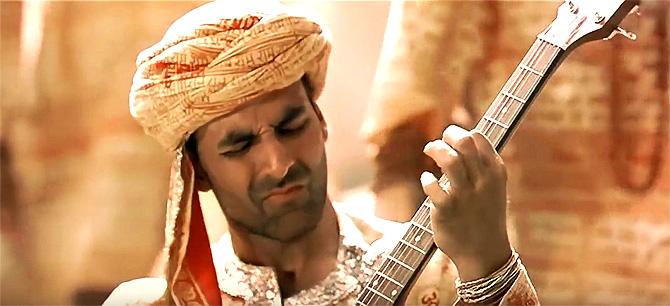 Akshay raps and revs up the ultra funky chants of Hare Ram Hare Krishna to offer a perfect blend of fun and foot tapping.
Talli hua, Singh is Kinng

Plenty to drink to and dance about in Akki-Katrina's Talli tales in one of their most successful films as a hit jodi.
Khudko kya samajti hai, Khiladi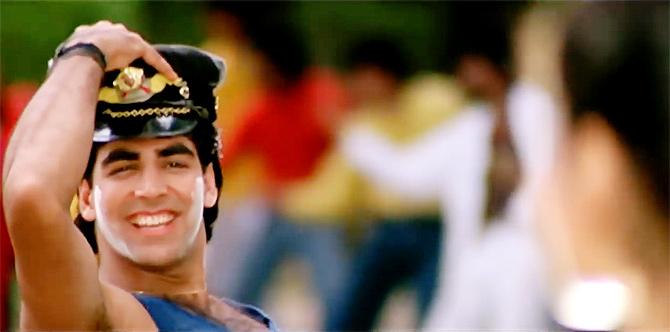 Not exactly the stuff party-goers groove to anymore, but if the theme is 1990s, Akshay's spirited campus romp deserves its place under the disco ball.
Zor Ka Jhatka, Action Replayy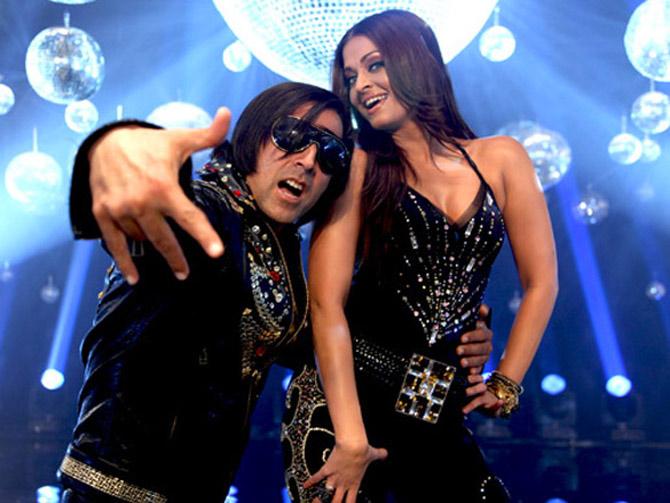 The loony humour of Action Replayy is fast forward material, but Akshay and Aishwarya strutting to Zor Ka Jhatka's lilting banter in retro avatar is one for the loop.
Sheila Ki Jawani, Tees Maar Khan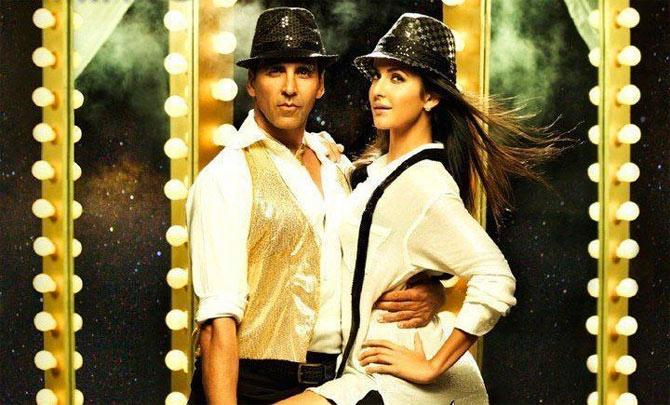 Katrina Kaif and her belly ballet grabbed all the eyeballs in her wildly popular item number, Sheila Ki Jawani. But a shoutout to Akshay for pitching in as the sporting sidekick.
Laung Da Lashkara, Patiala House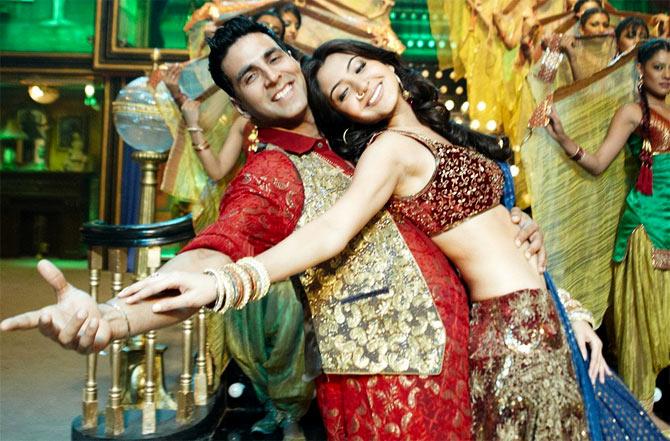 Ever the balle balle enthusiast, Akshay unleashes his Punjabi pride to sing paeans about Anushka Sharma's laung da lashkara in this lively Patiala House dance number.
Dhadang Dhadang, Rowdy Rathore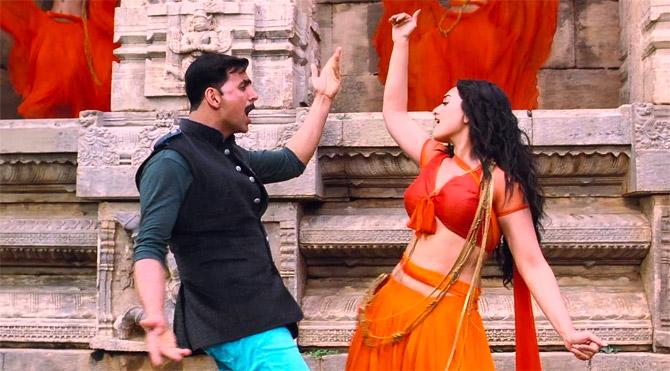 Love it, loathe it but you simply can't deny there's an audience who loves to Dhadang Dhadang against Akshay-Sonakshi's head banging revelry in Rowdy Rathore.
Johnny Johnny, Its Entertainment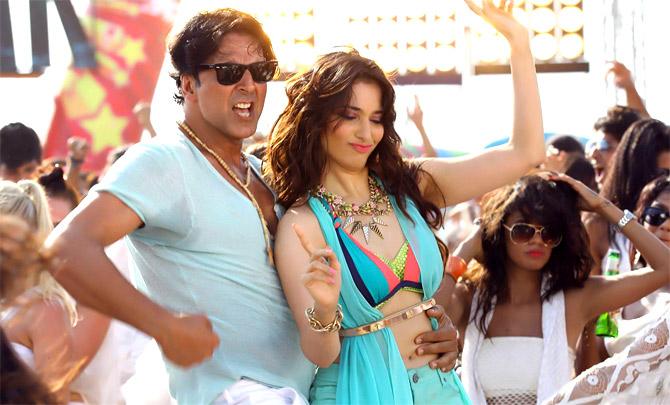 Johnny Johnny? Haan ji.
Tune pee hai? Naa ji.
Munh Ko Kholo, Hawji!
Jhooth Boleya? Naaji!
Nursery rhymes will never be the same again. But if you're as sloshed as Akshay, a teetotaller in real life, in this song, you'll probably not care.
Dil Kare Chu Che, Singh is Bling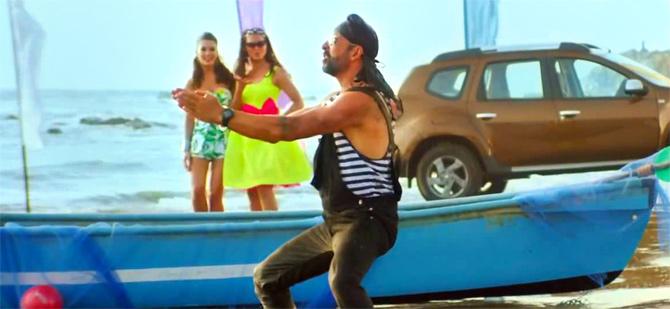 Trust Akshay to make music out of jargon on the strength of sheer tomfoolery.
I Wanna Chiggy Wiggy With You, Blue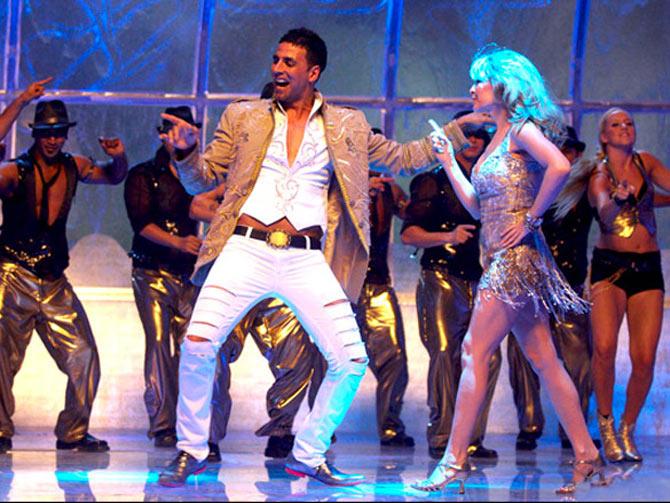 Bollywood's idea of euphemism will make most rational folk pull their hair out in exasperation, but Kylie Minogue and Akshay find loads to about under its influence in Blue.