An Akshay Kumar interview is almost always a group affair. Jahnavi Patel/Rediff.com finally discovers why.
"I look forward to meeting you guys more than doing a solo interview. I like it when we all get together and there are different kinds of people attacking me with different kinds of questions," says the star with his trademark smile.
The Khiladi, who seems to have perfected the art of dodging uncomfortable questions, is generally ready with witty answers that have his interrogators in splits more than once.
When a public relations person intervenes to end the session, he charms her. "Let them ask, I am enjoying it."
Here, then, is a freewheeling conversation in which Akshay Kumar talks about his forthcoming release, Housefull 3, sex comedies, awards and his 25 year journey in the film industry.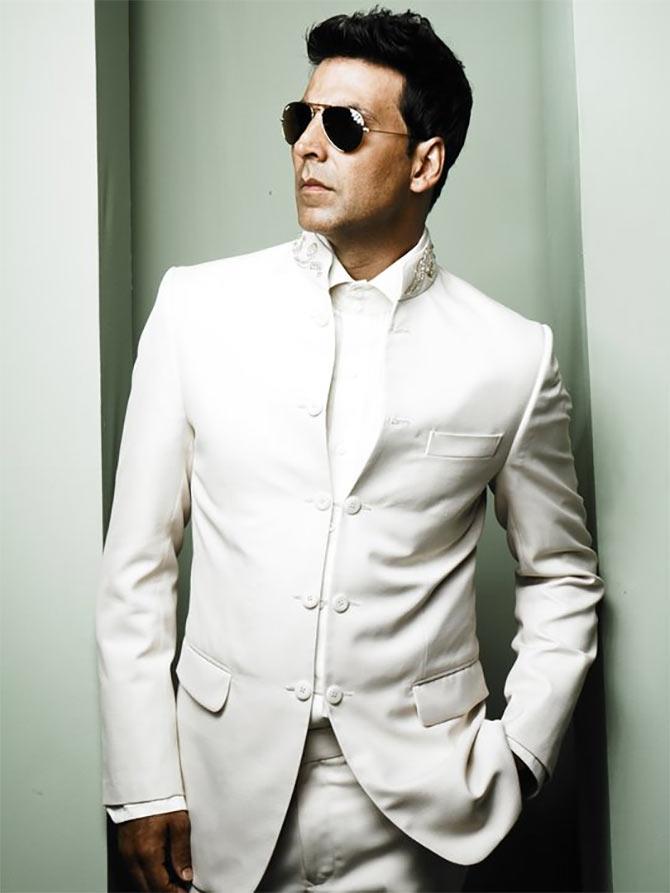 IMAGE: Akshay Kumar. Photograph: Akshay Kumar/Facebook
How does it feel to do a comedy once again?
Very good. It's like a stress buster so I feel relieved. At the same time, it was very exhausting because, while shooting, we were doing things in one take.
If we cut between dialogues, people won't laugh. It was more of a give-and-take and that becomes exhausting. To tell you honestly, there were a lot of retakes in the film.
It was nice to come to the sets of Housefull 3 because I haven't done a comedy or cracked a joke since two years.
Riteish Deshmukh said sex comedies have a saturation point but clean comedies don't.
I don't agree; there are a lot of things you can still do in sex/adult comedies.

You haven't done adult comedies yet. Are you against it?
No, I'm not against it at all. I love to watch it.
Would you like to be a part of a sex comedy?
Yes, why not?
You had a lot of fun on the sets of Housefull 3 and have shared pictures and videos.
There are many things that we did that I can't post; that means I can't talk about them either.
Throughout the film, we have done a lot of funny things.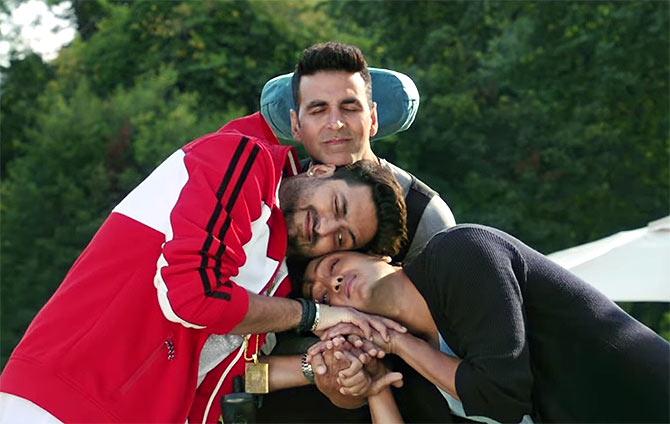 IMAGE: Akshay Kumar, Abhishek Bachchan and Riteish Deshmukh in Housefull 3
Abhishek Bachchan will be seen in this franchise for the first time. What was working with him like?
I have worked with him in one film (Haan Maine Bhi Pyaar Kiya) earlier. He is brilliant when it comes to comedy and has done films like Bol Bachchan. I have seen his comic timing in this film also.
His humour, in real life, is more English. It is subtle and, many times, his jokes aren't understood by many people.

You've worked with Sajid Khan (director, Housefull and Housefull 2). In this film, you have worked with Sajid-Farhad. What was the difference?
The genre is the same so there wasn't much of a difference.
I had fun with Sajid Khan and I had fun with Sajid-Farhad as well.

You've worked with director duo Abbas-Mustan and, now, Sajid-Farhad.
Abbas-Mustan have such great coordination that you can never figure out if they have fought.
If one of them says something and the other doesn't agree, they won't say anything in front of everyone and will agree with each other.
A husband-wife's pair looks feeble in front of these two brothers.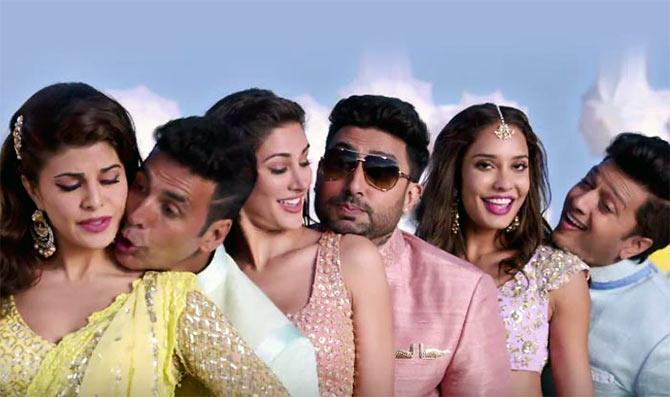 IMAGE: Jacqueline Fernandez, Akshay Kumar, Nargis Fakhri, Abhishek Bachchan, Lisa Haydon and Riteish Deshmukh in the song 'Malamaal' from Housefull 3
You were seen in fewer comedy films last year. Was it because the genre was getting repetitive for you?
I want to do different things; that's it. I don't want to have a particular image, I don't want to be called an action hero or a comedy hero or a villain. I want to keep on changing.
I keep challenging myself because I am bored. That's why I try to finish my films in 30-50 days. If I keep on doing a film for 300 or 400 days, I'd die.

Is that the reason you do 3-4 films a year?
What else can I do? If I do just one film a year, it will be take 40-50 days. What will I do the remaining days?

Many Indian actors have faced racism abroad. Have you?
It happens but I don't pay attention to it. When they come here, it happens to them.
Racism happens everywhere. It is a bad thing but you have to come out of it. Who cares what they say?
Don't get so serious about it. Don't get affected by it. You should have confidence in yourself.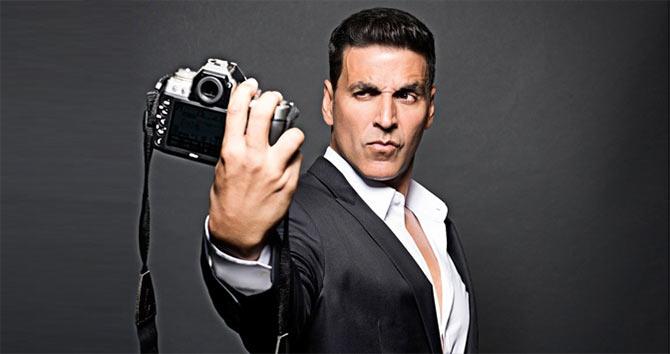 IMAGE: Akshay Kumar. Photograph: Akshay Kumar/Facebook
You've completed 25 years in this industry this year. How would you define your journey?
It's luck; I consider it to be 60-70 per cent luck.
Yes, I have worked my a** off, selected good and bad films. I am very lucky things have gone my way. You may not believe it but I believe luck plays an important role.
I challenge anyone to predict whether a film they are watching will work or not. It isn't possible to do so.

Do Fridays still make you nervous when your film releases?
Yes, Friday, Saturday and Sunday, I am fine on Monday.

You wanted Airlift to do worth Rs 100 crores and it has. Do you think the Indian audience now accepts a wider variety of films?
Yes, it's nice that audiences like these kind of realistic films.
I did Special 26 which did a business of Rs 75-80 crore.
I did Baby which made Rs 90 crore.
I am very happy that Airlift has gone to Rs 125 crore.
Then Neerja comes in and is a huge success. I don't know the figures but it's a huge amount.
We should be worried about what Hollywood is doing to us. Their films are beating us left, right and centre.
We can't compete with them financially. They are making films for $200 million -- not even Rs 200 crore; we are around Rs 70-90 crore. We can only compete with them when it comes to content.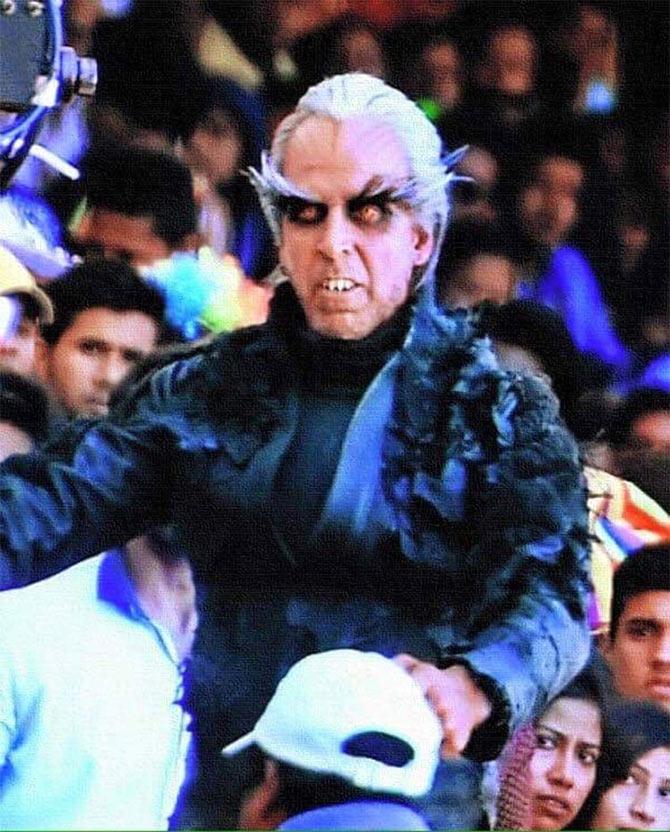 IMAGE: Akshay Kumar's Robot 2 look. Photograph: Ashvini Yardi/Twitter
What made you take up a villainous role in Robot 2?
I felt like it. It was challenging and it was great to be beaten up by Rajinikanth sir. A superhero villain is a different role for me.

From the new lot, who would you say has your potential?
There are many talented actors like Ranveer Singh, Ranbir Kapoor, Sidharth Malhotra… They give so much to a film and are so engrossed that I am shocked. It makes me feel that I also have to give more and more.
I always find them more giving to a film than I do.

Actresses are going to the west, but we haven't seen too many actors do the same thing.
Nobody is taking us there. We are not happy with the roles we have been offered, stuff like 'Sir you're standing there, far away, and you'll come in the second scene and then in the fifth scene you'll die.'
We're happier here.

If you're offered the role of a gay character on screen, would you take it up?
Yes, why wouldn't I?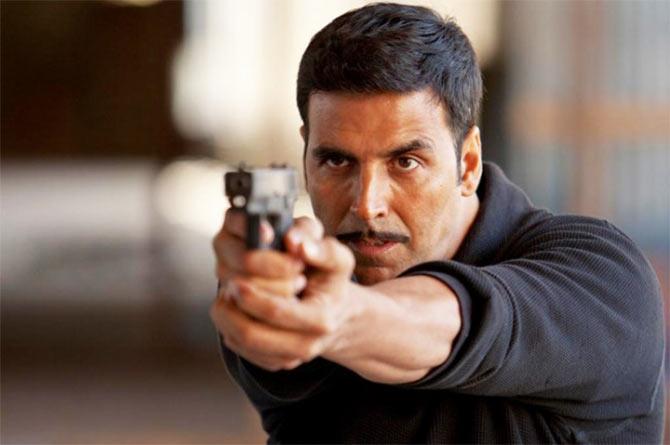 IMAGE: text here. Photograph: text here.
Were you disappointed when Baby didn't win any awards?
You have to perform for half the money at awards night; that is how you win awards. It's not that I don't get such offers. That is the reality.

What about the National awards?
The National awards are credible; they actually watch the film and let you know. I still feel that if Baby wasn't nominated, it mustn't be worth it.

A lot of star kids are ready to make their debut in Bollywood. Will that make it difficult for outsiders in this industry?
No, outsiders are coming in. I was an outsider. Ranveer, Sidharth are outsiders.
There are chances for everyone to get in -- be it a male, female or any character. Everyone has a chance; it depends on your luck and how much you are willing to push.