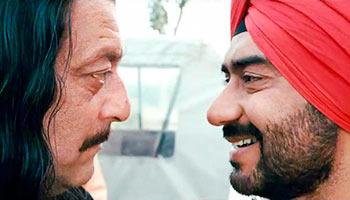 Son Of Sardaar 2, which is reportedly based on the 1897 Battle Of Saragarhi, was originally supposed to star Sanjay Dutt.
But Dutt was imprisoned in 2013, and the project passed on to Dutt's buddy, Ajay Devgn.
"It was originally supposed to be produced by Sanjay Dutt's buddy Bunty Walia and directed by Rohit Jugraj, who, Sanjay Dutt felt, was the right person for a war epic," says a source. "But then Dutt went to jail and out of the project. Rather than wait for his release, it was felt that Devgn was the right person to play the part."
Apparently, the role requires the protagonist to be fighting-fit.
"It would have taken Sanjay Dutt months of physical training to get into shape for this role. It was therefore felt that Dutt should be replaced with Devgn," says the source.
Photograph: Sanjay Dutt and Ajay Devgn in Son Of Sardar