Actor Narendra Jha -- who was last seen in Raees, Kaabil, Mohenjo Daro -- passed away on Wednesday, March 14, morning after a heart attack. He was 55.
This fine actor spoke to Rediff.com last year.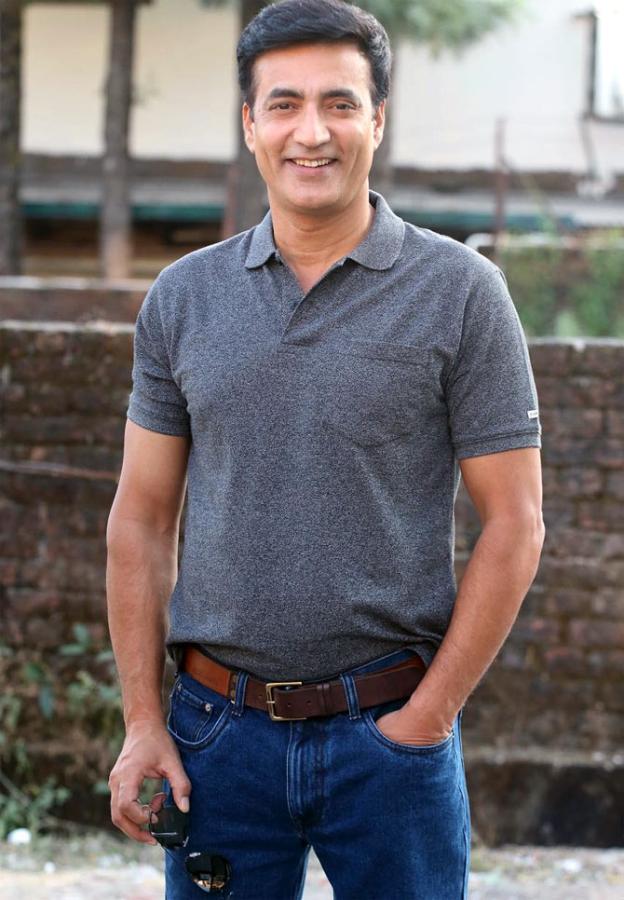 There is a common factor between Raees and Kaabil, which released on the same day: Narendra Jha.
The actor plays a small but pivotal role in both movies.
In Raees, he plays the man who gives shelter to the gangster played by Shah Rukh Khan.
In Kaabil, he plays a policeman investigating the case where Hrithik Roshan is involved.
What was it like working with two of the biggest Bollywood stars?
Narendra Jha spoke to Rediff.com's Patcy N about his experiences:
What is it like working with Shah Rukh Khan?
This is the first time I am working with Shah Rukh and I was floored by his behaviour. He is such a fantastic co-actor. He takes care of everything and creates positive vibes on the sets.
I have seen actors who are not concerned with their co-actors. There were scenes with Shah Rukh where he had to handle me harshly. But he ensured that I did not get hurt.
Things like that make you realise that the person really cares. He can make you really comfortable in the scene.
He is a superstar and has every right to keep you at bay. But he is very caring.
He never goes back to the vanity van in between shots unless it's a long break.
He sits with everyone and chats. He shares his experiences.
He does his own action scenes. There is a scene where you point a gun and shoot.
With that sound, actors normally tend to blink. Shah Rukh showed me a technique where one will not blink even if there's no cotton in the ears. He helps you in those kinds of scenes.
How was Director Rahul Dholakia on the sets?
Rahul is very clear cut, in terms of the understanding of the subject. He is a perfectionist and sees that he does the story as he has perceived it.
He is the kind of director with whom you will never feel insecure or threatened; the actor is a like a child and he expects the director to be like a father.
You worked with Hrithik Roshan in Mohenjo Daro and now, you have worked with him in Kaabil. What was it like?
He is very hard working, very co-operative and very nice to work with.
I saw his dedication, sincerity and commitment towards his work.
We will also see you in Force 2.
I play a R&AW chief. Most of my scenes are with John Abraham. He is also hard working and down-to-earth.
After working with John, Shah Rukh, Hrithik and Sunny Deol, I have realised that they work really hard and that there is no short cut to success.
After working in such big films, do you think you will get better roles now?
No, I don't think about all that.
When I get calls from production houses, I don't think about how it will change my career.
But trust me, I am flooded with offers. That's why I have become choosy. I don't want to take on 10 projects at one time.
At the same time, I am enjoying the moment.
You started your career in 1997.
I would say a little before 1997, because the television serial Shanti was recorded first.
My first film was Fun2shh... Dudes in the 10th Century, followed by Shyam Benegal's Netaji Subhas Chandra Bose: The Forgotten Hero.
Then I worked with S S Rajamouli on Chatrapathi, which was a superhit and Yamadonga with Junior NTR.
I have done serials like Chhoona Hain Aasmaa, Chehra and Havan.
I was doing a project for Star Plus when I was called by Vishal Bhardwaj for Haider.
Was Haider your big break?
Haider not only made me popular among people in the industry but it also brought some kind of respectability. People started taking me seriously.
Immediately after Haider, I did Ghayal Once Again with Sunny Sir, where I played the main antagonist.
I did Humari Adhuri Kahaani with director Mohit Suri and was simultaneously signed on for Ashutosh Gowatriker's Mohenjo Daro.
You have a long association with Shyam Benegal.
Besides the Netaji film, I have done Samvidhaan with him where I played Jinnah.
I will never forget the day I met him for the first time.
My friend Ravi Khemmu (Kunal Khemmu's father) was directing Amrapali for Doordarshan. He introduced me to Shyambabu.
He instantly liked me and did not audition me. On Ravi Khemmu's recommendation, I got the role of Habibur Rahman in the Netaji film.
When he was making Samvidhaan, he called me for a look test and I was in.
When you work with Shyambabu, everybody is on the sets at 6 am. We have breakfast together.
Everybody is put up in the same hotel. There is equality. Shyambabu is a class apart.
This interview was first published on Rediff.com on January 26, 2017.