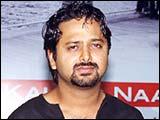 "
Godfather
is the best film ever."
"Masoom is outstanding."
"Kuch Kuch Hota Hai is the most honest film."
"Parinda was amazing."
Obviously, Nikhil Advani loves to watch all kinds of films.
The director who debuts with Kal Ho Naa Ho tells Sukanya Verma the experience he gained while making his own film:
Did the idea of Kal Ho Naa Ho come about immediately after Kabhi Khushi Kabhie Gham?
| | |
| --- | --- |
| | Don't Miss! |
| | |
Not really. Lagaan, Gadar: Ek Prem Katha and Dil Chahta Hai released just before K3G the same year: 2001. It was an important year for Indian cinema.

There was a shift as far as the audience liking a film was concerned. Suddenly, they liked anything that was good. Lagaan was different from Gadar. Gadar was different from Dil Chahta Hai. Dil Chahta Hai was different from K3G.

I realised that K3G marked the end of the so-called Karan Johar kind of cinema. I don't think one can go bigger and better than that. It's huge. To even copy, emulate or better that is like living in a fool's paradise.

I wanted to make a thriller. I knew people would come to see another Karan Johar kind of movie. I started working on a subject. I spoke to Shah Rukh [Khan] and he was very keen to do the thriller.

Somewhere down the line, his back gave way. Then the draft that I came up with was too controversial for a Dharma Productions film. Yash Johar did not want to get embroiled in a controversy at this stage in his career.

I was planning a terrorism-based thriller. I was very clear that if I made a film about terrorism based in Kashmir, I would want to take a stand. And it's not necessary that people have to agree with it.

So Yashji said, 'Hold on. I don't think you should do it. It's your first film. Why take a risk?' Then Karan came up with this idea for Kal Ho Naa Ho. He did not want to make it himself because he wanted to do something 'radically different'. I asked him if I could do it. But I also said I would do it my way; I would treat it completely different from the Karan Johar kind of cinema.

I hope when people see Kal Ho Naa Ho, they'll know what I am talking about.

Why did you decide to shoot the movie entirely in New York?

The city of New York mirrors the character of Preity [Zinta] that is Naina Catherine Kapur. She is supposed to be regimented, disciplined, dull and boring. I wanted to shoot New York in winter, because in winter, the city turns grey and claustrophobic. The buildings are so huge. It completely dwarfs you.

You can be surrounded by millions of people right in the middle of Grand Central station. And you can be extremely lonely. That is the character of Naina in the film.

Kal Ho Naa Ho has a lot of layers. I hope people can figure that out when they see the film.

It's not only a film about Preity, or Preity-Shah Rukh or Preity-Shah Rukh-Saif or Preity-Shah Rukh-Saif and Jaya Bachchan.

It's about a little girl who plays Preity's sister, about her grandmother and mother. It's about Shah Rukh and his mother. It's about Saif and his relationship with his parents. It's also the story of a family which is bogged down with a lot of problems. How one man comes into their lives and solves all their problems and makes them realise how their problems are not as big as they are perceived to be. That is what Kal Ho Naa Ho is all about.

Have you been to New York before you began shooting for KHNH?

Never. My education of the city came from all Woody Allen films, When Harry Met Sally. I have seen most films based in New York.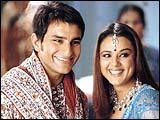 If you are a fan of Martin Scorsese you will notice he brings out a different side of NY. Rob Reiner and Nora Ephron love New York. These are the people whose films I enjoy watching.
I shot everywhere. We covered most of the five boroughs: Manhattan, Brookyln, Queens, Long Island and Staten Island. The street where Shah Rukh and Preity live in is Brookyln.
Some of the locals gave us their houses for two weeks. We had the unit camped in their houses for two weeks.
When I went to scout for locations, I lived there for a month. I tried to imbibe everything there was in NY. I would just go and stand on the streets for an hour, observe people talking, make mental notes about how they walk, talk, how they don't look people in the eye. They are constantly on the move. I find that incredible.
What was also interesting that after 9/11, the city suddenly had a heart. Suddenly the city was vulnerable.
The great thing about New York City is that they encourage film. Once you submit your script and budget to the New York film and television department at the Mayor's office, they go out of their way to help you.
And kudos to Yash Johar. He assembled a fantastic team. We had a great production person and location manager there. 
Yashji was very clear that he didn't want his stars to be disturbed while shooting. He wanted the director, technicians and stars to work towards the film. So we never gave out our locations. Press wasn't allowed on the sets.
No wonder
Kal Ho Naa Ho
didn't create much news during its making…
That was a result of my discussion with Karan, which again is my way of being different from him. His films are talked about. He is also the most magnanimous person I've ever met. He will invite you to his sets with open arms and say, 'See my set, hear my song and meet my actors.'
I felt it was very necessary to make my film low key and release it as soon as possible. We started shooting on January 20 and we are releasing it on November 27. In 11 months, I finished shooting a film with Shah Rukh Khan, Preity Zinta, Saif Ali Khan and Jaya Bachchan in New York with Shah Rukh's back injury.
It's quite an achievement purely because of the cooperation I got. I owe it to my spot boys Eknath and Jeevan. They were like, 'Yeh Nikhil baba ka picture hai.'
How did you go about the casting?
The casting was a partnership between Karan and me. Shah Rukh was already on board as far as the film was concerned.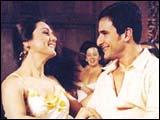 Earlier it was supposed to be Kareena. Later she had some disagreement with the producers. The immediate next choice for me was Preity Zinta.
Somewhere at the back of my mind she was always Naina Catherine Kapur. She understands that lifestyle. She didn't have to do anything.
We gave her a script narration and she said, 'I am on.' She was like if Yash and Karan Johar can trust Nikhil, so can I. She cleared her dates for this film.
Ater Dil Chahta Hai when we started thinking of Rohit, it was Saif from the word go.
Did he have to be convinced? Most actors are wary of working with Shah Rukh thinking he might steal their thunder.
Two things happened after Dil Chahta Hai. One, Saif Ali Khan became very confident about his acting. Two, the fact that he said no to Karan for Kuch Kuch Hota Hai [for Salman Khan's role], had been a major thing in the back of his mind.
It was like 'I said no to a role that became quite a rage. How can I say no to this?' So Saif was always a given. When we narrated the script to him, he said, 'Yeah, go ahead, let's do it'.
What are the advantages and disadvantages of working with a producer who happens to be a filmmaker as well?
The advantage is that he knows exactly what is required. So he can be a fantastic support to you during the whole process of making the film. The creative inputs are mind-blowing. There is always a security net for you to fall back on.
If you feel a scene is not working, you have somebody you can turn to. Karan was a major guiding light in the film. Not only did he give me a script, he was also always available for me.
The disadvantage is that you have something so big that you have to try and be different. I haven't done that consciously because I feel Karan is a master of his genre. And if this film falls within that genre and I try to be different, it will only end up being a mishmash.
Did you two have any difference of opinion?
Yes, during KKHH and K3G. We have had massive arguments during the making of Kal Ho Naa Ho. Why not? It is his story. He visualised it one way. I am shooting it in some other way. Differences are bound to happen.
Kal Ho Naa Ho has a very philosophical title. What is the film trying to say?
As I said, the film is multi-layered. What the movie is trying to say that you need to stop planning and waiting for big plans to materialise.
Life happens between the plans you make. If you are only waiting for this big, big plan, you miss out on the smaller things, which you should be enjoying. That's what the character of Shah Rukh Khan stand for. He makes everyone around him understand that.
So is it or isn't it a remake of Anand?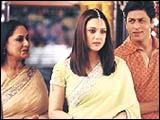 What I would like to say at this point is that it's not like I or Karan picked up a VHS of Anand and said 'Oh, this is the film we need to remake'. We wanted to tell a story.
If it reminds of people of Anand or it has certain tracks that are reminiscent of Anand, is something that hasn't been done consciously. Anand is not a love story. Kal Ho Naa Ho is a love story between Shah Rukh, Preity and Saif.
Are Kajol and Rani Mukerji making a special appearance?
You'll have to see the film to find out.
Any interesting episodes that took place while shooting in New York?
Every day was an interesting episode. I wanted sun. It would rain. I wanted rain. It would be sunny. Every day I would have Karan's mom [Hiroo] sending me messages about the weather forecast.
There was a power outage while shooting in NY. We lost three days of filming. We were partying during the blackout.
Kal Ho Naa Ho is expected to be the next big hit after Koi… Mil Gaya this year? Comment.
I hope! That's all I can say.