'I feel the more I'm trolled by Pakistanis, the more I am on the right path.'
'I must be doing something right for them to be so angry.'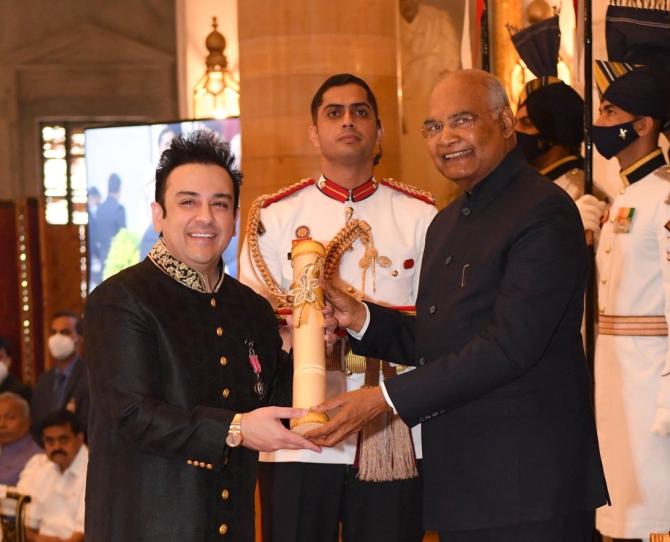 Singer Adnan Sami -- formerly a citizen of Pakistan, who is now an Indian citizen -- speaks to Subhash K Jha on receiving the Padma Shri.
Okay, Adnan first things first. How did it feel to be overshadowed by Kangana Ranaut at the Padma awards?
Errrrr... is these the kind of questions you want to ask me at this moment when I feel so deeply honoured.
Okay, a more serious question. How has Pakistan reacted to your Padma Sri?
How do you think they reacted? There was a lot of nasty criticism.
If they didn't like my being honoured by the Indian government, My government, then too bad. They just have to deal with it.
You know, ever since I opted for Indian citizenship, Pakistanis aren't happy with it.
I wonder why?
(Laughs.) I wonder too. But you know what? I feel the more I'm trolled by Pakistanis, the more I am on the right path.
I must be doing something right for them to be so angry.
So what did it feel like to receive the Padma from the President?
Have you ever been in that spectacular hall at Rashtrapati Bhavan where the Padma awards are given? Just to be in that epic room with all those achievers from all over the country from all walks of life is such a humbling experience.
What were you thinking as you sat there?
I was thinking of how proud my father (Arshad Sami Khan, the late Pakistan air forxe pilot and Pakistan ambassador) would have been to see me getting honoured by the Indian government. It made me teary-eyed.
I was looking at some of the winners whom I had never heard of.
They came from such humble backgrounds and they had achieved so much in their field.
We would think that artistes scholars and other achievers from such humble backgrounds would go unnoticed. Not so.
The Indian government honours these artisans, painters, folk singers who constitute such an integral yet neglected part of our culture. I felt proud to be in the same room as them.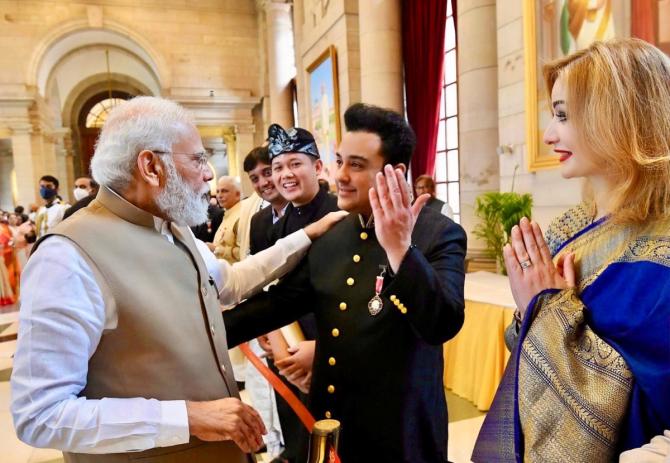 Do you think Indians tend to give too much importance to film actors and not so much to other artists?
We are a film-fixated nation, and thank God for that (laughs).
What does the Padma Shri mean to your career?
It spurs me on to do better and better work. I want to make India proud.
In the coming months, you will be hearing more of me.
I am working on some projects that I can't speak about.
But it is the midpoint of my career. And I am glad I got the Padma Shri now and not much later.
How do you look back on your journey so far?
It's been an incredible journey so far.
I have been through the worst of crises including two broken marriages, change of nationality, death threats... you name it. And now here I am finally at peace with my past and present.
The Padma Shri reminds me of how much I've yet to achieve.
As Shah Rukh Khan famously said, 'Abhi picture baqi hai, mere dost.' And yes, I am working on the first part of my memoir.
Feature Presentation: Rajesh Alva/Rediff.com