'I enjoyed writing Kalyana Vaibhogame. I was very confident that as a story, it would work. But initially when I was rejected, I was flummoxed.'
Nandini Reddy is ready with her third directorial venture.
Nandini Reddy made an impressive directorial debut with 2011's Ala Modalaindi.
But her second film Jabardasth did not live up to expectations.
Nandini returns with her third film, a romantic entertainer titled Kalyana Vaibhogame. Starring Naga Shourya and Malvikaa Nair, the film will release on March 4.
In this exclusive chat with Rediff.com contributor Radhika Rajamani, Nandini talks about rejection and reveals how Kalyana Vaibhogame happened.

Going by your films, Kalyana Vaibhogame, it seems you are comfortable with the romantic comedy genre.
Ala Modalaindi was a romantic comedy. Jabardasth was a loud comedy, which is not my genre. There are many family elements in Kalyana Vaibhogame.
This is not just a boy-girl story. When one gets married, other people get involved.
You said Jabardasth was not your genre. How did you do it then?
It wasn't by choice. I got confused listening to others and did not follow my instinct. I got carried away. I should have stuck to my decision no matter the pressure. Jabardasth was a learning lesson.
How did Kalyana Vaibhogame happen?
I wrote Kalyana Vaibhogame nine years ago, even before Ala Modalaindi. Mani Ratnam's Mouna Ragam was my favourite film. It was about a person not interested in marriage.
I thought what if both people were not interested in the marriage. They may have their own reasons. Why are they married and what transpires? What do their parents think? So the starting point was Mouna Ragam.
A lot of characters are inspired by real life, my family and friends -- the idiosyncrasies and the way they react.
How much did you rework on the script?
About 20 to 30 per cent. I just rewrote and polished it. The story was essentially the same. Only a few scenes were changed.
How was the whole process of scripting?
I enjoyed writing. I was very confident that as a story it would work. But initially, when I was rejected, I was flummoxed. I had not a single doubt and I was stubbornly sure about the script.
So when I narrated to Damu (producer Damodar Prasad), it was locked straight away. We got the actors and all the pieces came together.
When your script got rejected, weren't you disheartened?
For six years, it was a saga of rejection. When I narrated the story to non-filmi people, they loved it but actors were rejecting it. Maybe it was not the right film for a star image.
Then a journalist friend suggested I look for a boy, not a star.
What is Kalyana Vaibhogame about?
It is about the apprehensions of a boy and a girl, who are forced by a situation to get married and what happens to them and their families.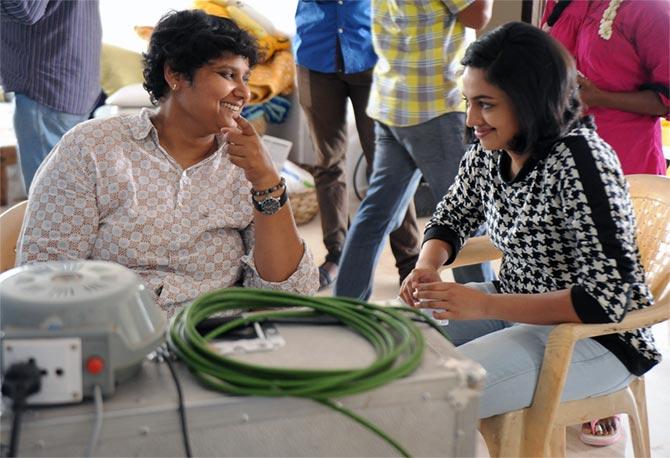 IMAGE: Nandini Reddy with Malavikaa Nair on the sets of Kalyana Vaibhogame
What made you choose Naga Shourya and Malavikaa Nair as your protagonists?
Both have incredible charm. They have a mix of innocence and mischief. They are endearing kids and these were the traits needed for the characters.
Shourya was cast first and Malavikaa later.
Damodar Prasad is producing your film again. Is it because he liked the story or there is a certain familiarity and comfort level you share with him from the Ala Modalaindi days?
He has faith in me. We share a similar taste in story, emotions and moments. He sees the film the way I see it. We are on the same page.
I was down with a flop and I am indebted to him for giving me this break.
How was the period after Jabardasth? You received a lot of flak for that film.
There was depression. I was angry and upset initially. I let it go. I didn't understand till I saw Shaandaar and what people felt about that film and Vikas Bahl, who made Queen.
Shandaar was that defining moment. I have a great set of friends, who are my strength. Allu Arjun called me in that period and gave me a blast. He told me, 'You made one good and one bad film. You have to get up and make a good film. I am always there for you.'
There was no need for him to make that call but he did.
Would you like to shift genres sometime?
Definitely. I must, for my sanity, otherwise it will get repetitive and boring.
What is your next project?
I am writing a story. It is about 70 per cent done. It is a serious love story. I am trying to let go of familiar territory and be free and unfettered.
I have the conviction and feel confident about it.
Kalyana Vaibhogame is releasing on your birthday. A double celebration?
(Laughs) I can't sit and bum around. I hope it will be a happy birthday. I am in a happy space now.